Riding the green wave!
Saskatchewan's Silvernagle topples unbeaten Alberta
MOOSE JAW, Sask. – The green wave is beginning to crest.
"Yes. A hundred per cent,'' replied Robyn Silvernagle, when asked if Monday's 7-5 conquest of previously peerless Alberta could be considered her group's finest performance of the week. "By all four of us, I'd say.
"Jessie (Hunkin) curled real well last night and the rest of us curled … good enough.
"But yes as a team, tonight was a solid performance."
Solid enough to topple Laura Walker's first-appearance Alberta surprise package from the exclusive ranks of the unbeaten at this 2020 Scotties Tournament of Hearts, leaving only Manitoba's Kerri Einarson of Gimli with a spotless record following Draw 8.
"Sometimes when you know a team is playing well you know you have to bring your A-game and curl really well to keep up,'' acknowledged Silvernagle.
As a collective, she, third Stefanie Lawton, second Hunkin and lead Kara Thevenot of the Twin Rivers Curling Club in North Battleford curled a tidy 85 per cent, to the delight of a pro-Saskie crowd inside Mosaic Place.
Walker, on the other hand, felt as if she and her team were always chasing. And not making up much, if any, ground.

She blamed earlier errors on losing a grip on the game, and leading to surrendering a decisive three in the fifth end – Silvernagle delicately bumping an Alberta stone out of the back of the four-foot on her final stone – that seismically flipped a 3-2 lead into a 5-3 hole.
"We had a bad miss in the first end that set up the force,'' she groaned. "In the second we managed to get our deuce but in the third end right from the get-go we came up a little bit short on a guard which led to us being a little more offensive than we'd like, which led to the three.
"We just seemed to be on the wrong side of every shot. And not by an inch. We were on the the wrong side by too much for us to have any chance to win that game."
Both Saskatchewan and Alberta – comprised of Walker, Kate Cameron, Taylor McDonald, Nadine Scotland, alternate Kelsey Roque and coach Brian Chick of the Saville Community Sports Centre in Edmonton – join a large group sporting 3-1 records and nipping at Manitoba's heels.
"Getting three was huge,'' agreed Silvernagle. "Instead of just getting two and being up one. We just felt more in control after that end.
"We rested all day. It was our only game, tonight. So we knew we had to be ready, prepared and firing on all cylinders."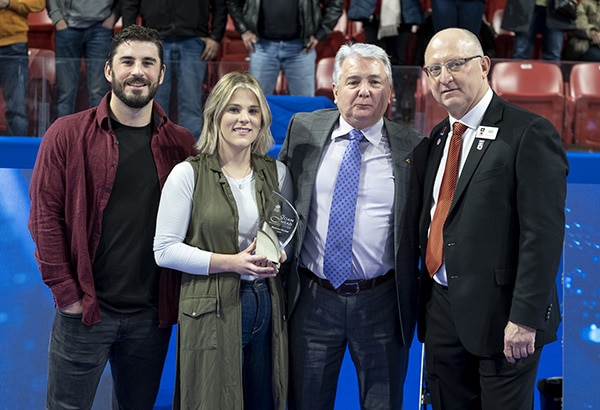 Prior to the 6:30 draw, the late Deanna Rindal of Prince Albert, Sask., an umpire at numerous national and international events as well as being a lifelong lover of the sport, was posthumously honoured with the 2020 Joan Mead Builder's Award.
Rindal died of cancer last Nov. 21 at the age 56.
Presented to her husband Bryan, the award recognizes a curling builder and is named in honour of deceased CBC curling producer Joan Mead.
In other 6:30 games Monday, Jennifer Jones and her Wild Card team (Winnipeg; 3-1) required an extra end to finally subdue Suzanne Birt and P.E.I. (Montague; 2-2) 9-8, Rachel Homan and Ontario (Ottawa; 3-1) took down B.C.'s Corryn Brown (Kamloops; 2-2) and Andrea Crawford's New Brunswick crew (Oromocto; 1-2) kept the Nunavut team (Iqaluit; 0-4) winless by virtue of a 5-2 victory.
The 2020 Scotties Tournament of Hearts continues Tuesday with draws at 8:30 a.m., 1:30 and 6:30 p.m. (CST).
Live scoring, standings and statistics for the 2020 Scotties Tournament of Hearts are available at www.curling.ca/scoreboard/
TSN and RDS2 (streamed on ESPN3 in the United States) will provide complete coverage of the 2020 Scotties Tournament of Hearts. CLICK HERE for the complete schedule.
For ticket information for the 2020 Scotties Tournament of Hearts, go to www.curling.ca/2020scotties/tickets/
This story will be available in French as soon as possible at www.curling.ca/2020scotties/nouvelles/?lang=fr