Clinched!
Championship pool coming together after Wild Card, Ontario wins
MOOSE JAW, Sask. – Jennifer Jones and Rachel Homan have won eight of the last 12 Scotties Tournament of Hearts, so it's probably no surprise to find the two teams sitting atop the standings in Pool B and heading for the Championship Pool.
Both teams booked their spots in the next round that begins play on Thursday at Mosaic Place with victories in Tuesday's evening draw that left them with identical 5-1 records.
Winnipeg's Jones has won six Scotties titles – her first came in 2005 – and is seeking her record-breaking seventh. She's reached the top of Canada's national women's championship with an array of curlers, including long-time lead Dawn McEwen, third Kaitlyn Lawes and second Jocelyn Peterman, who joined the cast in 2018. The team is coached by Viktor Kjell.
They slipped past Mary-Anne Arsenault of Nova Scotia (Halifax, 3-3) 9-7 in an extra end.
"Does that mean we move on?" Jones said after the game to the media. "That's awesome. It means you can plan the week a little bit, but it's about your overall record and we needed that win."
Jones had to make three key shots in the last three ends – a runback double in nine, a double in 10 and her last-rock double for the winning deuce against Arsenault, third Christina Black, second Jennifer Baxter, lead Emma Logan, alternate Kristin Clarke and coach Stuart MacLean.
"It was stressful," she said. "Three in a row but my sweepers are awesome, they made me look good."
Homan, third Emma Miskew, second Joanne Courtney, lead Lisa Weagle, alternate Cheryl Kreviazuk and coach Marcel Rocque of Ottawa, winners of three Scotties and two world women's championships, beat Kerry Galusha of Northwest Territories (Yellowknife, 2-4) 9-5 to match Team Wild Card's record.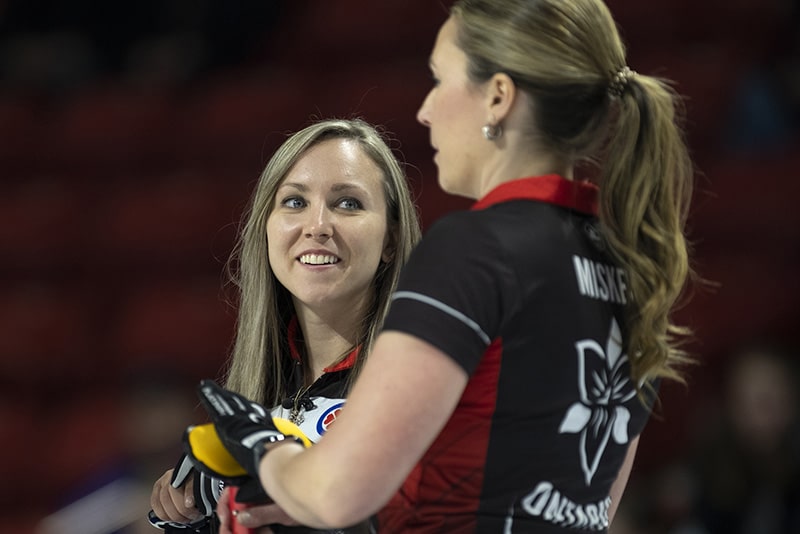 "We did what we needed to do today," said Homan. "We really wanted to make sure we got those two wins. I'm tired, I'm ready for bed right now, so I'm glad we've got (only) one game tomorrow, get a bit of a break and get ready for the championship round."
They'll be joined in the championship round by Kerri Einarson of Manitoba (Gimli, 5-1) out of Pool A, plus five more spots to be determined in the final three round-robin draws on Wednesday. The top four teams in each pool move on.
Einarson, third Val Sweeting, second Shannon Birchard, lead Briane Meilleur, alternate Jennifer Clark-Rouire and coach Patti Wuthrich of the Gimli Curling Club, secured their berth with an impressive 10-6 win over Robyn Silvernagle of Saskatchewan (North Battleford, 4-2) with a steal of three in the second and score of five in the fourth. That came after a shocking 13-7 afternoon loss to Andrea Crawford of New Brunswick (Oromocto, 3-3), who scored a Scotties record seven in the seventh end.
"It felt really good to come out with a good, solid game," Einarson said of the bounce back. "It is an emotional roller-coaster. Sometimes you're not as sharp and sometimes you're bang on."
New Brunswick kept alive its slim hopes of advancing with an 11-6 win over Noémie Verreault of Quebec (Chicoutimi/Glenmore/Trois-Rivieres, 0-6).
"We knew it was a tough pool," said Crawford. "We knew every game would be tough, but we knew we could win it, we had to play our best. Unfortunately the first three games we didn't do that but we're starting to get on a roll now."
The 2020 Scotties Tournament of Hearts continues with the draws Wednesday at 8:30 a.m., 1:30 p.m. and 6:30 p.m. CST.
Live scoring, standings and statistics for the 2020 Scotties Tournament of Hearts are available at www.curling.ca/scoreboard/
TSN and RDS2 (streamed on ESPN3 in the United States) will provide complete coverage of the 2020 Scotties Tournament of Hearts. CLICK HERE for the complete schedule.
For ticket information for the 2020 Scotties Tournament of Hearts, go to www.curling.ca/2020scotties/tickets/
This story will be available in French as soon as possible at https://www.curling.ca/2020scotties/nouvelles/?lang=fr