Seventh Heaven!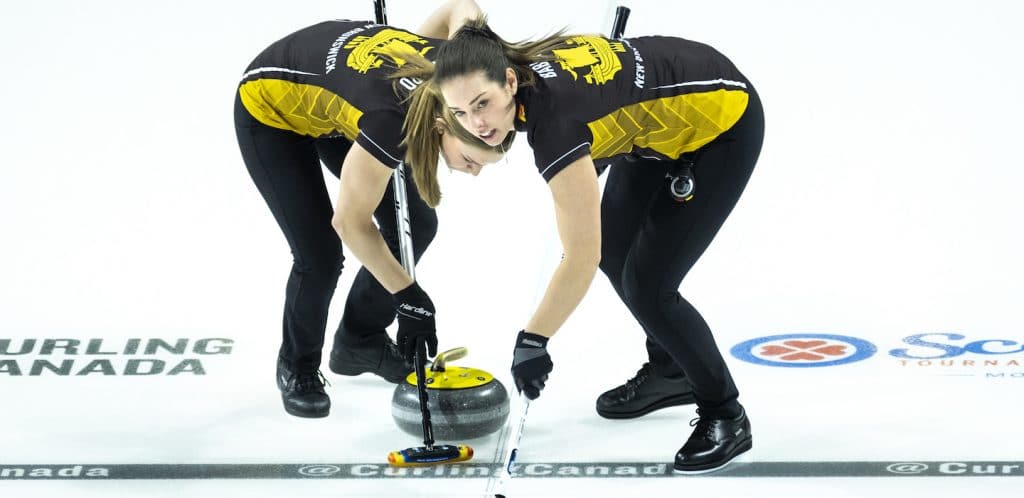 NEW BRUNSWICK SETS SCOTTIES RECORD WITH SEVEN-ENDER IN WIN OVER MANITOBA
MOOSE JAW, Sask. – Andrea Crawford and her New Brunswick team came to the Scotties Tournament of Hearts looking to make some memories. They certainly did that on Tuesday by scoring a record seven ender in their 13-7 win over Kerri Einarson of Manitoba.
"We didn't see that until my last shot," Crawford said of counting the seven — the highest single-end score in Scotties history (dating back to 1982). "I don't think we counted anything until it was done. I knew I was throwing for a lot but didn't know it was seven."
The record score came in the seventh end, breaking a 4-4 deadlock and handling Einarson (Gimli; 4-1) her first loss of the event.
"It's incredible," said New Brunswick third Jennifer Armstrong. "We said this week we want to make some memories and that's definitely a memory that's going to stick with us."
The huge end came simply enough. Manitoba missed shots and New Brunswick didn't.
"We missed quite a few in that end and we weren't sharp this game," said Einarson. "We were heavy on a few draws, had close weight on my last one and it just caught the curl we hadn't really seen there. I was thinking if I make one really good draw … but sometimes it happens."
Armstrong said she, second Jillian Babin and lead Katie Forward made their shots to take advantage of the Manitoba misses.
"We made some really key shots, especially some runbacks and we stuck them and we knew we had a few sitting around," said Armstrong. "But (Einarson) had opportunities. We had guards up for her to get in there so we just kept saying, 'Let's make sure we get our one, let's make sure we get our one.' When we had the opportunity to go for it we did, it happened and we made it."
Manitoba bounced back with three in the next end but shook hands after New Brunswick scored two in the ninth.
"Nice to make (three), all of us made all of our shots that end," Einarson said of the three that helped restore some of her team's confidence. "That what happens when you make shots."
The result improved the Daryell Nowlan-coached Oromocto foursome's record to 2-3 and kept it in the hunt to be one of the four teams that will advance into the championship pool.
In the other afternoon games, Jennifer Jones and Team Wild Card (Winnipeg; 4-1) jumped into a 3-0 lead after two ends and went on to beat Kerry Galusha of Northwest Territories (Yellowknife; 2-3) 11-3; Robyn Silvernagle of Saskatchewan (North Battleford; 4-1) scored three in the fourth to get by Noémie Verreault of Quebec (Chicoutimi, 0-5) 5-3; and Rachel Homan of Ontario (Ottawa, 4-1) posted three deuces and a triple to roll past Mary-Anne Arsenault of Nova Scotia (Halifax, 3-2) 10-7.
The 2020 Scotties Tournament of Hearts continues with the late draw today/Tuesday at 6:30 p.m. CST.
Live scoring, standings and statistics for the 2020 Scotties Tournament of Hearts are available at www.curling.ca/scoreboard/
TSN and RDS2 (streamed on ESPN3 in the United States) will provide complete coverage of the 2020 Scotties Tournament of Hearts. CLICK HERE for the complete schedule.
For ticket information for the 2020 Scotties Tournament of Hearts, go to www.curling.ca/2020scotties/tickets/
This story will be available in French as soon as possible at www.curling.ca/2020scotties/nouvelles/?lang=fr