"What Seven?"
Manitoba clinches playoff spot along with Ontario and Wild Card
MOOSE JAW, SASK — It's no CIA-level, strictly hush-hush, top-security-clearance secret that Kerri Einarson is blessed with extraordinary curling timing. The lady possesses the light touch of a diamond-cutter when the need calls for it.
Who knew, though, that she had a comedian's timing worthy of SNL's Kate McKinnon, too?
When asked post-win Thursday night about somehow using that record-setting seven spot she surrendered to New Brunswick early in the week as a launching pad for her current stellar form, Einarson didn't so much as bat an eye.
"What seven?'' countered the Manitoba skip, all feigned innocence.
An only-kidding smile.
"That's how we kinda look at it.
"We don't look at it that way. We just chalked it up as a bad game, threw it in the bag. We're rolling right along."
Not a word of a lie at that after a two-win day for Einarson, third Val Sweeting, second Shannon Birchard, lead Briane Meilleur, alternate Jennifer Clark-Rouire and coach Patti Wuthrich of Gimli.
On the first day of the Championship Pool at the 2020 Scotties Tournament of Hearts Einarson, Rachel Homan and Jennifer Jones piloted Manitoba, Ontario and the Wild Card entry, respectively into the four-pronged Page playoff beginning Saturday.
Friday's final two tests for the Big Three, then, is about seedings and confidence. The remaining five contenders – Northern Ontario's Krista McCarville (6-3), Suzanne Birt of Prince Edward Island (5-4), Saskatchewan's Robyn Silvernagle (5-4), Chelsea Carey of Team Canada (4-5), and British Columbia's Corryn Brown (4-5) – are still technically in with a shot for the one available slot, so the day shapes up as a bit of a mad scramble.
Manitoba won its eighth game by making short work of Birth 9-4. Saturday, they face Jones and Homan. Jones squares off against Northern Ontario in her final fixture of the day.
"We've got two big games tomorrow,'' cautioned Einarson. "Those two teams are playing really well. We'll have to keep doing all the good things we're doing."
Homan, meanwhile, doubled up on Carey's Canada team 8-4 and awaits mouth-watering clashes against Saskatchewan and Manitoba.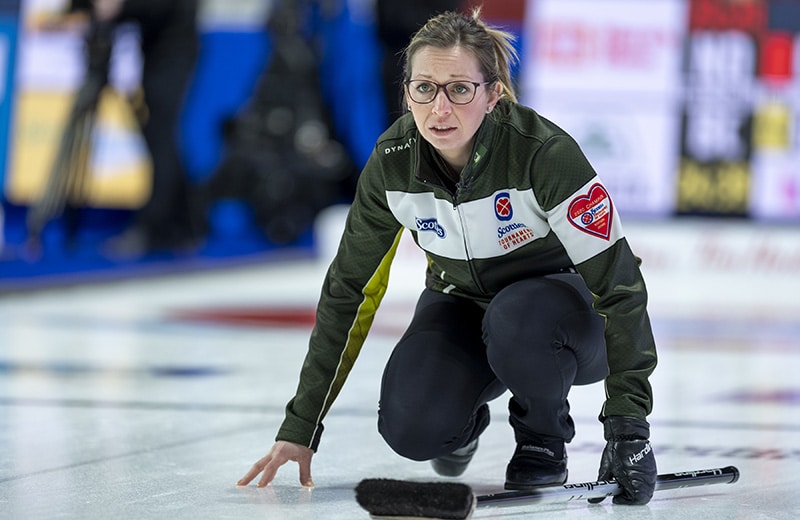 "We wouldn't be happy just coming out and not playing well and then limping into the 3-4,'' said Homan, the 2017 world champ. "We want to make sure we're coming out, giving it our all and that we set up ourselves up as best we can.
"The Scotties is a grind. A lot of games, a long week, so try to conserve energy as best you can, try and get as much rest as you can.
"Everyone's going back-to-back here, so we're going to try and outlast them."
After dropping her round-robin opener to Homan, Jones collected her seventh and eighth wins in a row in pursuit of a record seventh Scotties title.
"We had a really good day today,'' she reckoned. "We made some precise shots, which is what you want to do."
Her penchant for securing wins when not opening with the hammer has been downright uncanny this week.
"It's just trying to control the front of the house, the front of the T-line,'' explained Jones. "We've been making a lot of really good draws against some guards and making them make some really hard shots. Which is the key to success, really: You want them to make harder shots than you.
"It's almost like you're feeling like everything is sudden-death, like you need to go and play well."
The 2020 Scotties Tournament of Hearts continues Friday with Championship Pool draws at 12:30 p.m. and 6:30 p.m. (all times CST).
Live scoring, standings and statistics for the 2020 Scotties Tournament of Hearts are available at www.curling.ca/scoreboard/
TSN and RDS2 (streamed on ESPN3 in the United States) will provide complete coverage of the 2020 Scotties Tournament of Hearts. CLICK HERE for the complete schedule.
For ticket information for the 2020 Scotties Tournament of Hearts, go to www.curling.ca/2020scotties/tickets/
This story will be available in French as soon as possible at www.curling.ca/2020scotties/nouvelles/?lang=fr