Family first!
Northern Ontario's friends and family mindset elevates McCarville to playoffs
MOOSE JAW, Sask. – Too many of these whiz-bang, wild-west finishes can actually age a person.
"We always seem to make it really exciting at the end,'' sighed Northern Ontario skip Krista McCarville.
"Puts a few more wrinkles on my face and some more grey hair.
"What else can I ask for?'
The heart rate had come down some in the 10 minutes or so between McCarville's trip to the event-level interview area and the close shave of rival Prince Edward Island skip Suzanne Birt's final stone of the 10th end, going in search of a score of three to send the game into an extra end.
Impact, followed by a kaleidoscope of spinning red and yellow rocks pinballing off each other like the bumper cars at Coney Island Amusement Park.
Only when calm had been restored had it been determined that the Prince Edward Island skip had counted a deuce, narrowly missing the third required, and McCarville could exhale.
That meant McCarville, third Kendra Lilly, second Ashley Sippala, lead Jen Gates and coach Rick Laing had officially clinched the fourth and final spot in the 2020 Scotties Tournament of Hearts final four by virtue of a 6-5 victory over Prince Edward Island.
"That,'' pointed out Lilly, "was pretty much the only end we didn't have the rocks in exactly the right places and putting the pressure on.
"They were making some incredible freezes. We just didn't set that end up how we wanted to and then we just kinda had to commit to it at the end. It was a little more stressful than we wanted but we squeaked it out.
"We tend to get ourselves in situations like that so we know we're good enough to get out of them, too."
A nine-end, 9-4 Ontario's Rachel Homan's slap-down of Saskatchewan's Robyn Silvernagle – which had ended 15 or so minutes before on the sheet directly to their right – laid their opportunity bare.
"When we saw Saskatchewan had lost that game we knew the situation,'' said McCarville. 'No matter what happened out there we just knew we were in control of our fate. That feels really good."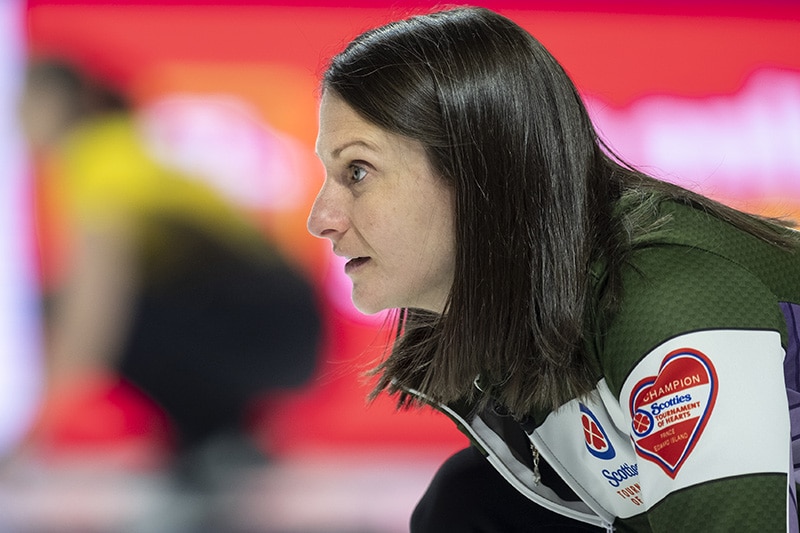 Northern Ontario faces the surging Jennifer Jones Wild Card team in Friday's 6:30 p.m. draw.
"Our goal was to make the playoffs and the championship round first,'' noted Lilly. 'We've achieved both of those things.
"We've been in the 3-4 games multiple times. Ideally we'd have been in the 1-2 but the 3-4 game is good enough for us. We're excited."
The Thunder Bay team is unique, of course, in its relative lack of competitive action during the season.
"We don't think we've worked not as hard as everyone else,'' countered Lilly. "We just have more of a priority on practising and technical skills; less bonspiel-ing and things like that. Our family-friend balance we value a lot. But we want to love the game and we don't want to get burned out. We just have a different perspective."
That perspective, she adds, snugly fits their aspirations at both the arena and home.
"There's no event that we have gone to where we said: 'Ugh, we don't want to be playing.' We're excited for every game that we play. Which I think is a benefit for us.
"This is the peak of our season. We are, like, ready to go. We're rested. We practised really hard before we got here. There's no way we could be burned out.
"We like it. It works for us. It may not be for everyone but it's good for us."
In other 12:30 p.m. Friday draws in the Championship Pool, Jennifer Jones' Wild Card team (Winnipeg; 9-1) continued to steamroll, toppling Kerri Einarson and Manitoba (Gimli; 8-2), who beat them in the provincial final, 12-7; Corryn Brown's B.C. foursome (Kamloops; 5-5) eliminated defending national champions Carey Chelsea and Canada (Calgary; 4-6) 9-2.
The 2020 Scotties Tournament of Hearts continues Friday at 6:30 p.m. (CST).
Live scoring, standings and statistics for the 2020 Scotties Tournament of Hearts are available at www.curling.ca/scoreboard/
TSN and RDS2 (streamed on ESPN3 in the United States) will provide complete coverage of the 2020 Scotties Tournament of Hearts. CLICK HERE for the complete schedule.
For ticket information for the 2020 Scotties Tournament of Hearts, go to www.curling.ca/2020scotties/tickets/
This story will be available in French as soon as possible.