Kerri on to the final!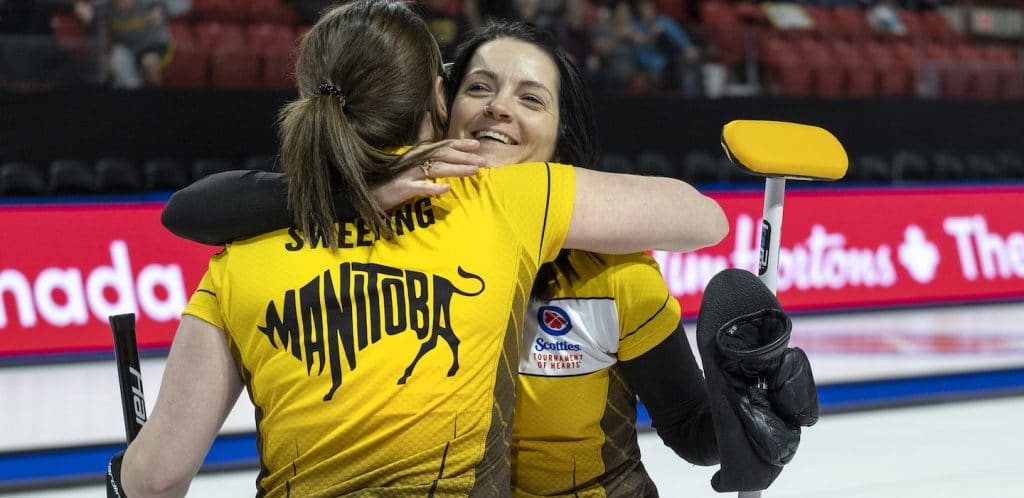 MANITOBA WINS PAGE 1-2 GAME TO ADVANCE TO SCOTTIES GOLD-MEDAL GAME
MOOSE JAW, Sask. — For years Jennifer Jones dominated women's curling, especially in Manitoba, but now there's a new top gun in the province – Kerri Einarson and her "Super Team" of skips.
Einarson's Gimli-based team never allowed Jones and Team Wild Card, from Winnipeg, to get anything but singles in an impressive 6-4 victory Saturday in the Page 1-2 playoff game that propels them into Sunday's gold-medal game of the Scotties Tournament of Hearts.
The 34-year-old Einarson shot a sparkling 94 per cent Saturday night at Mosaic Place, making numerous difficult, end-changing shots to bail her team out of trouble or to score points, including pivotal deuces in the sixth and eighth ends.
"I've been feeling really comfortable out there," Einarson said of her game. "When you step out on the ice you get this feeling. I'm just in the zone, not thinking about anything else except making those shots and just really feeling really comfortable out there."
Backed by three former skips — vice-skip Val Sweeting (a two-time Scotties runner-up representing Alberta, including in 2015 at Mosaic Place against Jones's Manitoba team), second Shannon Birchard and lead Briane Meilleur – along with alternate Jennifer Clark-Rouire (also a skip) and coach Patti Wuthrich, Einarson had beaten Jones 8-6 in the Manitoba final and Jones had taken a 12-7 win between the teams in the championship round of the Scotties.
Saturday's playoff game began slowly with both teams missing numerous shots that prevented them from setting up ends for multiple scores. Consequently there were only three singles in the first five ends that saw six-time Scotties champion Jones, third Kaitlyn Lawes, second Jocelyn Peterman, lead Dawn McEwen and coach Viktor Kjell leading 2-1 at the break.
"They played great and we unfortunately couldn't get our rocks in the right spots and just gave them an out and they made (their shots) perfectly every time," Jones said.
"We would make one miss an end and they would make a perfect shot so we couldn't get a deuce going. We had lots of deuces set up but we couldn't capitalize on them."
Her team had a chance for a big end in the second after two Manitoba misses but Jones herself missed a chip-out try with her first stone and she was forced to draw for one with her final rock.
Einarson, whose best finish at the Scotties was a 2018 silver medal (losing to Jones in the final), had to bail her team out of a few difficult spots before her teammates found their games. By the end Meilleur was shooting 96 per cent to help set up ends and Birchard and Sweeting both made some key shots down the stretch.
"There were a few shots where I definitely had to make them or we were giving up a couple," Einarson said the early ends. "We started off a little shaky but really picked it up."
After scoring one in the fourth, Einarson executed a run-back double to escape trouble in the fifth and hold Jones to a single. It was another finely executed shot by the Manitoba skip – this time a razor-thin punch-back that led to a deuce and a 3-2 edge.
After forcing Team Wild Card into another single in the seventh, Manitoba got another deuce in eight when Einarson made a last-rock hit and stick for a 5-3 edge. Team Wild Card got one in nine but couldn't get anything set up for a possible steal in 10 that ended with Einarson's last-rock hit-and-stick for the win.
Team Wild Card will now play Rachel Homan of Ontario in Sunday's semifinal at 11 a.m. (all times Central) with the winner moving on the 6 p.m. final. that will conclude the 2020 Scotties.
Live scoring, standings and statistics for the 2020 Scotties Tournament of Hearts are available at www.curling.ca/scoreboard/
TSN and RDS2 (streamed on ESPN3 in the United States) will provide complete coverage of the 2020 Scotties Tournament of Hearts. CLICK HERE for the complete schedule.
For ticket information for the 2020 Scotties Tournament of Hearts, go to www.curling.ca/2020scotties/tickets/
This story will be available in French as soon as possible at www.curling.ca/2020scotties/nouvelles/?lang=fr