A wild win for McEwen!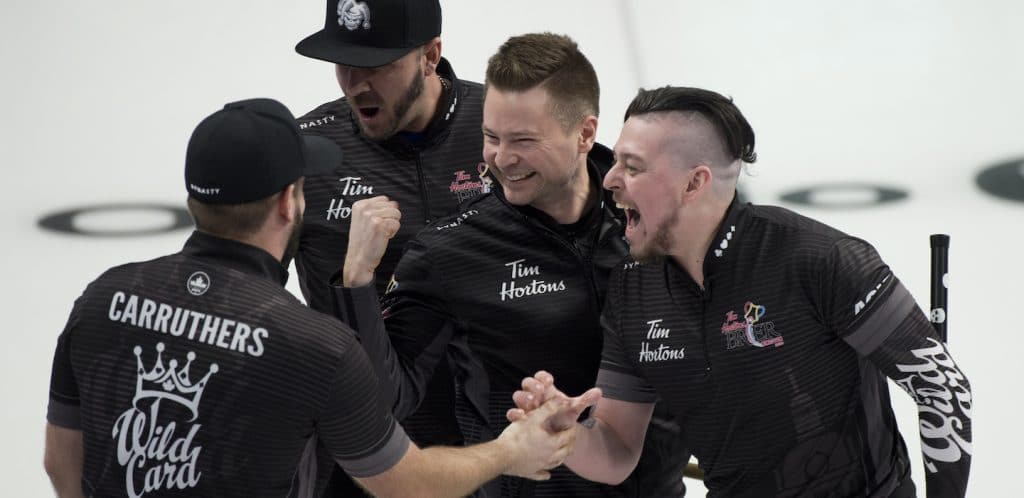 TEAM MCEWEN WINS WILD CARD GAME TO ADVANCE TO TIM HORTONS BRIER MAIN FIELD
KINGSTON, Ont. — With the agility of a magician, Team Mike Ewen escaped disaster for five ends before he and the rest of his team make the key shots down the stretch to sneak pass Team Glenn Howard 5-4 in the Wild Card game Friday night and earn a spot in the Tim Hortons Brier, presented by AGI.
The McEwen team out of the West St. Paul Curling Club in Winnipeg were in trouble most of the first half of the game at Leon's Centre, but somehow managed to avoid giving Howard multi-scores in several ends. The Howard foursome out of the Penetanguishene, Ont., Curling Club did score a deuce in the third but managed only singles in the fifth and ninth ends.
"They had us sweating real bad the first half and we played Houdini and escaped," said a much-relieved McEwen after drawing the edge of the button in 10 for the winning single. "That's about as uncomfortable a game, other than the Brier final, that you can get. To play in that atmosphere, you're the only sheet out there, the building is full of fans, sounded like they were enjoying themselves. That's about as much pressure as you're going to get until you get to the final"
Howard, who has played more Tim Hortons Brier games since 1980 that any other player, was naturally disappointed, both in the loss and some of his own play.
"I felt we controlled the first half of the game," he said. "It could have gotten away from them, in my mind. It was disappointing. I missed a few shots I shouldn't have missed. I just wish I personally would have played better. We had our chances and they got out of a few situations."
Howard had McEwen in trouble in both the second and third ends. McEwen drew the four foot with his final stone in two, facing three Howard counters, to score a single.
But Howard, backed by third Scott Howard – his son – second David Mathers, lead Tim March and alternate Adam Spencer, took full advantage of a couple of misses by the McEwen team to post two in the third. McEwen third Reid Carruthers narrowly missed a triple opportunity and McEwen himself had to make a tough double with his final stone to keep Howard to a deuce.
McEwen, Carruthers – a 2011 Tim Hortons Brier and world champion playing with Jeff Stoughton – second Derek Samagalski, lead Colin Hodgson and coach Rob Meakin, had a chance for their own deuce, and a possible three, in the fourth. But a perfectly frozen stone, behind cover, by Howard forced McEwen to draw for one.
McEwen was in trouble again in the fifth, facing three Howard counters, until McEwen drew the edge of the button with final stone. Howard couldn't tick it out and had to settle for a single.
"That was a big end because we had a good end going there," said Howard. "Mikey made a freeze. Out of his hand they're going 'Back 12, back eight' and for some reason it curled up and ended up a great shot … an absolutely perfect shot. That curls a little bit more I make a double we get a deuce. We ended before forced to one."
McEwen got a game-changing two in the eighth end, set up by a superb double runback take out by Carruthers that left them sitting three. Howard had a chance to keep them to one but missed on a try for a double.
"Reid made a couple of great shots, he set up that two in eight," said McEwen. "Derek made a great freeze … fortunately Glenn missed the double and that was a big turning point."
In the ninth Carruthers made another key shot, a double peel that opened up the house and prevented Howard from building a possible multi-score end.
"That double peel Reid made, they don't get much tougher than that," said McEwen. "That was a huge shot.
The two teams got into the Wild Card game as the two highest ranking teams on the Canadian Team Ranking System to not win their provincial/territorial title.
The main draw of the event gets underway Saturday at 2 p.m. Team Wild Card will play its first game Saturday at 7 p.m. against Matt Dunstone of Saskatchewan.
They are slotted in Pool A of the championship, which includes defending and four-time Tim Hortons Brier champion Kevin Koe and Team Canada, plus teams from Ontario, Saskatchewan, British Columbia, New Brunswick, Yukon and Northwest Territories.
Pool B includes Alberta's Brendan Bottcher – the silver medallist the last two years – former Olympic gold medallists and Tim Hortons Brier champions Brad Gushue of Newfoundland and Brad Jacobs of Northern Ontario, plus teams from Manitoba, Nova Scotia, Quebec, Prince Edward Island and Nunavut.
Teams play seven games in their respective pools with the top four then moving on to the Championship Pool, taking their won-lost records with them, for another four games. The top four teams after that round then advance to the Page playoffs. The semifinal and final will be played on Sunday, March 8.
The 16 teams are chasing a share of the $300,000 prize pool – the wining team gets $105,000 – plus automatic berths in the 2020 world championship in Glasgow, Scotland, the 2021 Tim Hortons Brier and the 2021 Tim Hortons Roar of the Rings. They also get to wear Team Canada jerseys for the next year.
Live scoring, standings and statistics for the 2020 Tim Hortons Brier are available at curling.ca/scoreboard.
TSN and RDS2 (streamed on ESPN3 in the United States) will provide complete coverage of the 2020 Tim Hortons Brier. CLICK HERE for the complete schedule.
For ticket information for the 2020 Tim Hortons Brier, go to www.curling.ca/2020brier/tickets.
This story will be available in French as soon as possible at www.curling.ca/2020brier/?lang=fr