Award winners!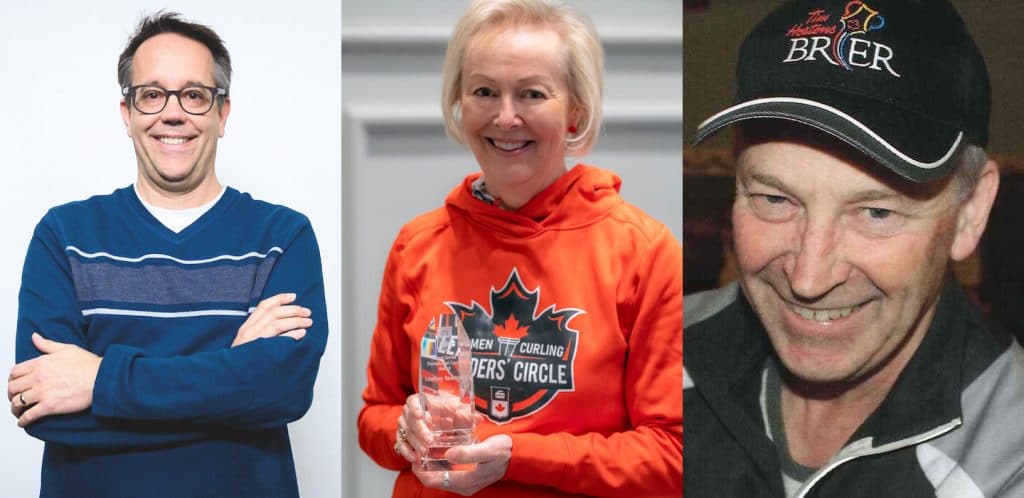 Curling Canada announces 2019-20 annual award winners
An Olympian, a world champion and a behind-the-scenes volunteer who continues to excel are the winners of Curling Canada's annual awards, it was announced today.
George Karrys has been named winner of the Curling Canada Award of Achievement; Lindsay Sparkes is the inaugural winner of the Janet Arnott Exceptional Coach Award; and Bill Shorter is Curling Canada's Volunteer of the Year.
"We are blessed in Canada to have so many people who have contributed to our sport in profound ways," said John Shea, Chair of Curling Canada's Board of Governors. "This year's award winners have made impacts as an athlete, as a coach and as a volunteer; those groups of people are so important in our sport, and we couldn't be happier to see them honoured in this fashion."
Here's a look at this year's Award Winners:
George Karrys
Curling Canada Award of Achievement
Presented annually, Curling Canada's Award of Achievement recognize individuals who have contributed significantly to curling in one of four areas — builder, technical development (instructor, coach, official, ice technician), marketing and media.
Karrys has been involved with curling in just about any way imaginable.
As an athlete, he was a member of Canada's Olympic team that won silver at the 1998 Winter Olympics in Nagano, throwing lead rocks for Mike Harris.
As a journalist, he wrote for, edited, and eventually owned The Curling News — the longest-running publication devoted to the Roaring Game. He also wrote for the Ontario Curling Report, Sun Media and Postmedia, and contributed to the FAN 590 in Toronto, CBC and Sportsnet.
As a volunteer, he has done charity work that has raised money for various causes over the years.
He's even been an actor, appearing in the 2002 movie Men with Brooms, for which he also served as a technical consultant.
He continues to promote the sport of curling through his activity with The Curling News, through social media and through his involvement with the Men/Women of Curling annual calendars that raise funds, in part, for Curling Canada's For the Love of Curling Scholarships.
"What a pleasant surprise to get the call," said Karrys. "When I first started curling I thought I'd just be a player, but I guess I had more work to do. Most folks will talk about the great people in curling and they're right — good people abound, and they help keep the passion alive."
Karrys will be formally honoured during an on-ice ceremony at the 2020 Tim Hortons Brier, presented by AGI, which begins Saturday in Kingston, Ont.
Lindsay Sparkes
Janet Arnott Exceptional Coach Award
The award is named after the longtime Manitoba coach, who passed away last summer. The award has been created to recognize exceptional coaching contributions and accomplishments over a significant period of time. It is to be awarded only in special circumstances to an individual that has been a difference-maker in the sport of curling as a result of their contribution to the development, well-being or sport for life aspirations of an athlete, athletes or team.
As the inaugural winner, Sparkes blazed a trail for female curling coaches in Canada. An accomplished athlete, Sparkes was a three-time champion at the Scotties, twice as a skip, and also won a world championship in 1985 playing vice-skip for Linda Moore. She also was a gold-medallist at the 1988 Winter Olympics in Calgary (when curling was a demonstration sport) playing vice-skip for Moore.
She then moved to coaching, and spent 10 years as Canada's national women's coach and team leader, working with Canadian teams at world championships and the 1998 and 2002 Winter Olympics, and participated in numerous High Performance camps across Canada.
Sparkes received her award during the Women in Leadership Symposium, hosted by Curling Canada during the 2020 Scotties Tournament of Hearts last week in Moose Jaw, Sask.
Bill Shorter
Volunteer of the Year
There are few aspects of the operations of the Deep River Curling Club that aren't touched by the influence of Bill Shorter; as club president Janice Bunge noted in her nomination letter for Shorter, "In short, Bill is responsible for the entire physical operation of our Club, however, we do allow him time to curl!"
Shorter works with the club's junior and Learn-to-Curl programs, and also was active in making sure the club was following the guidelines set out by the passing of Rowan's Law covering concussions in youth sport.
He also volunteers as the Ice and Property Director, heading up the crew of ice technicians and organizes work parties that produce stellar ice conditions for ice members.
But his greatest volunteer contribution came as the Deep River Club was facing significant challenges with its ice plant as the 2017-18 season was winding down. Upon season's-end, Shorter coordinated a fundraising effort, as well as volunteer work parties, to upgrade the ice plant and replace all of the floor piping to completely restore the curling playing surface.
And if that effort weren't enough, Shorter also worked with the local fire department to produce an Ammonia Safety Protocol as well as a Fire Protection Policy for the Deep River Club.
Shorter will be recognized during an on-ice ceremony at the Tim Hortons Brier in Kingston.
Curling Canada's 14 Member Associations submitted applications for the Curling Canada Volunteer of the Year Award, and among some amazing submissions, it was narrowed down to six finalists, including Shorter.
The other National Finalists were as follows:
• Kelly Tooley (Ontario)
• Ron Hart (Ontario)
• Melanie Hryniuk (Alberta)
• Danette Gray (Nova Scotia)
• Sylvie Robitaille (Quebec)