Battle of unbeatens!
Alberta's Brendan Bottcher remains undefeated at Tim Hortons Brier
KINGSTON, Ont. – Brad Gushue of Newfoundland and Labrador had a lot of options with his final stone on Sunday night but none of them were particularly favourable – and the one he finally chose didn't work out, letting Brendan Bottcher of Alberta score two for a 3-2 victory in a meeting of unbeaten teams at the Tim Hortons Brier, presented by AGI.
"I had a few options, all of them fairly difficult," Gushue said of his shot, a raise double tap back to remove two Alberta counters inside the four-foot. He got the raise, but it wasn't angled correctly to dislodge Alberta's winning shot rocks.
"The one that I took on had the best result if I made it. If I make that he probably comes through the hole for one. A tough way to finish. Unfortunate. Disappointing. We had a chance to win that game and, it sucks."
It was the marquee game of the night; two of the event's heavyweights going at it head-to-head. Both teams went into the game with 2-0 records atop Pool B and both teams played it close to the vest with more blank ends than points scored – six blanks to five total points scores – and not an over-abundance of rocks in play until the final end.
"Those are probably the (most fun) games for me to play because it was such a well tactically executed, technically executed game," said Bottcher. "It just came down to a lot of great shots, which is all you can ask for."
Gushue, the 2017 and '18 national men's champion, with third Mark Nichols, second Brett Gallant, lead Geoff Walker, alternate Jeff Thomas and coach Jules Owchar out of St. John's, were forced to take one in the second and sixth ends.
Bottcher, the Tim Hortons Brier silver-medallist in 2018 and '19, with third Darren Moulding, second Brad Thiessen, lead Karrick Martin, alternate Patrick Janssen and coach Don Bartlett out of Edmonton, were forced to take one in the fourth.
"The whole game was building to that last end," said Bottcher. "There were a handful of half-shots the whole game, but otherwise it was a super cleanly played game.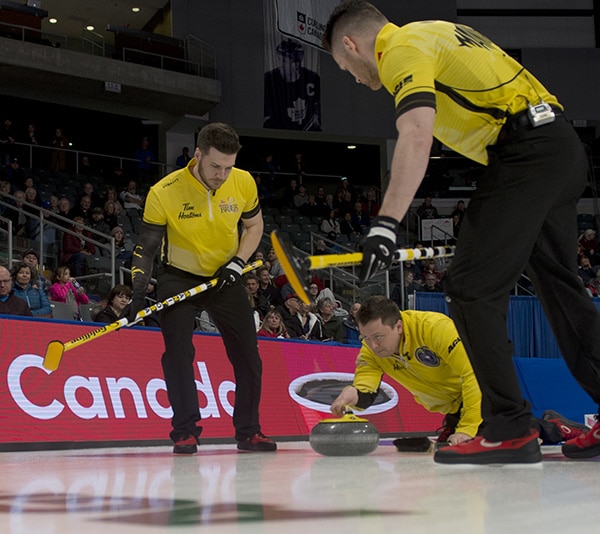 In the eighth end things got interesting when Alberta hid two counters behind guards. But a Gushue double takeout through a narrow port flipped that situation. Bottcher followed with a raise triple-takeout and it became the fifth blank end of the match.
"We just didn't quite get the angles set up early in any of the ends," Gushue said of all the blanks. "I thought Brendan's team really controlled that and we had to blow it up early in most of the ends and that's why you saw so many blanks."
In other games on Sunday evening, Kevin Koe and Team Canada (Calgary, 2-1) scored three in the third end and deuces in the sixth and seventh to beat James Grattan of New Brunswick (Oromocto, 1-2) 8-4; John Epping of Ontario (Toronto, 3-0) scored two in the second and four in the fourth en route to a 10-6 win over Thomas Scoffin of Yukon (Whitehorse 0-3,); and Jason Gunnlaugson of Manitoba (Morris, 2-1) needed a measure for a second point in the final end to sneak by Brad Jacobs of Northern Ontario (Sault Ste. Marie, 1-2) 6-5.
The 2020 Tim Hortons Brier continues with draws Monday at 9 a.m., 2 p.m. and 7 p.m. (all times ET).
Live scoring, standings and statistics for the 2020 Tim Hortons Brier are available at curling.ca/scoreboard.
TSN and RDS2 (streamed on ESPN3 in the United States) will provide complete coverage of the 2020 Tim Hortons Brier. CLICK HERE for the complete schedule.
For ticket information for the 2020 Tim Hortons Brier, go to www.curling.ca/2020brier/tickets.
This story will be available in French as soon as possible at www.curling.ca/2020brier/?lang=fr