Bluenosers in the mix!
Nova Scotia opens Monday with win at 2020 Tim Hortons Brier
KINGSTON, Ont. – Jamie Murphy and his Nova Scotia crew know they're in tough to advance out of their pool, but remained in the thick of the fight as of Monday morning at the Tim Hortons Brier, presented by AGI.
Murphy, third Paul Flemming, second Scott Saccary, lead Phil Crowell, alternate Kevin Ouellette and coach Bruce Lohnes (Halifax, 2-1) gave up a steal in the opening end before running off three straight deuces, rolling to an 11-2 win over Bryan Cochrane of Prince Edward Island (Cornwall, 1-2).
"Good way to start the day," said a pleased Murphy. "I mean, a couple of wins today and first one was good to start with a win."
Skipping in his fifth Tim Hortons Brier, Murphy said the first-end steal came after his first stone picked "and we ended up having to give them a steal.
"They were lying three so happy to just give up one. After that we were pretty sharp."
Nova Scotia bounced back with a deuce in two, stole two in three and took control of the game with another deuce in four when Cochrane came up light on two straight draws.
"He came up light on a couple of makeable shots," said Murphy. "That sheet was curling quite a bit more than we saw yesterday so unfortunate for him he came up light on a couple."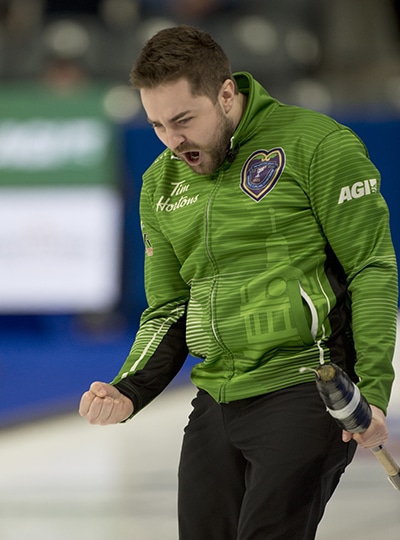 The win kept Nova Scotia solidly in the mix in Pool B that includes former Tim Hortons Brier champion Brad Gushue of Newfoundland and Labrador (St. John's, 2-1), Brendan Bottcher of Alberta (Edmonton, 3-0), the silver-medallist the last two years, and perennial contender Manitoba, this year skipped by Jason Gunnlaugson (Morris, 2-1).
In the other Pool B game Monday morning, Alex Bédard and his all-rookie foursome out of the Lacolle/Boucherville/Glenmore curling clubs (1-2), scored their first Tim Hortons Brier win, 7-4 over Jake Higgs of Nunavut (Iqaluit 0-3).
Over in Pool A, Matt Dunstone of Saskatchewan (Regina, 2-1) produced a spectacular runback triple with final stone to score four and nip Steve Laycock of British Columbia (Vernon/Kelowna, 1-2) while Mike McEwen and Wild Card (West St. Paul, 3-0) shook off a stubborn Jamie Koe of Northwest Territories (Yellowknife, 0-3) 6-2.
Dunstone's winning shot came after B.C. vice-skip Jim Cotter, who throws last rocks, missed twice – a double take-out attempt that sailed between both stones, and a draw that came up inches light.
"As soon as Jimmy came up light I knew it was there, not a doubt in my mind," said Dunstone. "You don't expect two misses like that out of Jimmy, ever. Curling gods were definitely with us in the tenth, wow, four in the tenth."
The 2020 Tim Hortons Brier continues with draws today at 2 p.m. and 7 p.m. (all times ET).
Live scoring, standings and statistics for the 2020 Tim Hortons Brier are available at curling.ca/scoreboard.
TSN and RDS2 (streamed on ESPN3 in the United States) will provide complete coverage of the 2020 Tim Hortons Brier. CLICK HERE for the complete schedule.
For ticket information for the 2020 Tim Hortons Brier, go to www.curling.ca/2020brier/tickets.
This story will be available in French as soon as possible at www.curling.ca/2020brier/?lang=fr