Canada surges!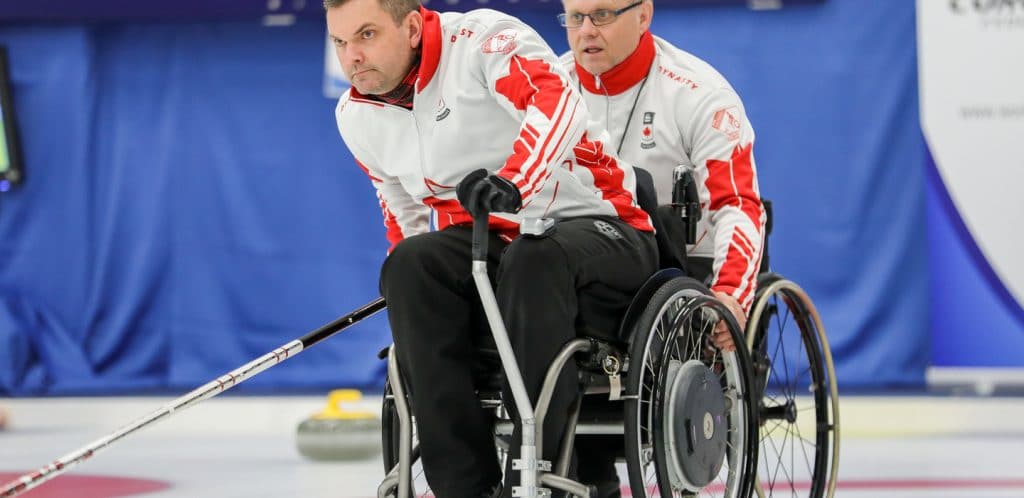 Canada stays hot on day 3 with two wins at 2020 world wheelchair championship
Two wins helped propel team Canada up the standings board on Day 3 of the 2020 World Wheelchair Curling Championship from Wetzikon, Switzerland as the Canadians defeated host Switzerland's Raymond Pfyffer 6-4 in session 7 and Scotland's Hugh Nibloe by a score of 10-2 in session 8.

Skip Mark Ideson knows that the competition is a lengthy one and they have time to find their stride.
" We have been building all week so it was nice to come out strong. We're notorious for starting slow so it was nice to get of the gate quickly this time. We knew coming here that we weren't going to go without losses. It's such a strong field. To get as loss early is ok it helps maintain the focus. It's a long week so we really just have to pace ourselves and build as the week goes. Scotland has always been an excellent team. We love playing against them and like I said, it's a long week so we never count any team out that's for sure," said Ideson.
With six games remaining in the round robin portion of the event, Canada now sits at 4-1 tied alongside Norway for third place in the standings.

The team, comprised of skip Mark Ideson of London, Ont. (throwing lead stones), Jon Thurston of Dunsford, Ont. (throwing fourth stones), Ina Forrest of Armstrong, B.C., Dennis Thiessen of Sanford, Man., alternate Collinda Joseph of Stittsville, Ont., coach Wayne Kiel of Balgonie, Sask., and assistant coach Mick Lizmore of Edmonton will now turn their focus towards their upcoming matches on March 3 versus Norway's Jostein Stordahl at 8 a.m. (all times Eastern) in session 10 and Latvia's Polina Rozkova at 1 p.m. in session 11 which will be available for viewing via livestream. See below for details.
Canada will play an 11-game round-robin, with the top six teams from the 12-team field making the playoffs. The first- and second-place teams will go straight to the semifinals, while No. 6 plays No. 3, and No. 5 plays No. 4 in the qualification round.
The qualification round and semifinals are on Friday, March 6, with the bronze- and gold-medal games on Saturday, March 7.
There are 12 total teams in the event, including Canada, 2019 champions China, Czech Republic, Estonia, Korea, Latvia, Norway, Russia, Scotland, Slovakia, Sweden and hosts Switzerland.
For additional details about the 2020 World Wheelchair Curling Championships, including schedules and team rosters, visit the World Curling Federation's event website here.
Select matches will be streamed live. Click here for the stream and more.