"Unreal!"
Niagara Falls Curling Club hosts Brier Tankard on Curling Day in Canada
The Brier Tankard. Niagara Falls. Two iconic Canadian sights in their own rights. But together? They create a once in a lifetime opportunity for lovers of curling and Canadiana alike.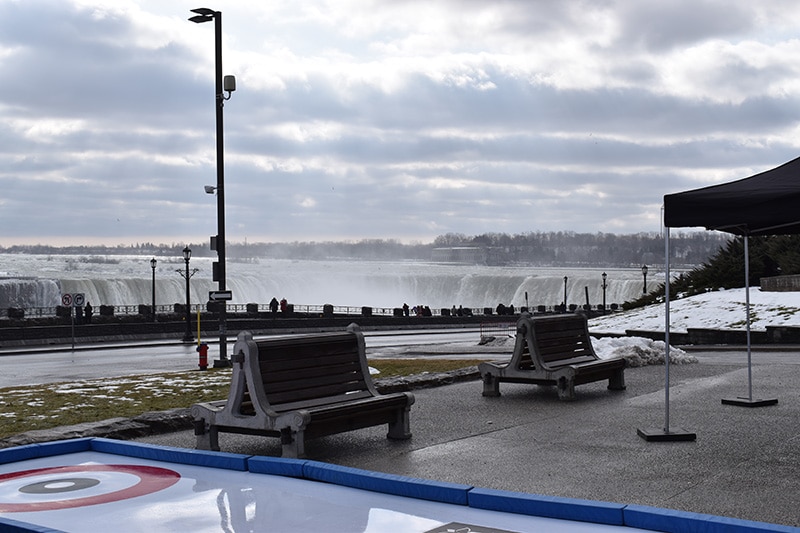 That's exactly what happened on Feb. 22 when the Niagara Falls Curling Club took their beloved sport to the street for a Curling Day in Canada celebration. The club's initiative earned itself the right to host the Brier Tankard during its Curling Day in Canada celebration, be featured during the live broadcast on TSN and receive a visit from four-time Tim Hortons Brier champion David Nedohin and his daughter Alyssa. It created moments that club members, tourists and curling fans alike will remember for a long time.
We caught up with Little Rocks coordinator Stephen Fish of the Niagara Curling Club to learn more about the day.
What made the day so memorable?
Where to begin. I can't thank you enough for the opportunity you have afforded my club.  It truly was a day that we will never forget.  I can't say enough good things about the TSN crew.  They were so professional, and spent a lot of time learning, and telling our story.
David and Alyssa Nedohin were wonderful representatives of Curling Canada, and curling as a whole. They both were both engaging and very willing with their time for all of our members.
The Brier Tankard.  I felt like I was living a childhood dream, it sitting at our club this morning, waiting for my Little Rock members to show up with just me and such an iconic symbol.  Unreal.
And on a personal level, for the first time ever my wife and children joined me on the ice for our first ever family team. One another funny experience one of our American members brought 3 of his fellow IRS agents who had never curled (two from Kentucky if I am not mistaken) who ended up joining David Nedohin for an end. It truly was what makes our game so unique and so special to me. So, Thank You.
Curling clubs were asked to share their most unique and interesting stories for an opportunity to host the Brier Tankard on Curling Day in Canada. Tell us more about the Niagara Curling Club's entry.
Our curling club is in a unique position not only because of the falls are nearby, but also because of the members we have in our club. We're likely the only club in the country that can say its membership includes a five-time women's national champion, but yet has never won a Scotties. That's because about 10 per cent of our membership is willing to cross international borders to curl with us, including five-time United States champion and 1999 world silver-medallist Patti Lank.
Not only do we have members from south of the border, but we're just a short drive away from one of the most awe-inspiring sights in Canada – Niagara Falls. So for this year's Curling Day in Canada we decided to include it in our celebrations. We took street curling to Niagara Falls and our members had an opportunity to showcase the sport to people not only in Canada, but across the world. It's common to have tourists from all over the world checking out Niagara Falls and on Curling Day in Canada, they got to take in another important Canadiana staple – curling. It was a unique way to showcase our sport to a large audience, which went a long way in allowing our club to be selected for a visit from the Brier Tankard on that day as well.
You can read our entire entry here.
Tell us more about how your club celebrated Curling Day in Canada.
We hosted a street curling event next to the falls to help showcase the sport. It was not only a special way for our members to celebrate, but also to introduce the sport to new people. With so many visitors to our city – and country – we had lots of people walking by who wanted to learn more about our sport and try it out for themselves.
After that, we headed back to our club with the trophy and had a 'funspiel'. Alyssa played on a team, and David spent time in the lounge and on the ice chatting with the teams and giving out advice. Afterwards, we had dinner and David shared some stories and answered some questions from club members. A day our club will never forget!
Truthfully, the most important part was the opportunities it afforded our club. We saw approximately 100 members come down to take part in the event. We sold out our funspiel within 20 hours of announcing it, so we added a few more slots and got creative with our plan. We had teams cycle through each sheet, so they got to play a new team each end. Entry was by donation, and through the raffle and the dinner we were able to raise $1000 that will be divided between our club's Murray Endicott Scholarship and the Love of Curling Scholarship.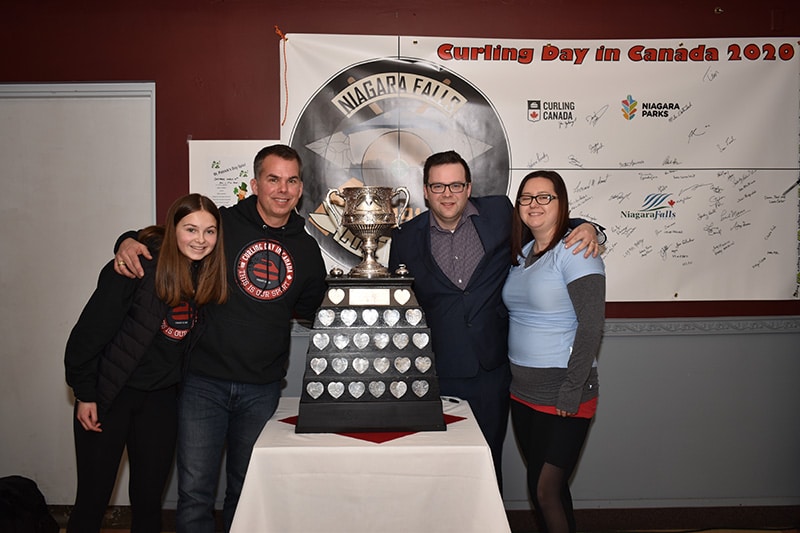 How do you think people will remember their experiences of seeing Niagara Falls and the Brier Tankard together?
It was so great to have so many facets of our club come together and the experience was unbelievable from start to finish. We, of course, have nights we play and as such sometimes don't know members from other nights. It was great to see new members interacting with some of our more experienced members. But most of all it was just great to see people of all ages from kids who aren't old enough to curl yet, to people who've been members for almost fifty years, come together to celebrate the game we love.
We'll reluctantly send back the Tankard, but we'll never forget what a special day it was for our club.
Save the date! The 2021 Curling Day in Canada celebration will be on Feb. 27. Stay up to date with the latest news here: https://curlingdayincanada.ca/.