Let loose the moose!
Northern Ontario charges forward with convincing Quebec win
KINGSTON, Ont. – They've struggled and been inconsistent through the first three days of the Tim Hortons Brier, presented by AGI, but don't count out Brad Jacobs and his world No. 1 ranked team just yet.
Jacobs and his Northern Ontario team (Sault Ste. Marie; 2-3) of third Marc Kennedy, second E.J. Harnden, lead Ryan Harnden, alternate Lee Toner and coach Rick Lang, kept alive their hopes of advancing beyond the round robin with a solid 9-2 win on Tuesday afternoon over Alex Bédard of Quebec (Lacolle, Boucherville, Glenmore; 1-4).
Jacobs, 2014 Olympic gold-medallist and 2013 Tim Hortons Brier champion, said his team's struggles aren't that big of a concern at this point.
"We're just kind of on the wrong side of the inch," he said, "but that's in the past. We have to focus on what lies ahead, lots of great teams and hopefully we can continue to play like we have because we are very close."
And other teams are fully aware of that.
"They're an amazing team," said Alberta third Darren Moulding. "Definitely one of the teams that still has a chance to win it. They're kind of like a grizzly bear sleeping on the floor right now, so I really don't want to wake them up."
In the other Pool B game, Brendan Bottcher and Team Alberta (Edmonton; 5-0) kept its spot at the top of the pool with a 6-2, eight-end win over Jamie Murphy of Halifax, Nova Scotia. Trailing Alberta are Newfoundland & Labrador (Brad Gushue, St. John's; 4-1), Nova Scotia and Manitoba (Jason Gunnlaugson, Morris) at 3-2, Northern Ontario and Prince Edward Island (Bryan Cochrane; Cornwall) at 2-3, Quebec at 1-4, and Jake Higgs of Iqaluit, Nunavut at 0-5.
Bottcher's key to success is to not have any letdowns.
"We're trying to do what we can to finish out this first round as strong as we can and hopefully that sets us up good for the Championship Pool," he said. "We're all feeling good. This game will help, we came out and played eight solid ends of curling. I don't think there was one bad end in there so that's a confidence boost. The more distance we can put between where we're at and where other teams are in the standings, it's good."
On the Pool A side, defending champion Kevin Koe of Team Canada (Calgary, 4-1) executed a triple-takeout with his final stone to score two and beat previously unbeaten Mike McEwen and Team Wild Card (West St. Paul, Man., 4-1) 3-2.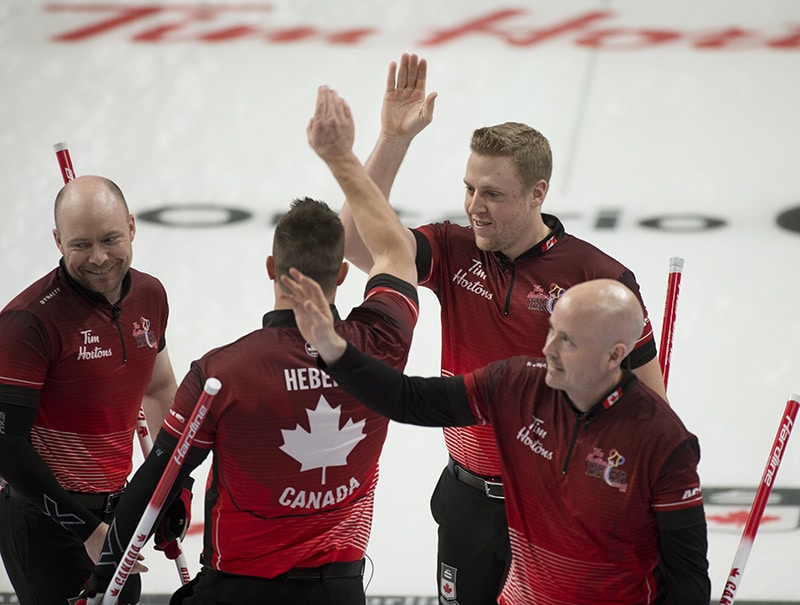 "I shouldn't have given him that shot," McEwen said of his own final stone that slid a touch too far and created the opportunity for Koe. "He never should have had it. If I put it in a good spot, he has to draw the button … can't give anybody in this field a shot like that and especially not Kevin."
Koe, third B.J. Neufeld, second Colton Flasch, lead Ben Hebert, alternate Ted Appelman and coach John Dunn forced McEwen into singles in the third and ninth ends while being forced to a take one in the sixth end.
"Good, great, huge, whatever you want to call it," Koe said of the win. "They're rolling, playing great … and you bring them back a game and for us we didn't want to get to a second loss this early."
The other afternoon game saw Matt Dunstone and Saskatchewan (Regina, 4-1) pull off another big win, 6-4 over John Epping of Ontario (Toronto, 3-2). Epping came up short of the house with his last-rock draw in the tenth, leaving Dunstone to score three without having to throw his last stone.
Those results created a three-way tie for top spot in the pool with Canada, Wild Card and Saskatchewan all at 4-1, followed by New Brunswick's James Grattan (Oromocto) and Ontario at 3-2; British Columbia's Steve Laycock (Vernon/Kelowna) and Jamie Koe of Yellowknife, Northwest Territories are at 1-4 and Yukon's Thomas Scoffin (Whitehorse) is at 0-5.
The top four teams in each pool advance to the championship pool that begins play on Thursday.
The 2020 Tim Hortons Brier continues with this evening draw at 7 p.m. ET.
Live scoring, standings and statistics for the 2020 Tim Hortons Brier are available at curling.ca/scoreboard.
TSN and RDS2 (streamed on ESPN3 in the United States) will provide complete coverage of the 2020 Tim Hortons Brier. CLICK HERE for the complete schedule.
For ticket information for the 2020 Tim Hortons Brier, go to www.curling.ca/2020brier/tickets.
This story will be available in French as soon as possible at www.curling.ca/2020brier/?lang=fr