Next level!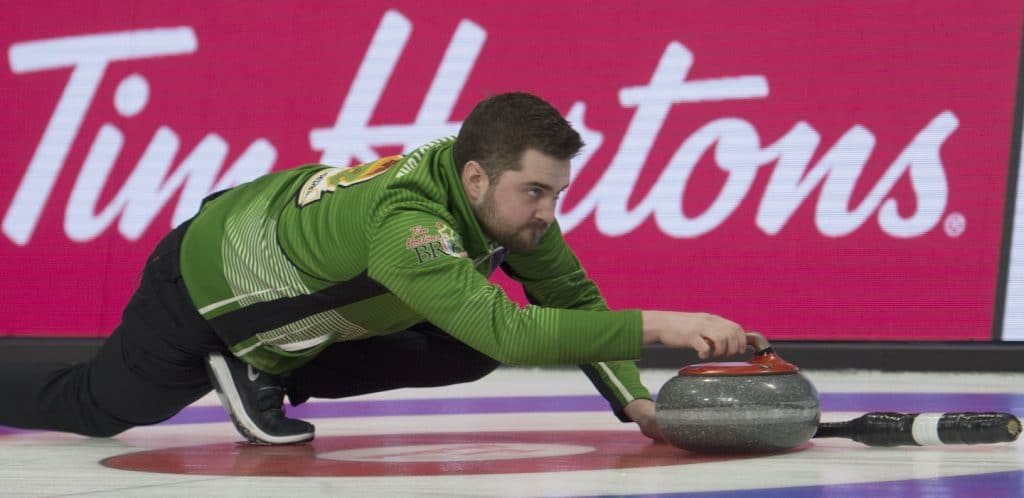 DUNSTONE GUIDES SASKATCHEWAN TO TIM HORTONS BRIER CHAMPIONSHIP POOL
KINGSTON, Ont. — The heavyweights came out to play Tuesday at the Tim Hortons Brier, presented by AGI, and when the lights went out at Leon's Centre it was back-to-back perfect shooting games by Matt Dunstone that had Saskatchewan as one of three teams guaranteed of advancing to the next round.
After two days of emotional games that required some heroic shots to win, Dunstone had a routine draw to the four-foot in the 10th end to beat Kevin Koe and Team Canada (Calgary, 4-2) 5-4 to improve to 5-1, tied atop the Pool A standings with Mike McEwen and Team Wild Card.
"It's a pretty easy game when the skip plays 100 per cent," said Saskatchewan third Braeden Moskowy. "What can you say? He's feeling it and no one else I'd rather have throwing last stone. We know that if we can get him a shot, a big shot, we like our chances of him making it and that's what he's been doing."
Dunstone, who had great support all day from Moskowy, second Catlin Schneider, lead Dustin Kidby and coach Adam Kingsbury, is the first skip to throw two 100 per cent games in the same day at the Brier.
"Heck of a day today," Dunstone said of the day that began with a 6-4 win over John Epping of Ontario (Toronto, 3-3). "I'm proud of the guys, we certainly put our best foot forward. Playing two of the top teams here and to come out 2-0 puts us in a real good position moving forward."
Also assured of moving into the championship pool on Thursday is McEwen, who stormed back from a 3-2 loss to Koe in the afternoon to roll to an 11-7 win over Epping, who lost his third straight game.
Team Wild Card bounced back dramatically from its afternoon loss to Team Canada, shocking Ontario with a steal of two in the first end and a single in the second. Epping's crew recovered slightly with a deuce in three but was stunned in the fourth when McEwen's team posted a five-ender
The Wild Card skip had a relatively routine tapback for the five.
McEwen said he was angry at himself for losing the afternoon game but thrilled with the way his team bounced back in the evening.
"To come back and play John, angry can go badly, too, but I was really focused and the guys played well in front of me. That was admirable of the boys," he said. "I had a couple of big shots that turned the tide of that game pretty quickly."
After posting the five, McEwen, third Reid Carruthers, second Derek Samagalski, lead Colin Hodgson and coach Rob Meakin gave up a three to give Epping hope of a comeback.
"You have to frame things," McEwen said of the situation. "We're still three up with hammer and as long as you can get to that mindset quicker … it's okay to be upset, mad, but reframe it quickly."
They did that with a deuce in six.
In Pool B, Brendan Bottcher of Alberta (Edmonton) scored three in the sixth to beat Alek Bédard of Quebec (Lacolle/Boucherville/Glenmore, 1-5) 7-3 to improve to 5-0 and guarantee at least a tiebreaker; while Brad Jacobs of Northern Ontario (Sault Ste. Marie, 3-3) beat Jamie Murphy of Nova Scotia (Halifax, 3-3) 6-2.
The 2020 Tim Hortons Brier continues with draws Wednesday at 9 a.m., 2 p.m. and 7 p.m. (all times ET).
Live scoring, standings and statistics for the 2020 Tim Hortons Brier are available at curling.ca/scoreboard.
TSN and RDS2 (streamed on ESPN3 in the United States) will provide complete coverage of the 2020 Tim Hortons Brier. CLICK HERE for the complete schedule.
For ticket information for the 2020 Tim Hortons Brier, go to www.curling.ca/2020brier/tickets.
This story will be available in French as soon as possible at www.curling.ca/2020brier/?lang=fr