Championship pool-bound!
Northern Ontario's slow start doesn't deter team from Championship Pool
KINGSTON, Ont. – Early in the week Brad Jacobs said a little adversity can be a good thing for his Northern Ontario team at the 2020 Tim Hortons Brier, presented by AGI.
Faced with a couple of unexpected, early losses the Sault Ste. Marie foursome of Jacobs, third Marc Kennedy, second E.J. Harnden, lead Ryan Harnden, alternate Lee Toner and coach Rick Laing, showed their mental toughness with three straight wins, capped by Wednesday's 10-3 victory over Jake Higgs of Nunavut (Iqaluit, 0-7) that propelled them into the Championship Pool.
"That adversity was good, it was tough to get through to be honest," Kennedy said after their win improved their record to 4-3. "We didn't want to be 1-3 but we were and we managed it really well yesterday and today. You can feel us gathering momentum and getting comfortable with the ice and I don't think we could have asked for more than that.
"I think we're in the championship round, right, man, with no tiebreakers? A miracle, a miracle in Kingston."
It wasn't exactly a miracle but after a series of spectacular shot-making, Jason Gunnlaugson had a routine – for him – hit-and-roll to the button to score one in the tenth for a 9-7 Manitoba (Morris, 5-2) victory over Jamie Murphy of Nova Scotia (Halifax, 3-4).
That win sends Manitoba into the Championship Pool that begins play Thursday and ends Nova Scotia's bid to continue playing.
"We played really well but kind of gave the board away in the eighth end," said a disappointed Murphy. "He made a nice hit-and-roll. I had to make a really good shot to score one and we played to make it and it just sort of ran straight down the sheet, gave up a steal of two."
Gunnlaugson, third Alex Forrest, second Adam Casey, lead Connor Njegovan and coach Garry Van Den Berghe had deuces in the third, seventh and eighth ends but gave up deuces in the second, sixth and ninth ends to get the vital win.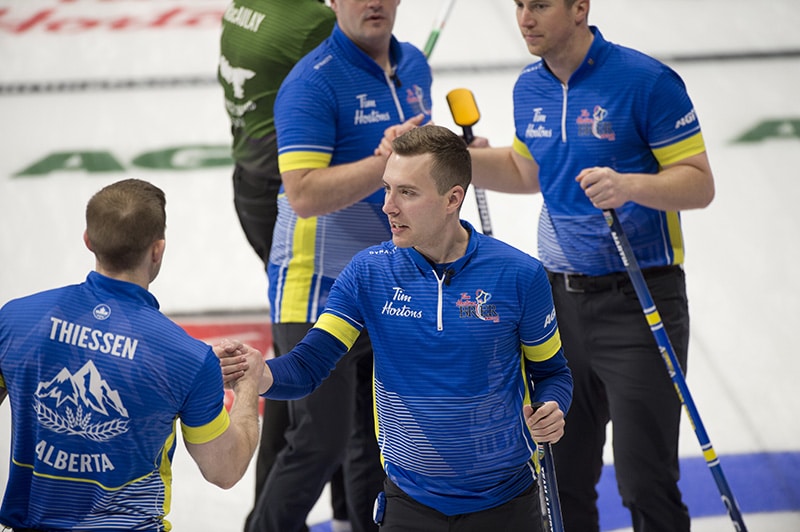 "You need to be at two (losses) or better to give ourselves a good enough chance moving on," said Gunnlaugson. "We knew if we lost we would have them back again in a tiebreaker and that would not have been any fun. Real good battle. They flipped the hammer a couple of times, but we just kept battling, got some key deuces and got there in the end."
In other Pool B games Brad Gushue of Newfoundland & Labrador (St. John's, 6-1) posted three triples to beat Alek Bédard of Quebec (Lacolle, Boucherville, Glenmore, 1-6) 10-4 and Brendan Bottcher of Alberta (Edmonton, 7-0) beat Bryan Cochrane of P.E.I. (Oromocto, 2-5) 9-6 to finish the round robin as the only unbeaten team in either pool.
Alberta and Newfoundland & Labrador join Manitoba and Northern Ontario in the next round.
The top four teams in each of the two pools advance to the Championship Pool where they'll play four more games and the top four teams at the end of that moving on to the Page playoff.

"We know it's going to be four really good teams," Kennedy said of the next round. "You know that come tomorrow you better have your A-game or you'll be going home pretty soon. We're close, I can't think of the last time Brad missed a shot, so we'll see."
Jacobs said his team has been getting stronger and more confident each game and will go into the next round feeling good about their game.
"We're in a fight for our lives here…and we welcome every bit of adversity and hardship," said the 2013 Tim Hortons Brier champion. "It's the Canadian championship, it's not supposed to be easy."
In Pool A, Mike McEwen of Team Wild Card and Matt Dunstone of Saskatchewan, both at 5-1, have won berths in the Championship Pool. The final two spots will be determined in this evening's final round-robin draw.
The 2020 Tim Hortons Brier continues with this evening's draw at 7 p.m. ET.
Live scoring, standings and statistics for the 2020 Tim Hortons Brier are available at curling.ca/scoreboard.
TSN and RDS2 (streamed on ESPN3 in the United States) will provide complete coverage of the 2020 Tim Hortons Brier. CLICK HERE for the complete schedule.
For ticket information for the 2020 Tim Hortons Brier, go to www.curling.ca/2020brier/tickets.
This story will be available in French as soon as possible at www.curling.ca/2020brier/?lang=fr