Close call!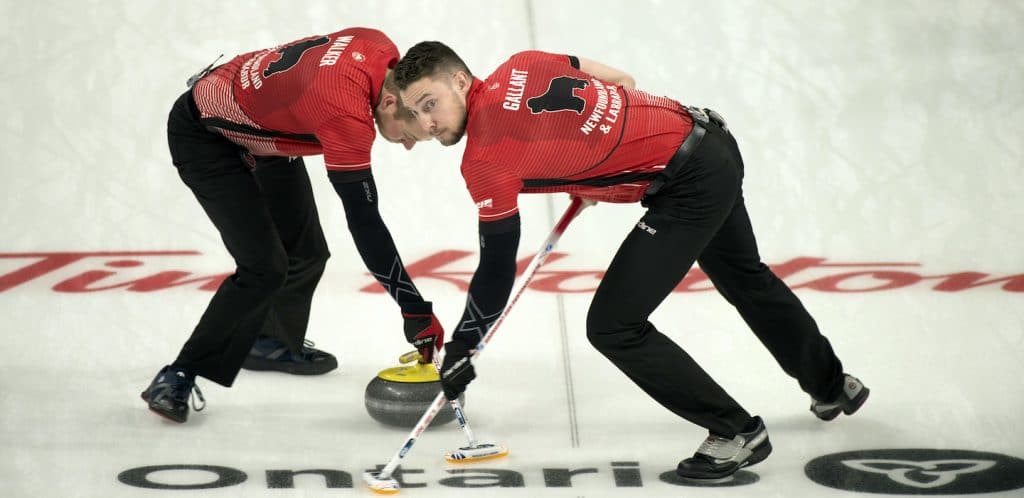 P.E.I. PUSHES NEWFOUNDLAND/LABRADOR TO THE LIMIT AT TIM HORTONS BRIER
KINGSTON, Ont. – They came into the Tim Hortons Brier, presented by AGI, as the 2019 world senior curling champions and Wednesday morning they showed age has to be respected as they threw a scare into one of the pre-tournament favourites.
Bryan Cochrane of his Prince Edward Island foursome out of the Cornwall Curling Club (2-4) had Brad Gushue and his Newfoundland/Labrador (St. John's, 5-1) team on their heels and trailing 7-6 after seven ends before the two-time Tim Hortons Brier, world and Olympic champion recovered for an 11-8 win.
"Gave myself a scare," Gushue responded when asked if P.E.I. had given him a scare. "Here this week, if you let up against the world senior champion, they're going to kick your butt. We took the pedal off in the middle of the game and they came right back and had a lead going into the eighth end.
"It's tough," he added. "The top level of the men's game right now is so even and so deep and so strong, I haven't seen anything like it. You have to play 90 per cent level as a skip if you want to win here."
The 62-year-old Cochrane, along with third Ian MacAulay, second Morgan Currie, lead Mark O'Rourke and coach Ken Sullivan, scored two in the fourth end and stole two in the fifth to turn a 5-1 deficit into a tie game.
Their steal came when Gushue missed a takeout with his final stone.
"Little bit of frost pick or something happened there in the fifth end," said Gushue. "I felt like I threw the rock pretty good and halfway down the sheet it began to curl like crazy. "
The win assured Gushue, third Mark Nichols, second Brett Gallant, lead Geoff Walker, alternate Jeff Thomas and coach Jules Owchar of moving into the Championship Pool that begins play Thursday.
Meanwhile James Grattan and Team New Brunswick (Oromocto, 3-3) put themselves into a precarious position by losing 8-6 to Jamie Koe of Northwest Territories (Yellowknife, 1-4).
"We just did the typical New Brunswick thing that we do every year," Grattan said after the loss. "We can beat anybody here, we can probably beat the best teams in the world and we can lose to anybody, too. The consistency level for us just raises its ugly head sometimes."
A win would have put New Brunswick in a good position to advance into the Championship Pool. Now they will almost have to beat Mike McEwen's Team Wild Card that sits atop the Pool A standings at 5-1.
"We didn't want to get ourselves in that situation, we had a little bit of a buffer if we get past that one," Grattan said. "I looked on the radar at the beginning of the week, and Jamie and I have had some historic battles over the years, so I knew this was going to be tough. He always seems to raise his game when he sees my name."
Koe, appearing in his 14th Tim Hortons Brier, third David Aho, second Shadrach McLeod, lead Cole Parsons and alternate Matt Ng, scored three in the second end to put Grattan, third Paul Dobson, second Andy McCann, lead Jamie Brannen and alternate Chris Jeffry back on their heels.
New Brunswick recovered with back-to-back singles and a deuce in six to lead 5-4. But when Grattan came up inches light on his last-rock draw in eight – it took a measurement to determine shot rock – he gave the Territories a steal of one and a 7-6 edge. Koe made a last-rock double for one in ten to take the win.
In other morning games, Steve Laycock of British Columbia (Vernon/Kelowna, 2-4) got by Thomas Scoffin of Yukon (Whitehorse, 0-6) 6-3; and Jason Gunnlaugson of Manitoba (Morris, 4-2) had five multiple score ends to beat Jake Higgs of Nunavut (Iqaluit, 0-6) 11-5.
The 2020 Tim Hortons Brier continues with draws today at 2 p.m. and 7 p.m. (all times ET).
Live scoring, standings and statistics for the 2020 Tim Hortons Brier are available at curling.ca/scoreboard.
TSN and RDS2 (streamed on ESPN3 in the United States) will provide complete coverage of the 2020 Tim Hortons Brier. CLICK HERE for the complete schedule.
For ticket information for the 2020 Tim Hortons Brier, go to www.curling.ca/2020brier/tickets.
This story will be available in French as soon as possible at www.curling.ca/2020brier/?lang=fr