Championship Pool frenzy!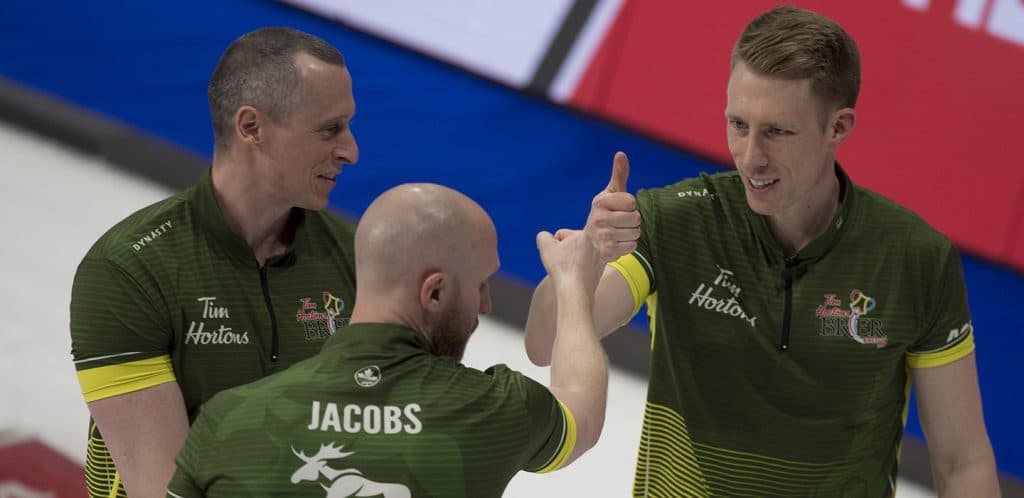 All teams still in the mix after first day of Championship Pool play
KINGSTON, Ont. – Multiple scoring ends have dominated many games at the Tim Hortons Brier, presented by AGI, and it was a four-ender on Thursday evening that powered Brad Jacobs and Team Northern Ontario to another life-saving victory.
The Sault Ste. Marie (6-3) foursome was one of three teams that went into the evening draw at Leon's Centre at 5-3 that scored desperately needed wins to avoid putting themselves on the edge of the cliff with just two draws remaining in the Championship Pool.
Jacobs scored four in the sixth end to beat Matt Dunstone of Saskatchewan (Regina, 6-3) 7-4; John Epping of Ontario (Toronto 6-3) scored three in the second end and went on to beat Brad Gushue of Newfoundland & Labrador (St. John's, 7-2) 8-4, while Kevin Koe and Team Canada (Calgary, 6-3) got a huge break in the 10th end by only allowing one point and scored in the extra end to nip previously unbeaten Brendan Bottcher of Alberta (Edmonton, 8-1) 5-4.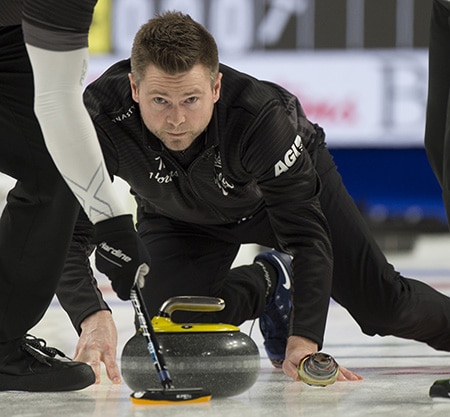 The one three-loss team that failed to win was Jason Gunnlaugson of Manitoba (Morris, 5-4) who fell 5-4 to Mike McEwen and Team Wild Card (West St. Paul, Man., 7-2).
"We woke up this morning just excited to still be playing, the way this week was going," Northern Ontario third Marc Kennedy said after the critical win "We all went on the ice with a smile on our faces and that was a big difference today."
The results mean no team has been eliminated and no team has assured themselves of being one of the four teams that advance out of the Championship Pool and into the weekend Page playoffs.
The huge four-ender for Jacobs, Kennedy, second E.J. Harnden, lead Ryan Harnden, alternate Lee Toner and coach Rick Lang came after Northern Ontario set up the end early and Saskatchewan made two costly misses.
"Front end made some great shots and we got some uncharacteristic misses from Matt (Dunstone)," said Kennedy. "They had a couple of chances at doubles and then a triple that I think he has been making all week. We got a break and a miss, a big turning point in the game."
For Koe and his defending champion team of third B.J. Neufeld, second Colton Flasch, lead Ben Hebert, alternate Ted Appelman and coach John Dunn, their huge break came in the tenth end. After Koe failed to kick out Alberta's counter inside the foot-foot with an angle-raise takeout, Bottcher's draw for two and the win slid too far.
"Brendan doesn't miss many of his last shots and he had just played it, so he had a pretty good idea of what he needed to make that shot, so, yeah, we're thinking the game's over, no doubt," said Neufeld. "But funny things happen sometimes. A great break and we needed it bad…hopefully we can get some momentum."
Koe had a hit-and-stick for a single and the win in the extra end.
Ontario grabbed control of their game with three in the second and steal of one in the third and rarely gave Newfoundland & Labrador many opportunities the rest of the way.
"We played pretty solid and they seemed to struggle getting rock position and kind of left us an out each end to get ourselves out of it," explained Epping. "Feels great to come out and play like that, keep some pressure on him and the team played great in front of me.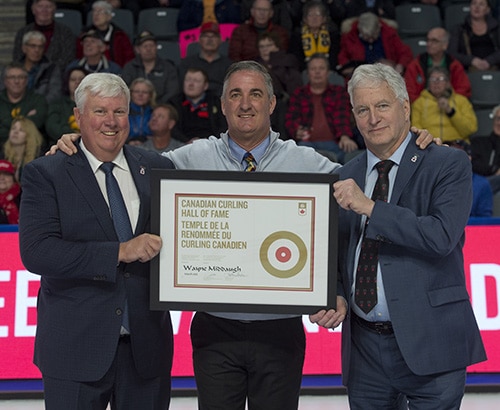 "Overall an awesome day. That's two in a row … it's a grind out there and you can see the tension in everybody so it's a lot of fun to be out there right now.
Prior to the game a legendary curler was honoured with his induction in the Canadian Curling Hall of Fame. Wayne Middaugh was inducted into the Hall of Fame on Thursday in front of the crowd in Kingston. Middaugh is a three-time world and Canadian men's champion. He represented Ontario at nine Briers, and finished on the podium seven times, with three golds, two silvers and two bronze.
The 2020 Tim Hortons Brier continues with draws Friday at 1 p.m. and 7 p.m. (all times ET).
Live scoring, standings and statistics for the 2020 Tim Hortons Brier are available at curling.ca/scoreboard.
TSN and RDS2 (streamed on ESPN3 in the United States) will provide complete coverage of the 2020 Tim Hortons Brier. CLICK HERE for the complete schedule.
For ticket information for the 2020 Tim Hortons Brier, go to www.curling.ca/2020brier/tickets.
This story will be available in French as soon as possible at www.curling.ca/2020brier/?lang=fr