Proceeding to playoffs!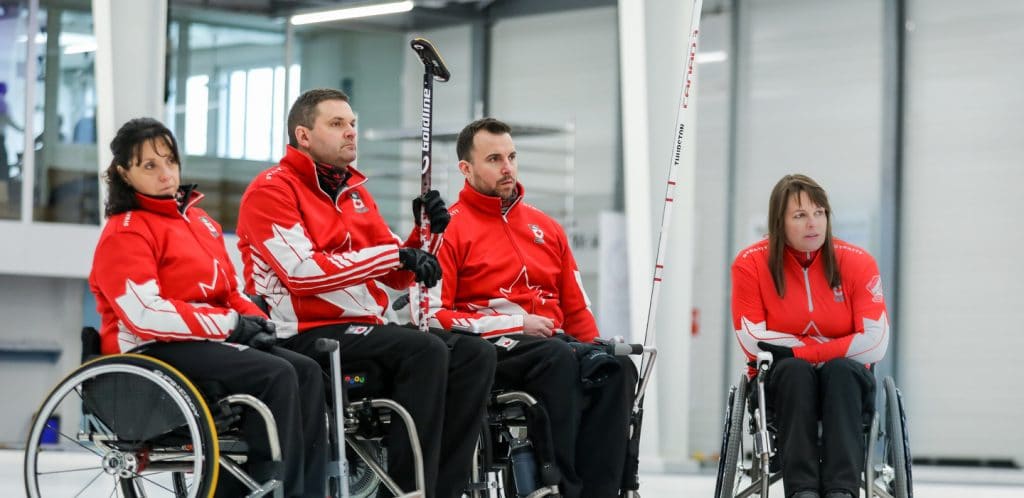 Day six woes won't stymie canada's qualification efforts as they prepare for playoffs at 2020 world wheelchair curling championship
At the conclusion of 11 matches that made up a successful round robin at the 2020 World Wheelchair Curling Championship from Wetzikon, Switzerland, team Canada can check off a mission critical portion of their goals list: qualification for the playoffs.

Up next on that list of goals? The podium. But the challenge of bringing home hardware for Canada will not be an easy one.

The team, comprised of skip Mark Ideson of London, Ont. (throwing lead stones), Jon Thurston of Dunsford, Ont. (throwing fourth stones), Ina Forrest of Armstrong, B.C., Dennis Thiessen of Sanford, Man., alternate Collinda Joseph of Stittsville, Ont., coach Wayne Kiel of Balgonie, Sask., and assistant coach Mick Lizmore of Edmonton ended round robin play boasting a 7-4 record, which has them firmly in third place. The finish earns them a qualification round playoff match-up versus Korea's Seung Won Jung March 6 at 7 a.m. (all times Eastern).

The first- and second-place teams will go straight to the semifinals, while No. 6 plays No. 3, and No. 5 plays No. 4 in the qualification round.
The qualification round and semifinals are on Friday, March 6, with the bronze- and gold-medal games on Saturday, March 7.
Despite being served two losses on day 6 at the hands of Estonia's Andrei Koitmae and China's Haitao Wang, Canada clinched a playoff berth thanks to a hot mid-week five win streak, which had them shoot up the standings.
Canadian Skip Mark Ideson spoke earlier this week about how Team Canada knew the competition would be a difficult one.

"We're notorious for starting slow so it was nice to get out of the gate quickly this time. We knew coming here that we weren't going to go without losses. It's such a strong field," said Ideson.

Jon Thurston echoed those sintiments as well.

"The level of competition this year is spectacular. We're just trying to bring our A game for every game," said Thurston.

Joining Canada in the playoff picture will be China and Sweden, who receive direct berths to the semifinals for being the number one and two ranked round robin finishers, and Canada, Norway, Russia and Korea in that order.

For additional details about the 2020 World Wheelchair Curling Championships, including schedules and team rosters, visit the World Curling Federation's event website here.
All playoff matches will be streamed live. Click here for the stream and more.