CCAA Day 1 recap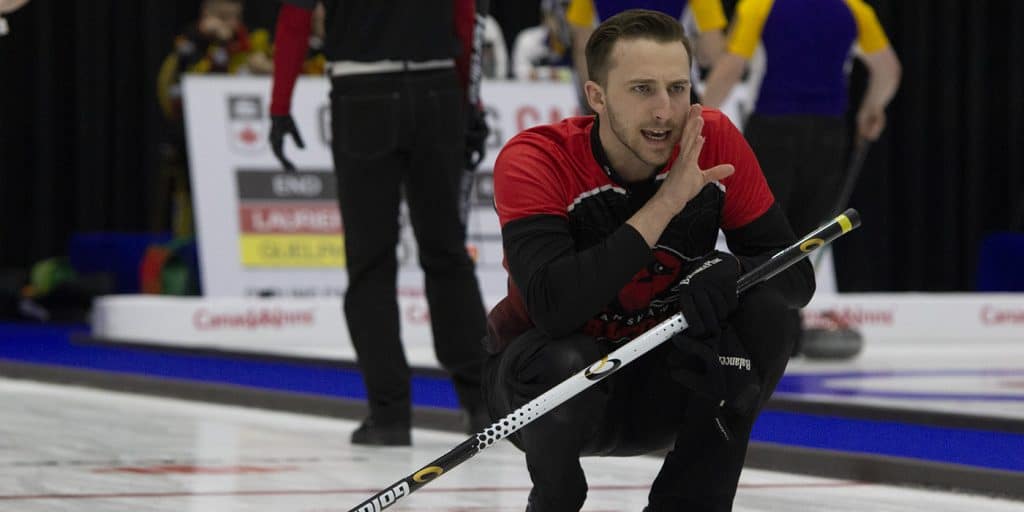 2020 CCAA Curling Canada Championships in Portage la Prairie, MAN.
The 2020 CCAA Curling Canada Championships began Wednesday evening in Portage la Prairie. The Opening Ceremonies were bookended by the first draws in the women's and men's competitions. CCAA curlers shared the ice with fellow student-athletes from U SPORTS to kickoff two weeks of Curling Canada events in Manitoba.
Women's Championship
The women's competition began with admirable performances from all eight teams. The defending CCAA Champion Douglas Royals were the first to clinch a victory at this year's event, defeating the NAIT Ooks 5-2. The Royals were steady, picking up single points through four straight ends before giving up two to the Ooks. Another single in the eight locked up the win for Douglas.
The Augustana Vikings and Sault Cougars traded blows in a match that featured no blank ends. Sault led early and evened things up in the sixth, but Augustana took a three-point lead in the eighth which proved to be enough on route to a 7-6 victory.
A couple of conference rivalry games wrapped up the rest of Draw One. The ACAC's Concordia Thunder defeated the Red Deer Queens 8-5 while the Humber Hawks downed the Fanshawe Falcons 6-4.
Men's Championship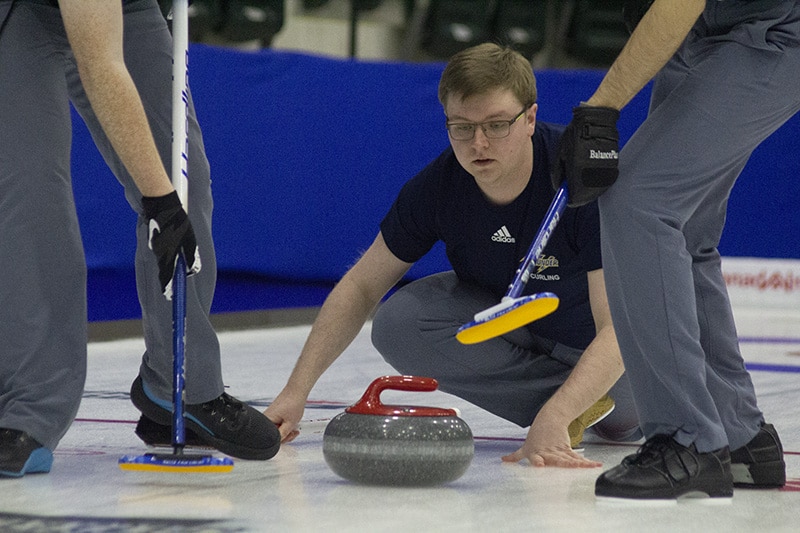 The men's side featured four cross-conference matches between the OCAA and ACAC. Three of the four were somewhat one sided but the Humber Hawks and Lakeland Rustlers went the distance.
Humber appeared to be in command after a four-point second end, but Lakeland chipped away with single points over the next three ends. The Hawks re-established the lead in the seventh and eighth ends, but the Rustlers tied things up with a pair in the ninth. With shot rock in the final end, Humber secured an 8-7 victory with the final stone of the contest.
The Concordia Thunder began their CCAA Championship defense with a strong performance against Sault College, toppling the Cougars 10-3. The NAIT Ooks took three in the eighth end to wrap up an 8-2 victory over the Confederation Thunderhawks. The Fanshawe Falcons and SAIT Trojans shook hands after the ninth with the Falcons holding a commanding 8-4 lead.
Standings After Day One
| | | | |
| --- | --- | --- | --- |
| Women's Teams | Record | Men's Teams | Record |
| Augustana Vikings | 1-0 | Concordia Thunder | 1-0 |
| Concordia Thunder | 1-0 | Fanshawe Falcons | 1-0 |
| Douglas Royals | 1-0 | Humber Hawks | 1-0 |
| Humber Hawks | 1-0 | NAIT Ooks | 1-0 |
| Fanshawe Falcons | 0-1 | Confederation Thunderhawks | 0-1 |
| NAIT Ooks | 0-1 | Lakeland Rustlers | 0-1 |
| Red Deer Queens | 0-1 | SAIT Trojans | 0-1 |
| Sault Cougars | 0-1 | Sault Cougars | 0-1 |
More Information:
Championship Website https://www.curling.ca/2020college/
Live Scoring https://www.curling.ca/scoreboard/#!/competitions/6250
Photos https://ccaasportsacsc.smugmug.com/2020-CCAA-Curling-Canada-Championships