U SPORTS Day 2 recap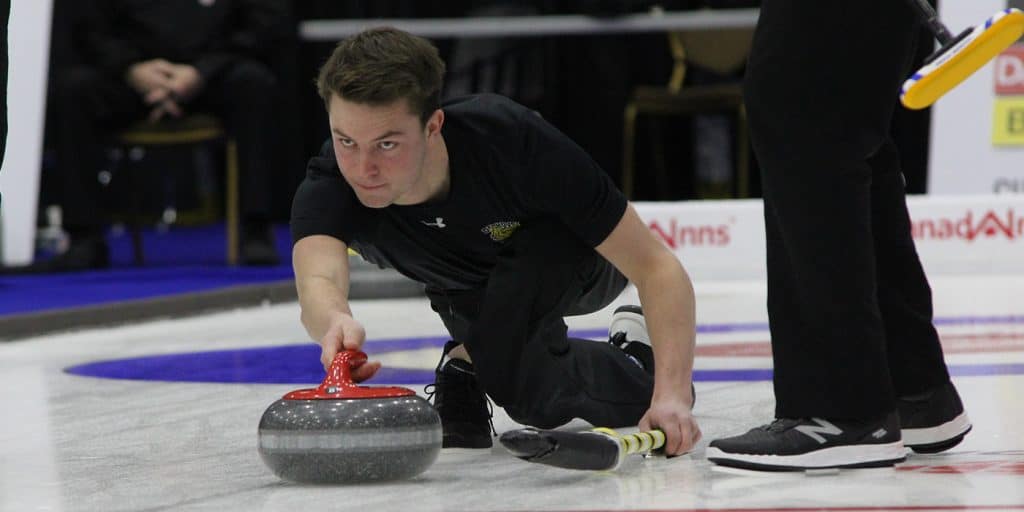 2020 U SPORTS/CURLING CANADA CHAMPIONSHIPS: Perfect run continues for seven rinks
Portage La Prairie (U SPORTS) – Seven teams are undefeated through two days of competition at the U SPORTS/Curling Canada national championship.
The Alberta Golden Bears scored four in the first end and bounced the host Brandon Bobcats 12-3. Earlier, the Bears jumped out to a 5-0 advantage and beat the Guelph Gryphons 10-3.
Alberta ran the table to capture the Canada West title with a 4-0 record last month.
"We are feeling really good," said Alberta skip Karsten Sturmay. "Our team has been fortunate enough to have had some good experiences both in the Canada West championship and this national event. We are looking forward to drawing on that experience."
In other action on the men's side, the Dalhousie Tigers, Regina Cougars and Wilfrid Laurier Hawks also improved to 3-0.
The Tigers had three and four-enders in a 10-8 triumph over the Bobcats in the afternoon draw. In the evening, Dalhousie built a commanding 7-1 lead and defeated Guelph 9-2.
Regina recorded three in the seventh and two in the ninth to beat Brock 8-5. The Cougars also chalked up a 7-5 victory in the evening draw over the Memorial Sea-Hawks. The U-of-R took control with a deuce in seven and a steal of one in the eighth end.
The Hawks handed Memorial a 9-3 loss thanks to four in the fourth end. In the evening, Wilfrid Laurier scored three in the eighth end to upend Brock 10-2.
Meanwhile, the New Brunswick Reds continued to roll in the women's round-robin following a runner-up finish for the Atlantic University Sport title at the start of February.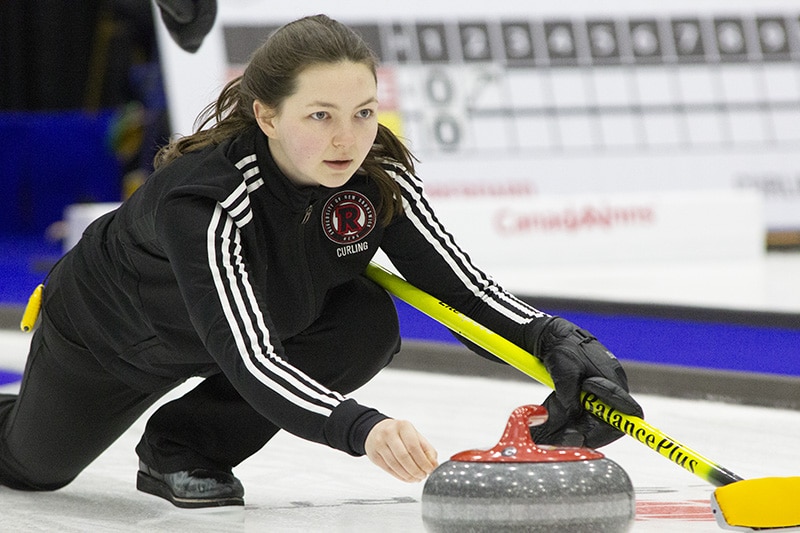 "I didn't know what to expect going into this," said skip Justine Comeau, whose rink hosted last year's national championship. "We have played together all year, but it has been a little bit up and down. We have really pulled together."
UNB started Day 2 with a 12-7 win over the Queens Golden Gaels. New Brunswick recorded a pair of three-enders and added four in the seventh. The Reds picked up where they left off against the host Bobcats in the afternoon. They scored five straight points to power them to a 10-4 victory.
The Reds are joined atop the women's standings by the McMaster Marauders and Alberta Pandas, who both worked overtime to stay perfect. The Marauders first beat the Bobcats 7-4 before going the distance to edge Queens in 6-5 in an extra end. Meanwhile, Alberta got past the Regina Cougars 5-4 in extras. Earlier, they used two three-enders to defeat Dalhousie 9-2.
Women Round Robin
Alberta Pandas 3- 0
McMaster Marauders 3-0
New Brunswick Reds 3-0
Dalhousie Tigers 1-2
Queens Golden Gaels 1-2
Wilfrid Laurier Hawks 1-2
Brandon Bobcats 0-3
Regina Cougars 0-3
Men Round Robin
Alberta Golden Bears 3-0
Dalhousie Tigers 3-0
Regina Cougars 3-0
Wilfrid Laurier Hawks 3-0
Brandon Bobcats 0-3
Brock Badgers 0-3
Guelph Gryphons 0-3
Memorial Sea-Hawks 0-3