#keepcurling movement endures!
content creators across canada encourage you to #keepcurling in new and creative ways
Amid a global pandemic and a premature end to the 2019-2020 curling season, the bright lights of curling's community shine through as several of Canada's top curlers have taken their isolation efforts and converted them to online content creation.

And while we may not be able to tune in to live world-class curling in the ever warming spring months like we're used to, an undeterred community strives to #keepcurling.

With the unconventional becoming the new convention, the future face of curling media may find itself broadcast via webcam or USB microphone — at least for the time being.

Media-savvy curlers have wasted precious little time in their pursuit to engage a community thirsty for content and remind us that curling awaits on the other side of our concerted social isolation efforts. The results have been nothing short of tremendous. Virtually every media platform imaginable has been cornered and harnessed into curling content.

Instagram? You can bet it's been covered. Curling Canada has had live sessions and fan Q&A's with the likes of Kirk Muyres (Team Dunstone), John Epping (Team Epping), Lisa Weagle (Team Jones), Kerry Galusha (Team Galusha), Emma Miskew (Team Homan), Casey Scheidegger (Team Scheidegger), Darren Moulding (Team Botcher) and even a home haircut with Selena Njegovan (Team Fleury) with her husband Connor Njegovan (Team Gunnlaugson). John Morris (Team Koe) has also been hosting a cooking show on Curling Canada's instagram called "Motown's Culinary Bonanza". You can follow Curling Canada's Instagram feed here.

Television? Well taken care of. Curling Encores on TSN has offered viewers replays of some classic matches from the 2013 Scotties Tournament of Hearts and Brier and the 2019 World Men's and Women's finals among others.

Twitter and Facebook? All covered as well. "Best Shot" bracket tournaments with fan voting deciding the winners in online polls have let us relive the fabulous execution of some of curling's toughest shots on Curling Canada's Facebook and Twitter pages. Just recently, Saskatchewan's Rachel Erickson was crowned the best shot of the 2020 New Holland Canadian Junior Championships bracket tournament with a high difficulty triple takeout. You can follow Curling Canada on Twitter here and like Curling Canada's Facebook page here.

British Columbia's Johnson Tao, who represented British Columbia 2 as a skip on the men's side of the 2020 New Holland Canadian Juniors, has also lended his creative efforts to the community. The Grade 12 student at JN Burnett Secondary School in Richmond, B.C. has already organised a digital bonspiel deemed The COVID Cup thanks to an online video game version of the roaring game set to take place May 2-3.

"I'm fortunate to be safe and have my needs met during this crazy time, so why not enjoy some fun," said Tao.

Tao recognizes that he's in a position to help and doesn't want to waste the opportunity:

"By organizing this bonspiel with my friend Daniel, I can provide a fun event for people to partake in. It's been smooth sailing so far and seeing several other online bonspiels being run before ours has given us a good idea of how we can best run this event."

Not to be left out of the online curling media onslaught, Colin Hodgson of Team McEwen, a professional chef and part owner of Dynasty Curling (the official uniform supplier to Curling Canada), has popularized his culinary skills via Twitter and Instagram mixing both informative nutritional information for elite athletes with eye popping visuals of delicious home cooking. The online show, dubbed Dining With Dynasty, has garnered a popular response combining two of Hodgson's passions.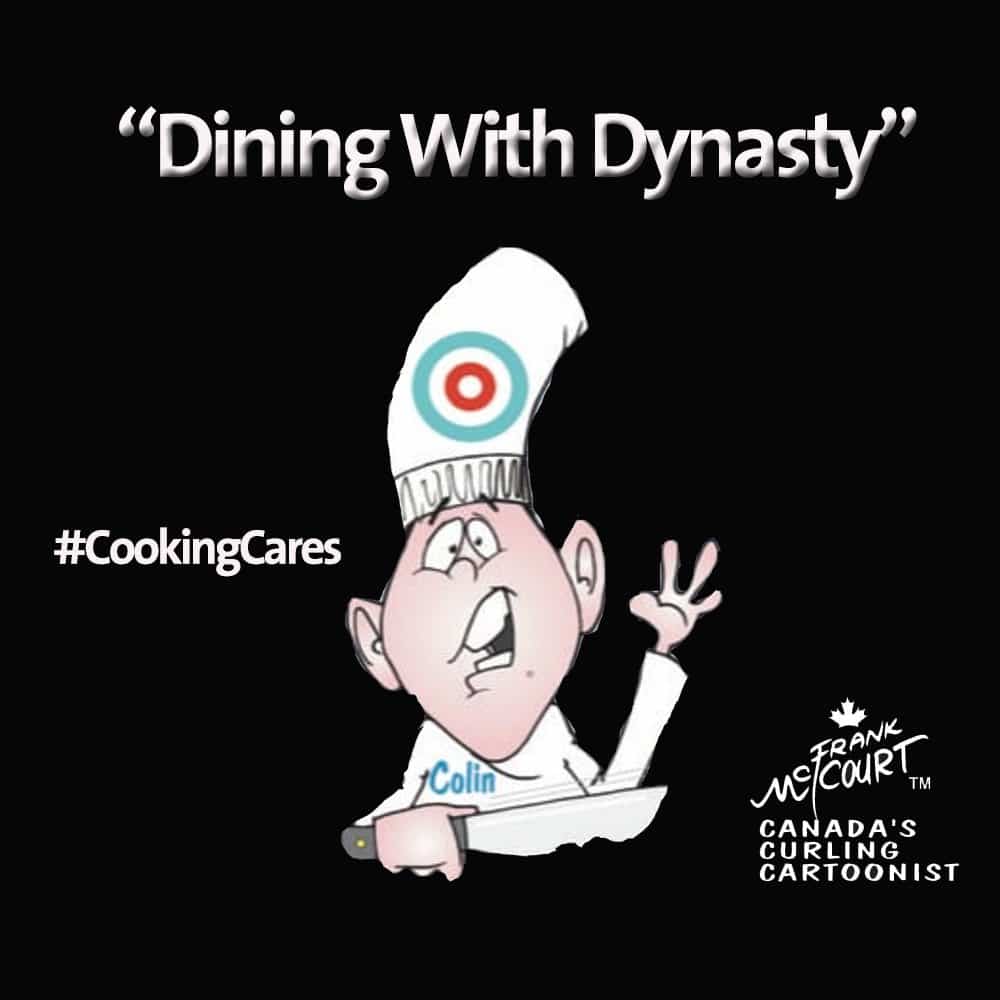 "Curling has been a part of my life since I was about four years old. My parents were avid curlers and I would ride the rocks down the ice when they practised," said Hodgson.

While Hodgson is already wildly popular for his infectious zest for curling, he stands out for his unconventional style and almost everchanging haircuts seldom seen in curling's vintage days.

"Growing up I would watch playdowns where my dad curled against guys like Randy Ferbey, Kevin Martin, Blake MacDonald, Kevin Park, Mark Johnson, etc., in the Northern Alberta playdowns. I have fond early memories of watching some of the greatest curlers in history playing at the Balmoral Curling Club in Edmonton," said Hodgson. "I think having that kind of experience is what really motivated me as a young curler to improve and perform at a high level."

Creating Dining with Dynasty was a natural progression for Hodgson, enabling him to combine his two passions all while propping up his small business.

"When we sat down (in a Zoom chat) as an ownership group for Dynasty we wanted to figure out what was going to be our response to COVID-19. Of course small businesses are hurting right now and our duty as employers is to do everything we can to keep our employees safe and at work but we also care about the people who support us. So we had the idea to create positive content that we can share," said Hodgson.

The project remains part of a greater vision for curling in general, says Hogdson:

"The concept behind Dining With Dynasty was to include curlers from all over the globe and give anyone who tuned in a snapshot of how they are living through this. Food has always been a bridge between people and cultures and it's really had a positive response thus far."

The show, which has featured the likes of two-time Scotties Tournament of Hearts champion Chelsea Carey, 1998 Olympic silver medallist Mike Harris, three-time Scottish men's national champion Bruce Mouat and 2018 Olympic bronze medallists Chinami and Yurika Yoshida of Japan's Team Fujisawa, can be found on YouTube.

"I really think that we have engaged a lot of people from all over the world and what we need right now is people to come together, not division. With borders closing and people in quarantine anything that we collectively can do to bring some togetherness is certainly the goal right now," said Hodgson.

Though the changing social situation has led to the creation of new online curling content, some content creators already had sturdy followings in curling, but have been forced to adapt to creating content without any actual curling taking place.

Mary Chilvers and Lori Eddy, founders and orchestrators of the popular 2 Girls and a Game podcast, which boasts well over 140,000 downloads, have found themselves without curling to discuss but are hardly stymied by the lack of content.

And to add to their online following, the pair boast impressive on-ice curling resumes. Eddy and Chilvers are former teammates (for skip Alison Goring) and were 1997 Scott Tournament of Hearts runners up losing the final to the late Sandra Schmirler. They were also participants in the 1997 Canadian Olympic Trials and also crowned World Curling Tour champions of the same year.

Their accolades don't end as a duo either. Chilvers participated in the 1997 McCain TSN Skins Game while Eddy was the runner up at the 2013 Tim Hortons Roar of the Rings as alternate for Sherry Middaugh and was skip of Team Nunavut at the 2020 Scotties Tournament of Hearts.

The podcast's roots are humble even though the pair's curling past is laden with success. The idea came to Lori Eddy while she was chatting with Chilvers and a "Eureka" moment struck.

"I found myself with a lot of time on my hands after parting ways with a curling team and Mary and I were already discussing any major curling event every Monday morning," said Eddy. "It dawned on me that what we were doing was essentially a podcast after listening to a podcast about the TV show The Bachelor so I called Mary immediately and she agreed to doing a podcast".

Chilvers feels the societal change has been swift but keeping curling top of mind has been easy thanks to the 2 Girls and Game podcast.

"It's hard to believe that not that long ago, we were all partying it up in the [Tim Hortons] Brier patch," said Chilvers. "We came home from that [Tim Hortons] Brier, recorded a podcast speaking to all the highlights of the fabulous week we had in Kingston. Not much longer after that, we were to find out the rest of the season was not going to happen," said Chilvers.

The podcast shows no signs of slowing down despite a global pandemic or the curling season's early finish.

"Lori and I have done 2 or 3 podcasts since COVID-19 struck and we don't seem to be struggling to find things to talk about. There are lots of tidbits from the curlers on social media to give us things to talk about," said Chilvers.

Even still, both Chilvers and Eddy both long to return to Curling Canada's high profile events as fans and media personalities alike.

"If you listen to our Kingston [Tim Hortons] Brier podcast, we raved about how well this event was run, how enjoyable it is to attend these events and how great it is to see these teams live and in person. So I think we are definitely keeping the community engaged and encouraging people to get out to these events through the podcast," said Chilvers.

Another prolific curling content creator who has adapted to the changing media landscape carved out by COVID-19 is John Cullen, professional comedian and teacher who is no stranger to curling media.

You might recognize Cullen from Curling Canada's Magical Question Fun Time, an interview series where Canada's top curlers are interviewed in a less than traditional format, or the Stone and Straw podcast. Cullen has also been featured on Just For Laughs and CBC's The Debaters for his non-curling endeavours as well, making him no stranger to media.

With an already well-established following, Cullen began experimenting on the livestream platform Twitch, which allows users to interact with a live video in a chat section enabling the presenter to interact with viewers. While the platform has garnered most of its user base from the video game and tabletop gaming community, there's ample room for an extension into sports.

"I'm always looking for new ways of creating new curling media," said Cullen, a veteran of 20 years in curling and two-time B.C. men's provincial runner-up.

Cullen's newest show, dubbed Classic Curling With Cullen, is a live feed presentation of classic curling matches featuring athletes that were taking part in the match. Cullen and his guests are often featured live as they banter and reflect about the match.

So far, guests have included Marc Kennedy reliving the 2010 Vancouver Olympics gold-medal match, Anna Hasselborg with Agnes Knochenhauer commentating on the 2018 European Championship final and Nolan Theissen talking viewers through the 2015 Tim Hortons Brier final; among others.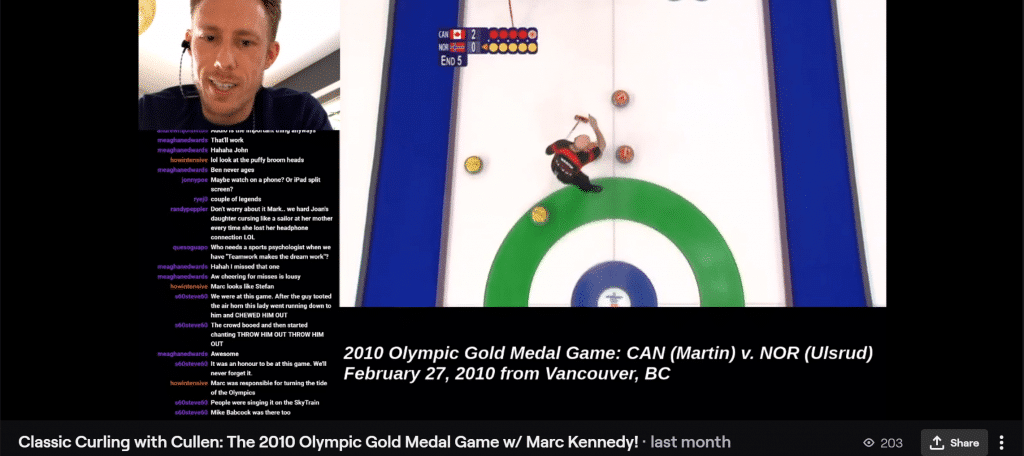 The idea of hosting Classic Curling With Cullen began with Cullen commentating over 2019 Tim Hortons Brier matches on Twitch before "just leaving it alone", as Cullen puts it. The idea laid dormant for nearly a year before being rehashed into the current Classic Curling with Cullen format.

With the COVID-19 situation where it is, Cullen saw the perfect opportunity to unite a community once more.

"COVID-19 hits and people were itching for sports content. This was the perfect time to launch the Classic Curling with Cullen series," said Cullen. "Doing the show helps keep the curling community together. Curling is a huge part of so many people's social lives, especially in the winter, and people miss it when it isn't there."
The format which Classic Curling With Cullen implements has been on Cullen's mind for some time and he was eager to test it out.

"I noticed that there isn't much content outside of the actual games on TV and I wanted to allow a platform that grants fans access to the players," said Cullen. "It's usually just a TV highlight, a quick interview and everyone is done there. The great part about curling is that our top athletes are so accessible so I wanted to work off that."

Much like any budding project, there were obstacles that had to be navigated.

"The first show with Nolan Theissen was a bust, really. Some of the technical specs were lacking so the show was delayed, but we managed to get it out after some adjustments," said Cullen.

There were also concerns about the audience's willingness to migrate to a relatively new media platform in Twitch.

"I had no idea how it would go considering curling's fan base skews to being a bit older. I didn't know how it would go. I wasn't sure if they'd migrate to Twitch but it turned out great. With everyone at home and in isolation, it gave them time to learn the new platform as well as how the show itself works," said Cullen.

As for keeping curling top of mind, Cullen feels his platform has been a success and will continue to be once quarantine times have ended.

"Reception to the show has been phenomenal. As a fan of the game myself, I'm blown away by the insight from these elite athletes. They're very open and accessible. You don't get that access in other sports," said Cullen.
Cullen feels that harnessing classic matches allows him an indefinite supply of content to create with.

"There's always so much to talk about in curling. Because of the strategic aspect of the game, you can go back and ask 'this is what we were thinking at this moment' or 'this is why we played shot,' while watching the replays," said Cullen.

And while the ages, backgrounds, media platforms and experiences differ, all of these creators have one unifying element overall: passion for curling.

Curling as a whole prides itself on community strength – you see it on the sheets, in the club lounges and among friendships forged over the roaring game. The sport harbours limitless potential for human kindness and extensions of empathy, enacted through a sport of self-officiation, camaraderie and good graces.

It would been so easy for all curlers to have simply closed their hearts and minds to the sport after a premature end to a season thanks to what will be one of history's more infamous and unfortunate events, but instead the collective sum of its parts, curlers and fans alike, have bound together to remain steadfast in their love for the game.

Despite what you may feel, curling never actually left us – in fact it's more with us now than ever before. Its spirit lives on through the collective efforts of those who love our sport and creatively share their passions through the internet and airwaves into the comfort of our homes and our hearts.

The ice may be melted and the rocks may be in storage, but we can all #keepcurling.