Sponsors Step Up!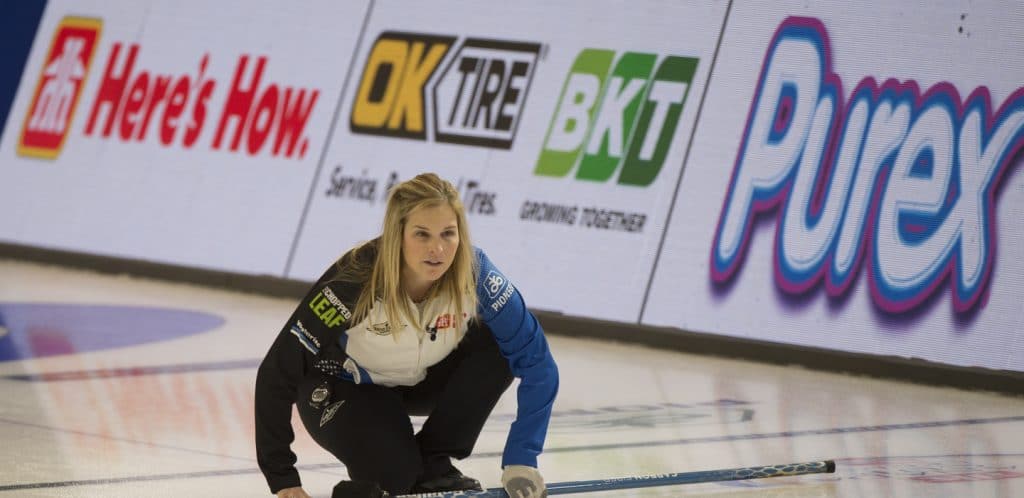 Curling Canada sponsors shift focus towards Charitable contributions in communities across canada
Despite having to navigate the uncertain waters of the current COVID-19 situation and a new social landscape, many of curling's top sponsors have shifted their focus towards support roles for the communities in which their neighbours reside and curl.
And with several questions remaining to be answered, Curling Canada and its sponsors remain primed to welcome curling's return for the 2020-2021 season.
It's just one of the ways that Curling Canada Season of Champions title sponsors Home Hardware and Kruger Products along with Curling Canada's official supplier AMJ Campbell are bolstering their community contributions when they're needed most.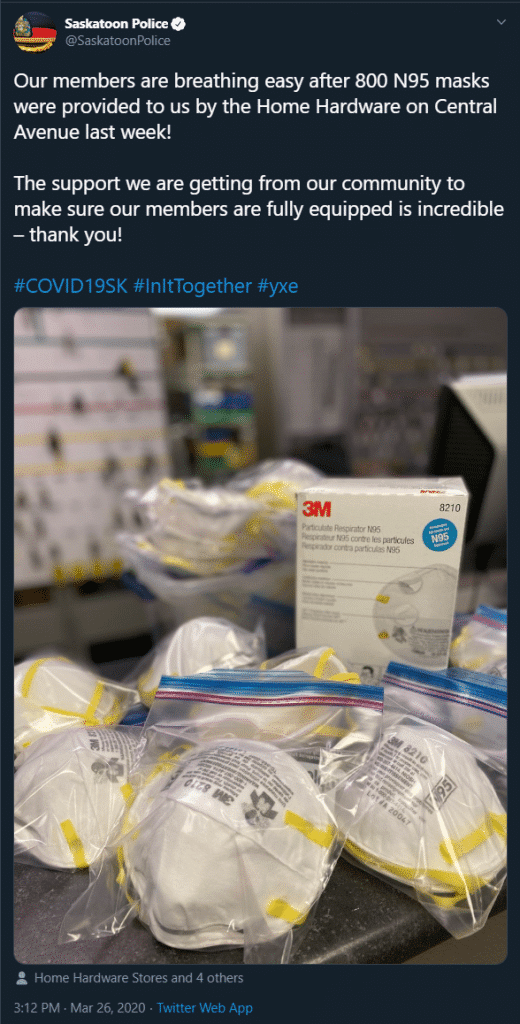 Season of Champions title sponsor Home Hardware, a supporter of curling since 2012 and an organization that features retail locations across Canada, has been diligently addressing how it can continue to make positive contributions to Canadians in need. Home Hardware's efforts have been felt in communities across the country.
Home Hardware Stores Limited has partnered with Murphy's Law Distillery in Elmira, Ont., to produce top quality hand sanitizer for their home community. The Brooklin, Ont., Home Hardware hosted a contactless food drive in their store parking lot, raising donations for their local food bank and those in need. Thomas, the Alliston, Ont., Home Hardware Building Centre store manager, donated 1,000 masks, boxes of gloves, and bottles of bleach to Stevenson Memorial Hospital to help frontline workers.
Individual efforts of retail locations don't end there. Reid's Home Hardware donated 800 N95 masks to the Saskatoon Police Department to ensure they support the health of their essential service workers. Okotoks, Alta., Home Hardware Building Centre is engaged in a campaign for delivery to isolated and at-risk people by creating and offering reusable bags of cleaning supplies for bathrooms and kitchens. Blind River, Ont., Home Hardware Building Centre is awaiting an order of hand sanitizer, sanitizing wipes and cleaners. When those products arrive, they will be keeping roughly 50 per cent of their order and they will be donating the rest to the less fortunate and elderly people with limited mobility. Quincaillerie St-Jean Baptiste, Que., donated a percentage of sales directly to a local food aid service. They also provide their cube truck to deliver groceries to local residents in their communities.
Home Hardware President and CEO Kevin Macnab knows that change is often difficult but tending to the needs of Canadians is paramount.
"Yes, COVID-19 has changed life as we know it. Yes, we must make some sacrifices, keep our distance from each other, and adjust to this new normal. But a few things haven't changed: our resolve in working together to overcome difficulties, our commitment to taking care of each other, and our ability to celebrate everyday acts of kindness," said Macnab.
Generous community contributions are just one aspect of how Home Hardware is ensuring Canadians, customers and employees alike, remain safe during COVID-19. Many stores have revised their practices during this time including fulfilling orders online, or by phone and email, offering customized or extended delivery services for customers, offering a Seniors Hour to ensure seniors and those susceptible to COVID-19 in their communities are guaranteed a safe shopping experience, and adjusting store hours and enforcing physical distancing to minimize the spread of COVID-19.
Scotties Marketing Director at Kruger Products, Oliver Bukvic, also echoes the sentiment that supporting Canadian communities during a difficult time is a corporate responsibility and of the utmost importance.
"As a Canadian company, it is important for Kruger Products to give back to communities across the country. Our brands, including Cashmere, Purex, SpongeTowels Ultra and Scotties are proudly made in Canada, so it remains essential for us to support important causes across the country," said Bukvic.
Kruger Products is no stranger to community support either. Kruger Products actively supports many organizations and charities including the breast cancer cause through the Canadian Cancer Society and Quebec Breast Cancer Foundation; Gutsy Walk, a fundraiser for Crohn's disease and ulcerative colitis; Ronald McDonald House Charities; and the Nature Conservancy of Canada.
In April, Kruger Products launched a national #RollingItForward program to support Canada's frontline healthcare workers and Canadians in need. Kruger Products gifted Cashmere, Purex, SpongeTowels and Scotties to frontline healthcare workers at several hospitals in Montreal, Toronto and Vancouver.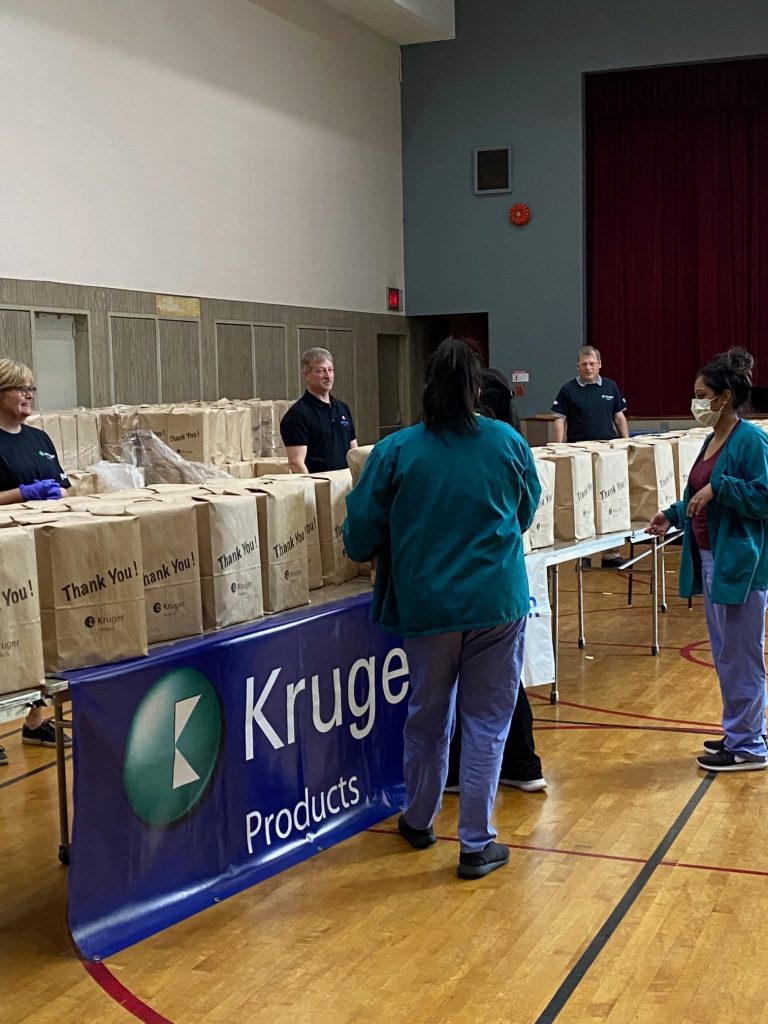 "As a proud supporter of women's curling since 1981, Kruger Products was disheartened to see such an abrupt end to the season but understands that it was the right decision for the health and safety of fans, athletes and others involved with the events. It was a memorable season as this year's Scotties and [Tim Hortons] Brier were very exciting and successful national curling championships," said Bukvic.
Dino Bianco, Chief Executive Officer, Kruger Products, understands the tremendous effort that Canadian frontline workers are contributing and feels that matching those efforts is part of Kruger Products' mandate.
"There's never been a more important time in Canadian history to step up and give back. We are so grateful to the heroic frontline healthcare workers across Canada who are putting their lives on the line to keep our country safe and healthy. While their focus is on healing us, our focus needs to be on supporting them," says Bianco.
Diversification to Kruger's already charitable contributions is coming as well.
"We are also very concerned for the many Canadians in desperate need and are committed to helping Canada's food banks make a difference," says Bianco.
In the spirit of #RollingItForward, Kruger Products is encouraging Canadians to support their communities in any way they can.
As curling fans and sponsors alike, Kruger Products' contributions are especially motivated. The upcoming 2020-2021 season will mark the 40th year of title sponsorship at the Scotties Tournament of Hearts and the Kruger Products team is keen to see it come to fruition.
"We were looking forward to cheering on Team Canada at the Women's World Curling Championship, one of the final marquee events of the season. We will now look forward to the upcoming season which will mark 40 years of sponsorship, so we are excited to celebrate this milestone," says Bukvic.
While retailers and manufacturers have stepped up with charitable contributions with tangible donations, service-based companies like AMJ Campbell that specialize in moving and storage are contributing in unique ways to assist local support networks.
For example, when the COVID-19 pandemic struck Toronto mid-March, the Daily Bread Food Bank had to shift their operations significantly. This left the food bank with a unique challenge: How would they maintain their regular weekly pick-ups of food donation bins from fire halls and grocery stores across the city?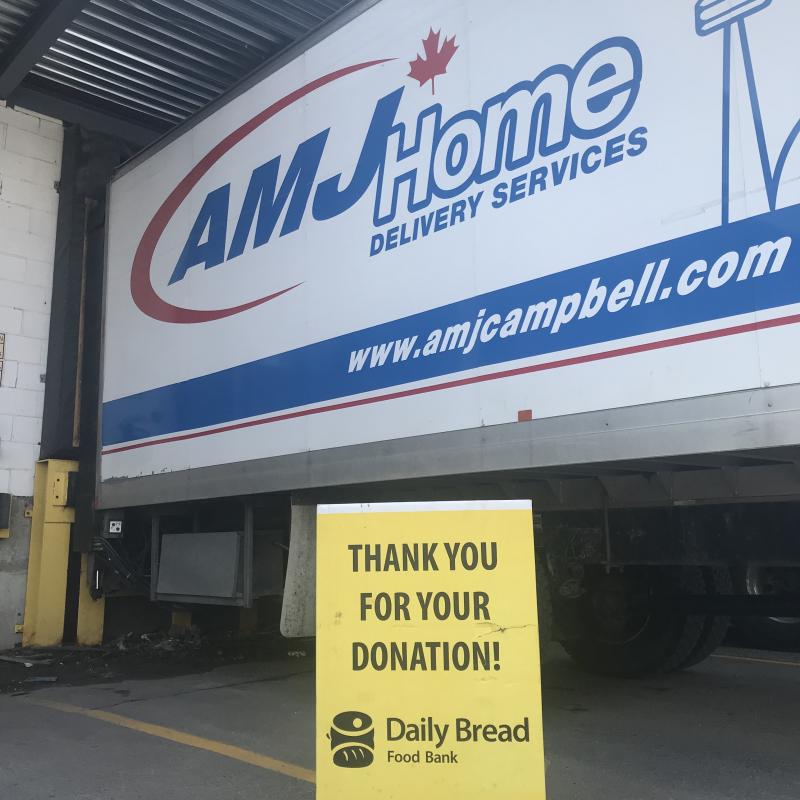 After learning about the Daily Bread Food Bank's challenge, AMJ Campbell immediately came to help.
"AMJ has always been a supporter of our local communities, we help where we can," said president Pierre Frappier. "In this unprecedented time, we are honoured to be assisting Daily Bread Food Bank with their food donation pick-ups."
In the first two weeks alone, AMJ Campbell drivers picked-up more than 35,000 lbs of donated food from over 130 locations across Toronto.
But AMJ Campbell did not stop there. Eager to be part of the solution across the Greater Toronto Area, AMJ Campbell now also contributes by managing food donation bin pick-ups for North York Harvest, ensuring the tens of thousands of residents in need who rely on food banks as a lifeline can still be fed.
Vice President of Brand Marketing and Partnerships Denis Cordick knows that these contributions are just the tip of the iceberg.
"AMJ is doing all we can to assist with any moving and storage needs that the government, charities or hospitals may have. All across Canada we have stepped up in our communities to pick up food or deliver ventilators or store PPE equipment," said Cordick.
And much like us, AMJ Campbell is eagerly awaiting the return of curling.
"We all can't wait for curling to resume so we can get back on the ice, or turn on the TV and watch our great athletes compete in the greatest game in the world," said Cordick.
Thanks to the help of on-ice sponsors going the extra mile off the ice, we can all remain hopeful for a swift return to curling for the upcoming season.