Heroes among us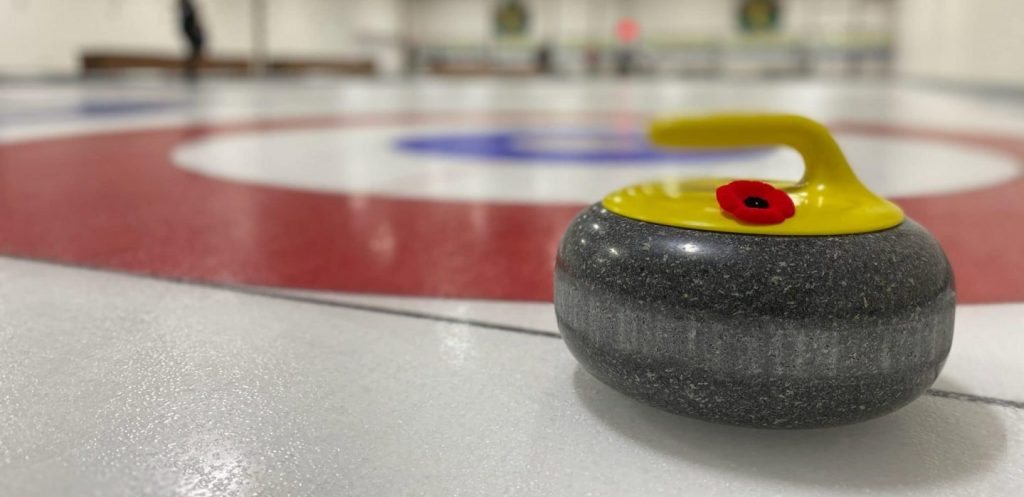 Curling Canada celebrates the contributions of the Canadian Armed Forces and their close ties to curling
In 1915, Canadian Armed Forces member Lieutenant-Colonel John McCrae famously concluded a poem he had written, inspired by a friend who had lost his life in the Second Battle of Ypres in World War I, with the words "We shall not sleep, though poppies grow, In Flanders fields".

The poem, titled In Flanders Fields, would continue to grow in popularity for its eloquent capturing of the rigors of war and remains a written testament to sacrifice, duty and selflessness still recited to this day.

As we all reflect upon the sacrifices made by our Canadian Armed Forces members and give thanks on this Remembrance Day celebration 105 years after In Flanders Fields was published, the sentiments captured in the iconic poem remain the same. November 11th is a day of remembrance, reflection and an opportunity to give thanks to those who may no longer be with us to receive it.

Canada's contribution to the global community didn't stop once the guns fell silent at the conclusion of WWI; nor did they stop when the Canadian Army's 3rd Infantry Division and 2nd Armoured Brigade captured the northern French beach at Juno against what seemed like insurmountable odds to turn the tides of WWII. Canadians did not stop when the more recent calls for peacekeeping action in the Suez, Congo, Bosnia, Kosovo, Sierra Leone, Haiti, Rwanda and an array of other combat theatres were in desperate need of tending to. Canadians simply answered the call and continue to do so today.

For heroes walk among us more closely than you think, especially in the curling community. Curling in Canada has always been aligned, historically, with the military, and their early offshoot, the police force. It was the military that brought curling to Canada, and early accounts of the game are replete with references to Colonel Smith or Major Jones or the Commissioner of Police. When early regiments were disbanded in Canada, and their members given tracts of land, the regimental officers became the elite of the new community, and often formed the first curling clubs.

Curling facilities have long been an important outlet of life on base for CAF members posted in Canada as a means of relaxation, socialization and camaraderie. Facilities like these can be found in Edmonton, Cold Lake, Alta., Gagetown N.B., Halifax, Greenwood, N.S., and Kingston, Ont.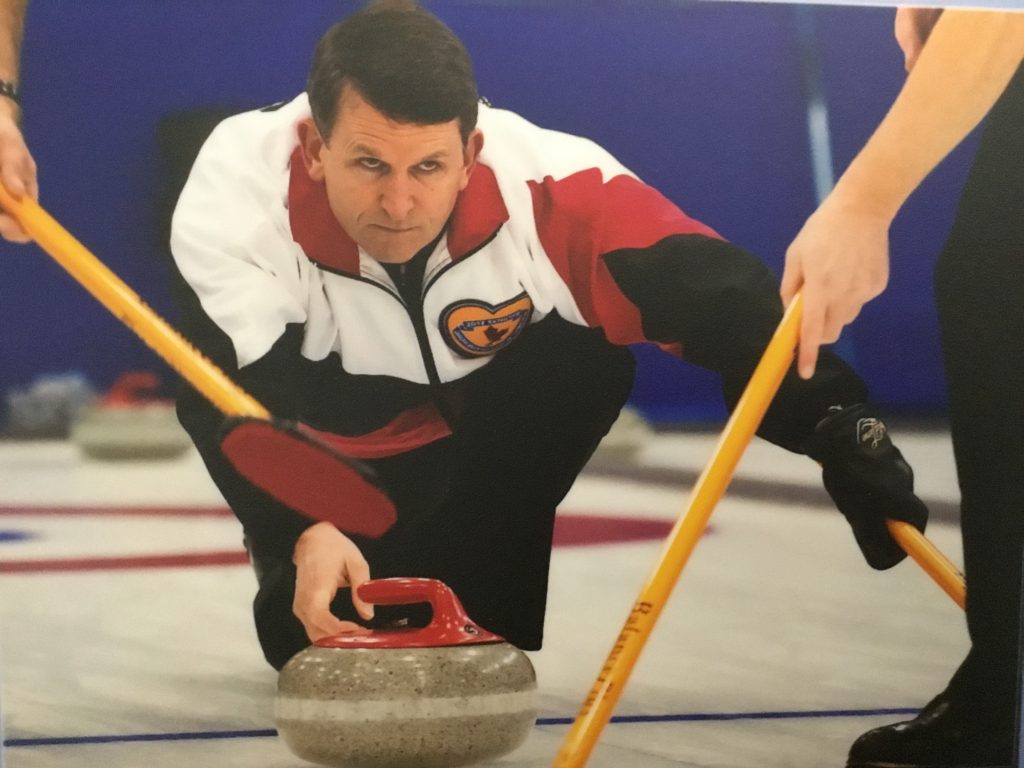 Many CAF members are also highly decorated curlers, including retired Major Brian Lewis, who served 20 years in the CAF and is a two time Ontario Senior Men's Curling Champion (2012 as skip, 2015 with skip Jeff McCrady). 

Lewis attributes much of his success in life and in curling to being an enlisted member of Canada's Armed Forces.

"My 20 years in the Canadian Armed Forces were extremely good to me", said Lewis. "The Royal Military College helped transform me from a bit of a wayward soul to a disciplined, organized leader. I received three degrees — a Bachelor of Mechanical Engineering, a Masters of Aerospace Engineering and a Masters of Business Administration — all thanks to the Forces. I met my wife and made numerous valued friendships while in the Air Force. I'd say the skills and experience I gained from the military translate into my competitive curling. The leadership skills I learned help me when I skip my team. The self-discipline I developed while in the military drives me to train and practice. The organizational skills really come in handy when trying to keep a rag-tag group of three other curlers organized!"

And even though Lewis was a shining star in the CAF who quickly rose the ranks, he never lost sight of his zeal for curling.

"To me, curling means competition and camaraderie. While I'm proud of my curling accomplishments, I'm much more proud of the life-long friendships I've made through curling. While my competitive curling career suffered a little due to the moving around while in the military, sometimes to places where the competitive curling scene was not nearly as strong as it is in Ottawa, I have no regrets whatsoever and wouldn't change a thing."

Remembrance Day holds special significance for Lewis, who has directly seen the impacts that a life of service in the CAF can have.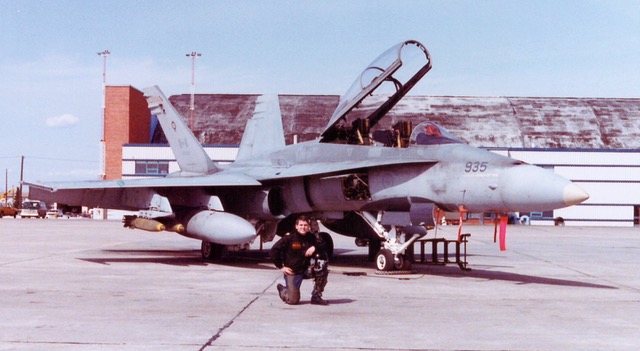 "Remembrance Day is a day to remember those who sacrificed their lives or were injured in the service of Canada. It is also a day when I remind myself of the unique sacrifices our current serving Canadian Armed Forces members make regularly, from the separation from their families while at sea, on deployment or training, to the psychological trauma that so many endure after returning from a difficult operation, to the postings that can seriously disrupt family life, to essentially being on call 24/7, and so on. I also think of my grandfather, who was a padre serving in the Canadian military during WWII and who continued his service for many years afterwards. And I think of my colleagues who were killed while performing their military duties"

While it's easy to focus entirely on those who are enlisted, often having a family member enlisted in the Canadian Armed Forces creates an entirely new impact on day to day life.

Cathlia Ward, 2017 New Brunswick Scotties Tournament of Hearts Champion, 2013 and 2014 New Brunswick Junior Women's Champion and alternate to Canada's Corryn Brown team at 2013 World Women's Junior Championship, knows these experiences first hand as a mother, a kindergarten teacher and a member of a military family.

Ward, whose partner is a member of Canadian Armed Forces currently posted to the North Saskatchewan Regiment in Saskatoon, recounts how military service impacts her day to day life.

"Just this year we picked up and moved across the country, in not much time. Home is wherever the military sends us. My partner may be the member, but my daughter and I make sacrifices for Canada almost every day; as do all military families."

While Ward knows that settling into one location is a luxury that many military families do not possess, it's simply the tip of the iceberg when it comes to the sacrifices associated with being a military family in Canada.

"There are many nights where my partner is working late, or headed to the field at the last minute", said Ward. "We have missed Christmases, anniversaries and Thanksgivings and we have yet to have spent a birthday together. This Halloween was my daughter's first Halloween with her Dad in town. Every year, there are weeks where we have no communication due to training and field work and usually months spent apart. We have spent more time in the same city in the last three months since our move, than in the last three years since our daughter was born, due to training and deployment schedules. It truly is a sacrifice for all of us, but one we are so proud to make no matter how challenging some days, weeks, months and years can be."

For Ward, Remembrance day maintains a deep personal connection largely focused around empathy and compassion for others.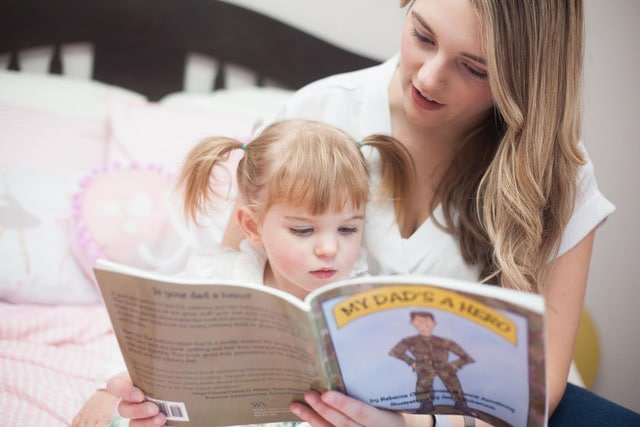 "You go through the motions in your day-to-day life, but when you take the time to reflect on Remembrance Day, as a military family, it really hits hard the kind of sacrifices people have made over the years for your freedom as well as the sacrifice that your family could make on any given day," said Ward. "In the last year, we have experienced an overseas deployment with NATO, a last-minute posting across the country, and a pandemic but yet our sacrifices as a family barely scratch the surface of those who have paid the ultimate price, and the families that were left behind to pick up the pieces. When a member joins the military, so does the entire family. For me personally, this time of year brings about a lot of reflecting on the resiliency of our military children and the adaptability and truly remarkable mindset of our military spouses who manage to carry on everyday amidst uncertainty, and at times tragedy"

The experiences shared by both Brian Lewis and Cathlia Ward are not unique to just them. Nearly all of Canada's Armed Forces service members endure the same level of hardships so that they can grant Canada's civilian population the genuine freedoms that we experience every day.

And while we as a civilian population are able to enjoy unrivaled levels of prosperity, including access to curling, we are hoisted up upon the shoulders of the service members who sacrifice their comforts, their sense of normalcy and in worst case scenarios, their lives, so that we may enjoy the fruits of their labours.

For these heroes walk among us. Odds are you've shaken their hands before and after a curling game and never even noticed.

For your incredible displays of fortitude, for your strength and grace under stress, and for your undeniable role in keeping Canada safe and free, Curling Canada extends our sincere appreciation to our Canadian Armed Forces members currently serving, formerly serving and to those who made the ultimate sacrifice.

Lest we forget.