Early win in the Hub!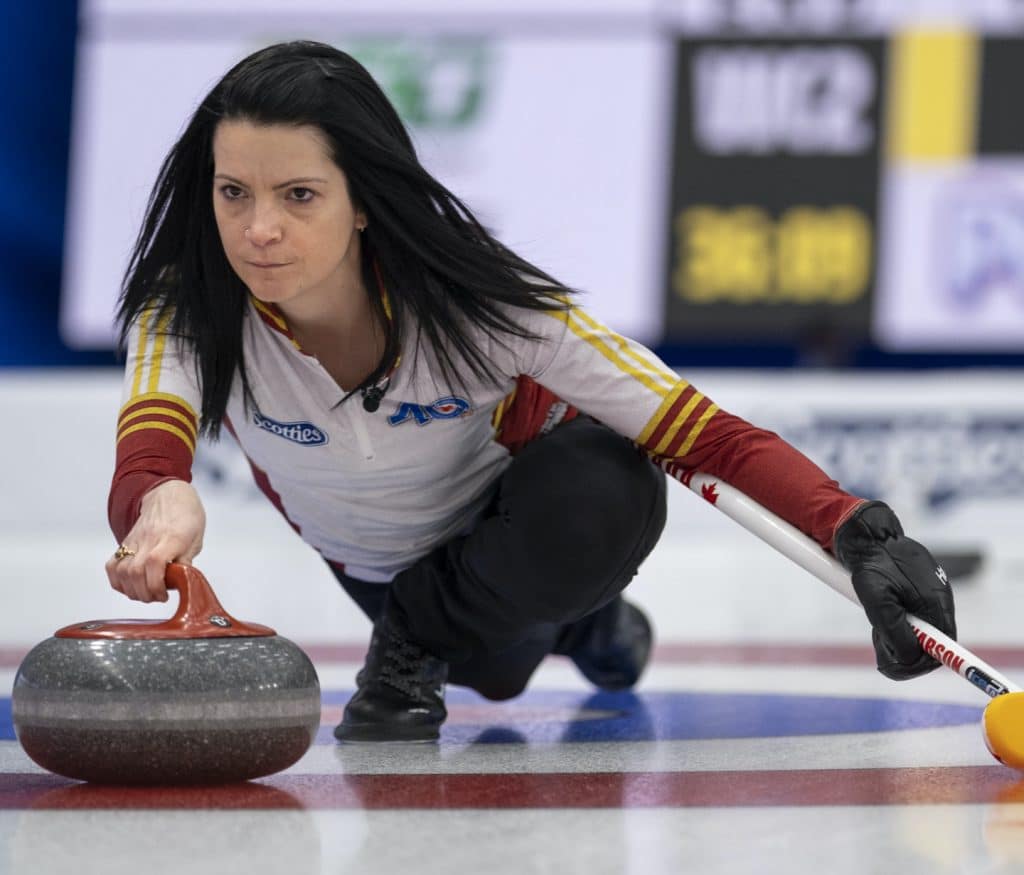 Reigning champs open 2021 Scotties with a victory
It was an agonizingly long wait between competitive curling games, but the champs didn't miss a beat in their opening game of the 2021 Scotties Tournament of Hearts.
Kerri Einarson's Team Canada opened its title defence with a 7-3 win over Mackenzie Zacharias and Team Wild Card #2 Friday night in the bubble at the Markin MacPhail Centre at WinSport's Canada Olympic Park in Calgary.
Einarson's team from Gimli, Man. — rounded out by vice-skip Val Sweeting, second Shannon Birchard, lead Briane Meilleur, alternate Krysten Karwacki and coach Heather Nedohin — played a tidy game to dispatch the 2020 Canadian and World Junior champs from Altona, Man., and under unusual circumstances, to say the least, the veteran poise of Einarson and Co. made a difference, even though a couple of early misses had the champs slightly unsettled.
"Definitely not the start we wanted," said Einarson with a smile. "It was a little different than practice. But I knew we would figure it out and the girls were so supportive, and we figured it out in the end.
Team Canada opened the scoring with single points in the first two ends, forced Wild Card #2 to a single in the third, and then broke the game open with a hit for three — almost four, in fact— in the fourth end.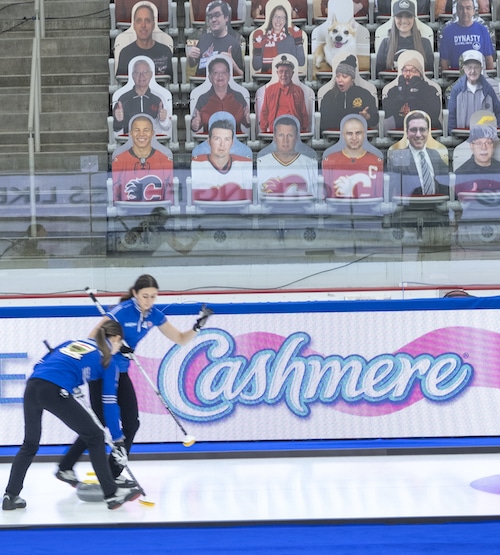 Zacharias, whose team is rounded out by third Karlee Burgess, second (and sister) Emily Zacharias, lead/vice-skip Lauren Lenentine, alternate Rachel Erickson and coach/dad Sheldon Zacharias, took a single in the fifth, but Team Canada took singles the next two ends, and then forced the Scotties rookies to a single in the eighth, after which they conceded defeat.
"I think they're such a good team," said Einarson, who finished the game scored at a blazing 89 per cent. "I think they'll do really well in this event, and we'll see them again in the future, for sure."
It was a relief for all eight teams on the ice Friday to finally concentrate on curling after months of uncertainty related to the COVID-19 pandemic, and days of dealing with safety protocols to protect athletes, officials and the host city that included isolation in their own rooms without face-to-face interactions with teammates.
"It's been good; as moms, we don't mind the down time," said Sweeting. "We've been meeting over Zoom, relaxing in the hotel, doing what we can. Everyone has been safe so far — so far, so good."
In other Friday night action to open the 18-team, two-pool competition, Northern Ontario's Krysta Burns (1-0; Sudbury) rallied from an early 5-2 deficit to beat Kerry Galusha of the Northwest Territories (0-1; Yellowknife); Team Wild Card #3's Beth Peterson (1-0; Winnipeg) rolled to a 10-2 win over the Yukon's Laura Eby (0-1; Whitehorse); and Alberta's Laura Walker (1-0; Edmonton) scored four in the third end and never looked back en route to a 10-5 win over Nova Scotia's Jill Brothers (0-1; Halifax).
The 2021 Scotties Tournament of Hearts continues on Saturday with draws at 10:30 a.m., 3:30 p.m. p.m. and 8:30 p.m. (all times Eastern).
Live scoring, standings and statistics for the 2021 Scotties Tournament of Hearts are available at www.curling.ca/scoreboard/
TSN and RDS2 (streamed on ESPN+ in the United States) will provide complete coverage of the 2021 Scotties Tournament of Hearts. CLICK HERE for the complete schedule.
This story will be available in French as soon as possible at www.curling.ca/2021scotties/nouvelles/?lang=fr