Islanders pull out win!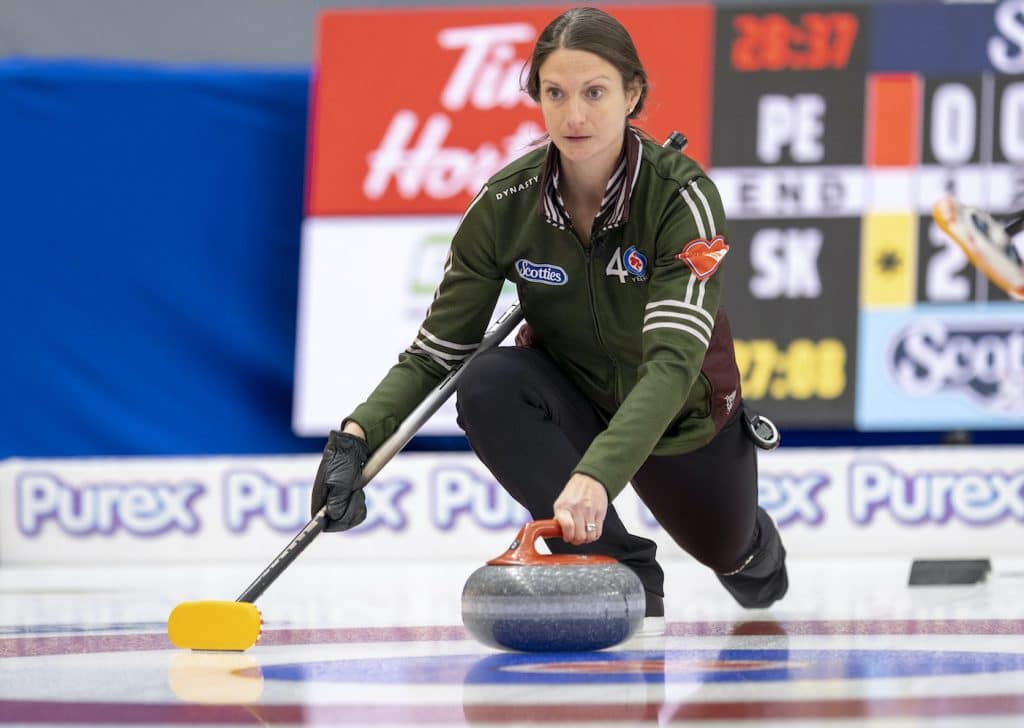 Birt's P.E.I. team steals dramatic victory at the Scotties
Maybe it wasn't the start Suzanne Birt and her team from Prince Edward Island wanted, but the finish was delightful on Saturday morning at the Markin MacPhail Centre at WinSport's Canada Olympic Park in Calgary.
Birt, competing in her 12th Canadian women's curling championship, stole the winning point in the 10th end for a dramatic 7-6 win over Saskatchewan's Sherry Anderson in Draw 2 play at the 2021 Scotties Tournament of Hearts.
It was the opening game for both teams, and at times it showed. Birt, playing out of the Montague and Cornwall clubs and backed up by vice-skip Marie Christianson, second Meaghan Hughes, lead Michelle McQuaid, alternate Kathy O'Rourke and coach Mitch O'Shea, fell behind 5-1 through four ends before coming on strong in the back half of the game.
"Obviously it's great to pull out the win, even when you don't have your best game," said Birt. "We rallied, and I'm going to admit there were a few nerves the first half of the game, but we settled in nicely."
P.E.I. started the rally with one in the fifth and a stolen deuce in the sixth, and finally knotted the game with two in the ninth end.
In the 10th, Anderson, whose Saskatoon team is rounded out by third Nancy Martin, second Chaelynn Kitz, lead Breanne Knapp, alternate Amber Holland and coach Shane Kitz, needed a nose hit for the victory, but her shot just failed to curl enough and produced a jam, leaving P.E.I. sitting shot for the win.
As will be the case throughout the Calgary bubble event, the game was played with no fans in attendance, creating a different Scotties atmosphere, to say the least.
"You know what? It didn't really bother us; we're used to playing with no fans around," said Birt with a smile. "At the same time, you're at the Scotties, and it's a big part of the game that's missing. But I think we managed it pretty well."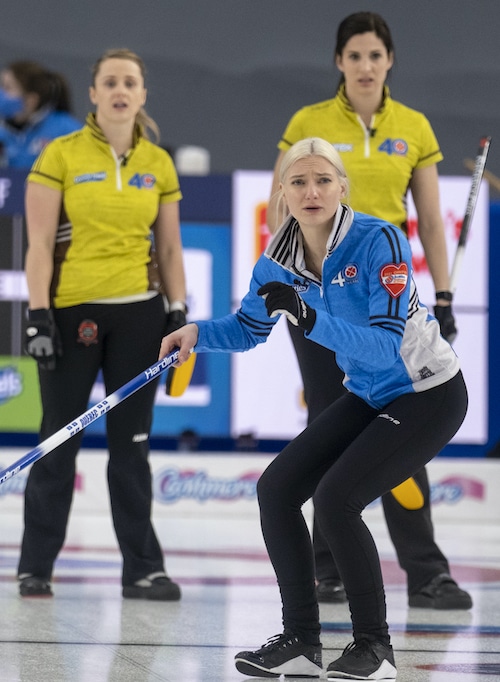 The Islanders did manage to get a dozen or so competitive games in this season, and had the ability to practise on the Island — potentially an advantage but not necessarily, said Birt.
"I do and I don't feel like it was an advantage," she said. "It can go against you sometimes, thinking that you should be doing well but at the same time, we haven't played the games that we're used to normally be playing. So we're just going to hope that all this practice time pays off in the end."
In other morning draw action, Newfoundland/Labrador's Sarah Hill (1-0; St. John's) shaded New Brunswick's Melissa Adams (0-1; Fredericton) 8-7; Manitoba's Jennifer Jones (1-0; Winnipeg) was a 7-4 winner over Quebec's Laurie St-Georges (0-1; Laval); and Chelsea Carey and Team Wild Card #1 (1-0; East St. Paul) doubled Nunavut's Lori Eddy (0-1; Iqaluit) 6-3.
The 2021 Scotties Tournament of Hearts continues with draws Saturday at 3:30 p.m. and 8:30 p.m. (all times Eastern).
There will be one less game on the ice in the afternoon draw. A member of Team Northwest Territories came down with a suspected case of food poisoning overnight. She has been assessed by event's Chief Medical Officer, and it is believed that this will not impact the team's ability to continue in the event.
The rest of the team is not showing any similar symptoms, and have all tested negative on previous COVID tests, as recently as Friday, and have passed all twice-daily wellness checks, including this morning.
The player will receive a COVID PCR test today, and out of an abundance of caution, the decision has been made to reschedule this afternoon's Northwest Territories-Canada game to Monday morning at 8:30 a.m., which was to be a bye in the schedule for all teams. The Northwest Territories team will self-isolate until the results of the test are known
Live scoring, standings and statistics for the 2021 Scotties Tournament of Hearts are available at www.curling.ca/scoreboard/
TSN and RDS2 (streamed on ESPN+ in the United States) will provide complete coverage of the 2021 Scotties Tournament of Hearts. CLICK HERE for the complete schedule.
This story will be available in French as soon as possible at www.curling.ca/2021scotties/nouvelles/?lang=fr