Quebec comeback!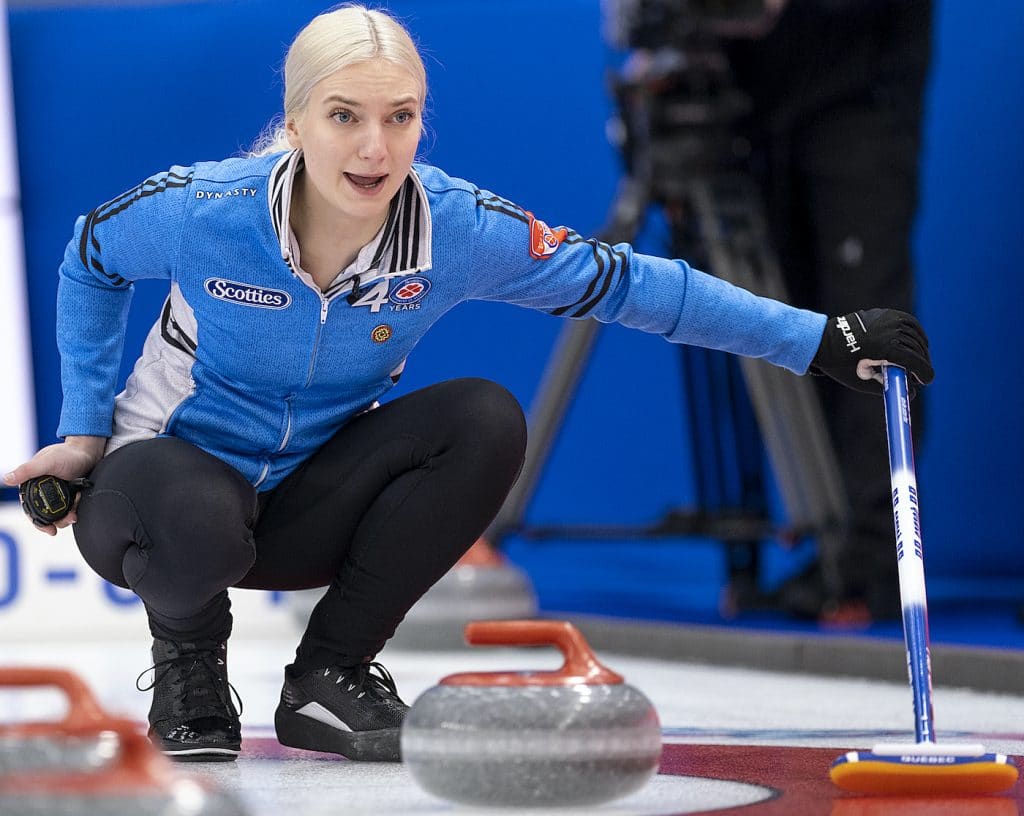 Quebec stuns P.E.I. with late-game comeback at 2021 Scotties
To be very clear, Laurie St-Georges and her Quebec teammates would have found a way to make what was shaping up to be a loss Sunday afternoon at the 2021 Scotties Tournament of Hearts a fun experience, regardless of outcome.
That's just the way St-Georges and her teammates vice-skip Hailey Armstrong, second Emily Riley, lead (and sister) Cynthia St-Georges, alternate Florence Boivin and coach (and dad) Michel St-Georges, from Laval-sur-la-Lac are wired.
So, even being down 6-2 after eight ends against an unbeaten Prince Edward Island team skipped by Suzanne Birt wasn't bringing the spirits completely down at the Markin MacPhail Centre at WinSport's Canada Olympic Park in Calgary.
But a half-hour later, well, Team Quebec was shaking their collective heads in wonder after completing a stunning comeback by scoring four in the ninth end and stealing a winning deuce in the 10th for an 8-6 victory that left both teams with 2-1 records in Pool B.
"Honestly, I'm still shaking," marvelled Laurie St-Georges. "Wow, that one felt great. We kept putting pressure on, and my girls played so well, (they had) such a good game. And we actually kept positive the whole way. We had fun — even when we were down four, we had so much fun. It just felt amazing. I don't know what to say — it was such a great win."
The St-Georges team is another in the superb core of young talent that Curling Quebec has been churning out in recent seasons. Three-quarters of this team (Laurie and Cynthia Ste-Georges, Riley, and Coach Michel) finished second at the 2018 New Holland Canadian Juniors at Shawinigan, Que., and produced one of the highlight moments of the event with an impromptu team dance prior to the semifinal (you can watch it by CLICKING HERE).
So even though there are no fans in the building for the 2021 Scotties, that's not really an issue for Team Quebec.
"With our energy we don't need a crowd," said Laurie St-Georges. "Honestly, we're just having so much fun. Just the feeling of playing at the Scotties — it's such a good feeling."
"It's true," chimed in a smiling Riley. "This is how we play in a club game, too."
After getting the four in the ninth end, Birt, whose Montague/Cornwall-based team is rounded out by vice-skip Marie Christianson, second Meaghan Hughes, lead Michelle McQuaid, alternate Kathy O'Rourke and coach Mitch O'Shea, needed to make a draw to outcount two Quebec stones in the eight-foot, but came up a few centimetres light.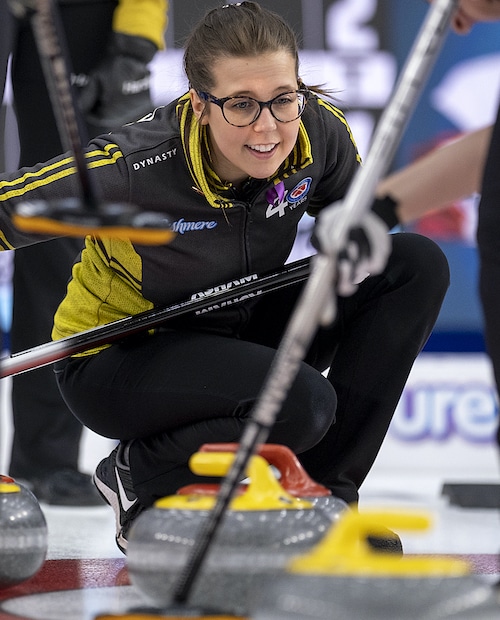 It's early times at the 2021 Scotties, and while Quebec is off to a solid start, the players realize there is still work to be done.
"Obviously we know there's no easy games and we're taking it one game at a time," said Riley. "Obviously we would love to make the Championship Pool, and having two wins under our belts will help us get there. But it's still one game at a time, and there won't be any easy games. We still have to come into every game like we're playing Jennifer Jones in every game."
In other Sunday afternoon Pool B games, Team Wild Card #3's Chelsea Carey (3-0; East St. Paul) remained on a perfect pace with a 9-2 win over New Brunswick's Melissa Adams (0-3; Fredericton); Manitoba's Jennifer Jones (2-1; Winnipeg) cruised to a 14-5 win over B.C.'s Corryn Brown (0-2; Kamloops); and Newfoundland/Labrador's Sarah Hill (2-0; St. John's) continued her hot start with a 9-3 win over Nunavut's Lori Eddy (0-3; Iqaluit).
The 2021 Scotties Tournament of Hearts continues with Sunday's late draw at 8:30 p.m. (all times Eastern).
Live scoring, standings and statistics for the 2021 Scotties Tournament of Hearts are available at www.curling.ca/scoreboard/
TSN and RDS2 (streamed on ESPN3 in the United States) will provide complete coverage of the 2021 Scotties Tournament of Hearts. CLICK HERE for the complete schedule.
This story will be available in French as soon as possible at www.curling.ca/2021scotties/nouvelles/?lang=fr