Team Ontario rolls to win!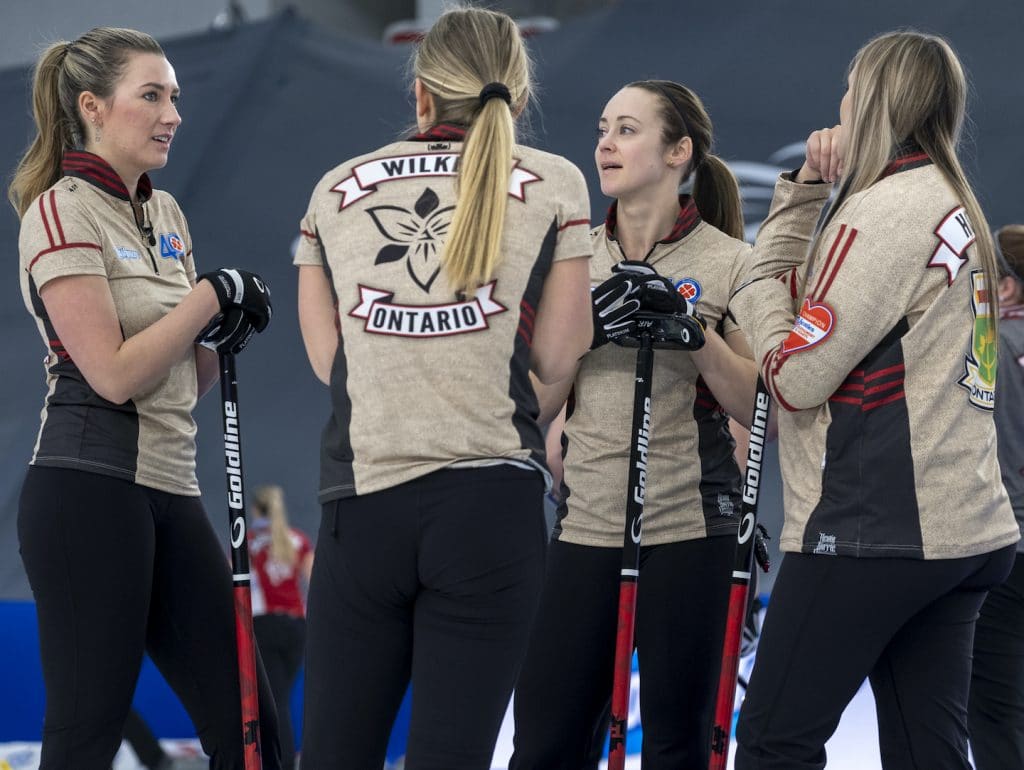 Team Ontario improves to 2-0 with Sunday morning win at the Scotties
It's a new look for the lineup, but some familiar results for Rachel Homan's Team Ontario at the 2021 Scotties Tournament of Hearts.
Homan's Ottawa team cruised to an 8-3 win over Laura Eby of the Yukon (0-3; Whitehorse) on Sunday morning at the Markin MacPhail Centre at WinSport's Canada Olympic Park in Calgary, giving Ontario an early 2-0 record in Pool A, tied with Team Canada's Kerri Einarson (Gimli, Man.), just behind leading Laura Walker and Alberta (Edmonton), who sit at 3-0.
Homan, a silver-medallist at the past two Scotties after winning the Canadian women's curling championship in 2013, 2014 and 2017, shuffled her lineup this past offseason, bringing aboard Sarah Wilkes at second and moving Joanne Courtney from second to lead, resulting in Lisa Weagle parting ways with the team (and quickly being picked up by Manitoba's Jennifer Jones).
But with the Tour season short-circuited by the COVID-19 pandemic, the new lineup managed to play just five ends of competitive curling at an event in Okotoks, Alta., before clubs were closed.
So the normal getting-to-know-you process of welcoming a new teammate had to be conducted virtually instead of on the ice.
"We didn't get a lot of games in, but we were able to get in a lot of training early in the year when things were still open," said Homan, who fired a blazing 92 per cent game at the Yukon team. "And thankfully we have Zoom and things like that to have team meetings and really dive in as much as COVID allowed to prepare for this. So we felt really excited coming into this. Obviously we were all nervous when you don't have any games under your belt and it's been a year, but everyone's pretty much in the same boat."
Wilkes, of course, had some championship pedigree of her own, having won Scotties gold in 2019 playing vice-skip for Chelsea Carey, and also is a former Canadian mixed champion, winning in 2016 with a team skipped by husband Mick Lizmore.
Still, even with that competitive background, there were definitely butterflies for the new-look lineup when it played its Scotties opener on Saturday.
"We played five ends in one tournament, so our first full game together was the first game here," said Wilkes. "I was nervous going out there, but I think I would be regardless, just from having that first game in a year, on such a big stage at the Scotties. We've been putting in a lot of practice when we had ice, but it just felt really good to get back out there."
"We've all been there before, we've all been in finals, been in pressure situations," added Homan, whose team is rounded out by vice-skip Emma Miskew, alternate Danielle Inglis and coach Randy Ferbey. "It was a really exciting feeling coming to the rink yesterday — finally, we're allowed to curl. It was a really fun experience."
In other morning-draw action at the Scotties, Alberta continued its hot early pace with a 12-3 win over Northern Ontario's Krysta Burns (1-1; Sudbury); Team Canada turned back Team Wild Card #3's Beth Peterson (1-2; Winnipeg) 6-4; and Kerry Galusha of the Northwest Territories (1-1; Yellowknife) was a 9-5 winner over Jill Brothers of Nova Scotia (1-2; Halifax).
The Northwest Territories had its full lineup on the ice after being forced to miss its scheduled game on Saturday due to a player suffering a suspected case of food poisoning. The player tested negative for COVID-19 on Saturday, and all four players passed scheduled wellness checks on Saturday and Sunday morning.
The Territories-Team Canada game that was scheduled for Saturday will be played Monday at 10:30 a.m. (all times Eastern) and broadcast by TSN/RDS2.
The 2021 Scotties Tournament of Hearts continues Sunday with draws 3:30 p.m. and 8:30 p.m.
Live scoring, standings and statistics for the 2021 Scotties Tournament of Hearts are available at www.curling.ca/scoreboard/
TSN and RDS2 (streamed on ESPN3 in the United States) will provide complete coverage of the 2021 Scotties Tournament of Hearts. CLICK HERE for the complete schedule.
This story will be available in French as soon as possible at www.curling.ca/2021scotties/nouvelles/?lang=fr