Young stars earn first Scotties win!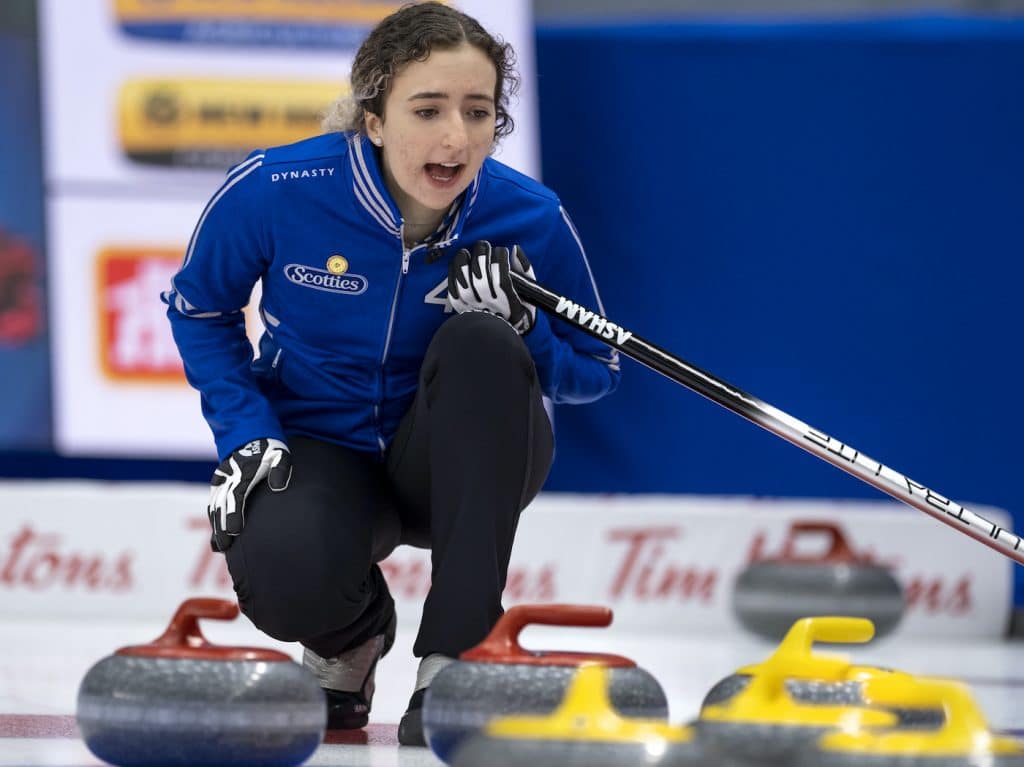 Reigning world junior champs hit win column in first Scotties
To all who had observed this team perform in the junior ranks, it was not a matter of "if". Simply a matter of "when".
And "when" was Sunday night at the Markin MacPhail Centre at WinSport's Canada Olympic Park in Calgary, where Mackenzie Zacharias, the reigning Canadian and world junior champion skip from Altona, Man., picked up her first win at the 2021 Scotties Tournament of Hearts.
Zacharias's Team Wild Card #2 — the same team with which she claimed gold at the 2020 New Holland Canadian Juniors and 2020 World Junior Championships — dispatched Laura Eby of the Yukon (0-4; Whitehorse) 15-3 to snap a two-game losing streak to open its first trip to the Scotties, and mark the first of what is expected to be many career wins at the Canadian women's championship.
"Honestly, it feels pretty good, we're pretty excited," said a smiling Zacharias, whose team is rounded out by third Karlee Burgess, second (and sister) Emily Zacharias, lead/vice-skip Lauren Lenentine, alternate Rachel Erickson and coach Sheldon Zacharias. "We had a tough couple first games, so we were able to come out there and feel really good. We just have to take what we learned from this game and build off every game that we play."
After a couple of disappointing losses, Team Wild Card #2 got an early jolt of confidence against the Yukon, opening the game with five in the first end, forcing the Yukon to take one in the second, and coming back with two in the third. The result was never in doubt from there.
And even though the first two games resulted in losses, there were still positives to be gleaned as all 18 teams in the Scotties struggle to get back into top form after spending most of the season off the ice due to the COVID-19 pandemic.
"I think we can go back to the lack of playing this year," noted Burgess, a three-time world junior women's champion. "We're building from every game; we've learned from those games, and we learned a lot tonight."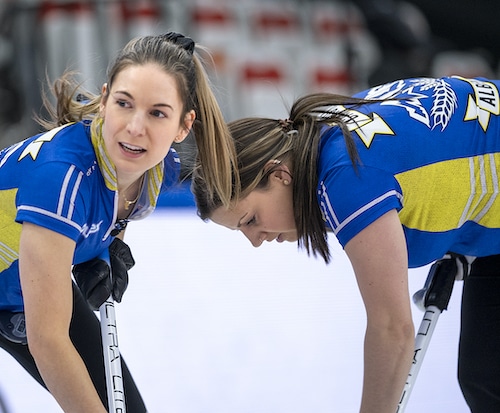 The win removed any bitter taste from a loss on Saturday to Alberta's Laura Walker — a game that was within Team Wild Card #2's grasp, but a miss on a hit for four from Mackenzie Zacharias was a big factor.
"I felt like I was throwing pretty decent (against Alberta) but nothing was going my way; that happens sometimes, that's the game of curling," she said. "The girls are great in the (post-game) debriefs. I know I was feeling that one pretty big yesterday; I missed a couple of key opportunities, but the girls know exactly how to help me out of that.
"Today, I came out there with the same kind of confidence and things just went our way. It's a huge confidence booster for the rest of the week."
In the other Sunday night games, Team Canada's Kerri Einarson (3-0; Gimli, Man.) beat Northern Ontario's Krysta Burns (1-2; Sudbury); Nova Scotia's Jill Brothers (2-2; Halifax) got by Team Wild Card #3's Beth Peterson (1-3; Winnipeg) 8-5; and Ontario's Rachel Homan (3-0; Ottawa) scored a 10th-end deuce for a 6-5 win over Alberta's Laura Walker (3-1; Edmonton).
The 2021 Scotties Tournament of Hearts continues Monday with draws at 10:30 a.m., 3:30 p.m. and 8:30 p.m. (all times Eastern). The morning game is a single-sheet affair between Kerry Galusha and the Northwest Territories and Team Canada's Kerri Einarson, which was rescheduled from Saturday due to an illness on Team NWT.
Live scoring, standings and statistics for the 2021 Scotties Tournament of Hearts are available at www.curling.ca/scoreboard/
TSN and RDS2 (streamed on ESPN3 in the United States) will provide complete coverage of the 2021 Scotties Tournament of Hearts. CLICK HERE for the complete schedule.