Superb, Saskatchewan!
Anderson leads Team Saskatchewan to win over rival Manitoba at Scotties
As always when Sherry Anderson has a microphone in front of her, she is honest, engaging, and funny.
So after a big 5-4 win over Manitoba's Jennifer Jones on Monday afternoon at the 2021 Scotties Tournament of Hearts, there was a little bit more of a twinkle in the eye of the veteran Saskatchewan skip, who's won two world senior women's championships but clearly still has the game to compete with Canada's top women's teams.
A 10th-end deuce capped the win for Anderson, vice-skip Nancy Martin, second Chaelynn Kitz, lead Breanne Knapp, alternate Amber Holland and coach Shane Kitz, as the Saskatoon-based team improved to 2-1 at the Markin MacPhail Centre at WinSport's Canada Olympic Park in Calgary.
And even though there was much to celebrate about the win, Anderson couldn't resist making fun of herself.
"I almost wiped out on the very first shot of the game, and I almost wiped out and biffed 'er there on my last shot," said Anderson with a laugh. "But it worked, so I'll take it."
As she should. Saskatchewan stayed in contention in Pool B with the win, and could make a compelling argument that it should be a perfect 3-0, but for a late-game collapse in its opening game against Prince Edward Island on Saturday when Anderson suggested she "just pooped the bed."
But on Monday afternoon, Anderson and Co. pushed Manitoba hard the whole game, and Anderson didn't need to throw her final stone as Jones, chasing her Scotties record 153rd career win (she's currently tied with Colleen Jones at 152), missed on a double-raise attempt to get to shot rock, with Saskatchewan sitting two.
It made up for an early miss by Anderson, who had an open hit for three in the second end but was wide on her delivery and rolled her shooter out, and scored just a single.
"We should have been up 3-0 early, and I almost flashed a wide-open hit," said Anderson. "But otherwise, I thought we controlled it. In the ninth end, we got into a little bit of trouble; they made some great shots, but we managed to get out with a force (to give Manitoba a 4-3 lead). It was fun. To come out of the first three games 2-and-1? I'm OK with that."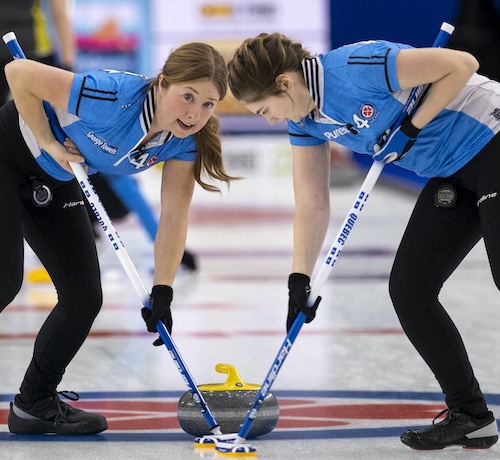 Jones, vice-skip Kaitlyn Lawes, second Jocelyn Peterman, lead Lisa Weagle, alternate Raunora Westcott and coach Viktor Kjell (Winnipeg) dropped to 2-2 with the loss.
In other afternoon games, Quebec's rookie team skipped by Laurie St-Georges (3-1; Laval-sur-la-Lac) continued to delight fans across Canada, knocking Chelsea Carey's Team Wild Card #1 (3-1; East St. Paul, Man.) from the ranks of the unbeaten with an 8-7 win. The result left Quebec, Team Wild Card #1 and Prince Edward Island's Suzanne Birt (Montague/Cornwall) tied for top spot in the pool with 3-1 records.
P.E.I. posted a 12-8 win over Newfoundland/Labrador's Sarah Hill (2-1; St. John's) 12-8.
In the other Monday afternoon game, B.C.'s Corryn Brown (1-2; Kamloops) hit the win column with an 11-2 win over Nunavut's Lori Eddy (0-4; Iqaluit).
The 2021 Scotties Tournament of Hearts continues with Monday's late draw, beginning at 8:30 p.m. (all times Eastern).
Live scoring, standings and statistics for the 2021 Scotties Tournament of Hearts are available at www.curling.ca/scoreboard/
TSN and RDS2 (streamed on ESPN3 in the United States) will provide complete coverage of the 2021 Scotties Tournament of Hearts. CLICK HERE for the complete schedule.
This story will be available in French as soon as possible at www.curling.ca/2021scotties/nouvelles/?lang=fr