Alberta gets back on track!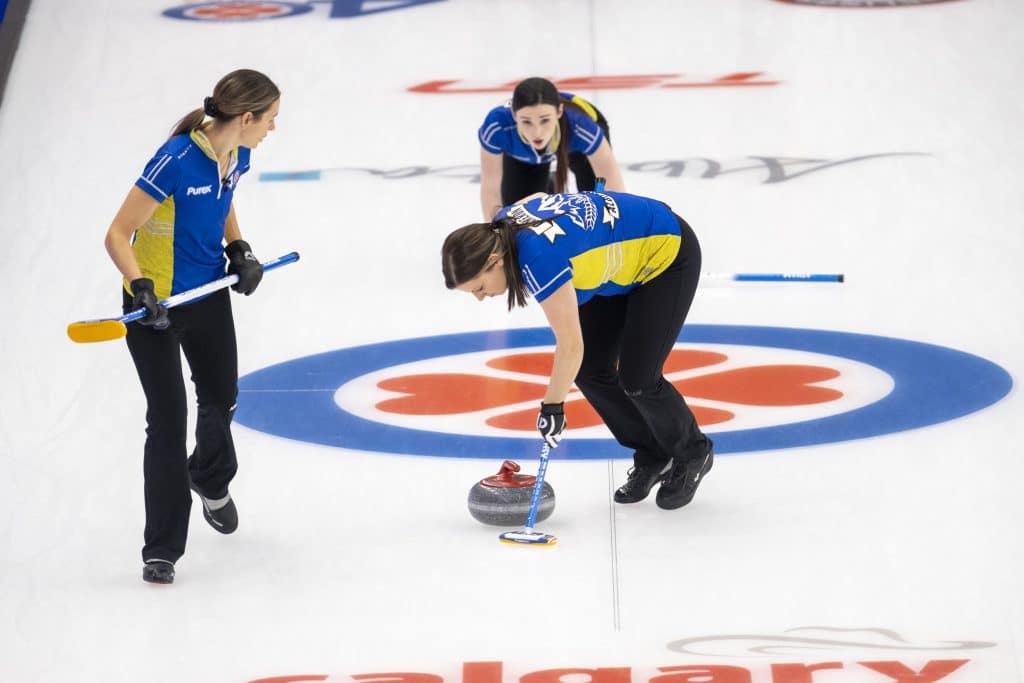 Walker's Alberta team snaps mini losing streak with win over NWT
It may have been a storyline outside of the team, but internally? All Laura Walker and her Edmonton teammates wanted was just to get back to what works: call shots, make shots, and follow the process.
Yes, just like at Moose Jaw, Sask., Walker skipped Alberta to three straight wins to open the Scotties. And yes, just like last year at Moose Jaw, Alberta then lost two straight.
But unlike at Moose Jaw, Walker and her teammates found a way to get back on track. A year ago, the losing slide hit four, and Alberta didn't advance to the Championship Pool, eliminated with a 3-4 record.
This time around? A solid 8-3 win Tuesday afternoon at the 2021 Scotties Tournament of Hearts over Kerry Galusha of the Northwest Territories (2-3; Yellowknife) got Alberta back headed in the right direction at WinSport Arena at Canada Olympic Park in Calgary.
The win was the fourth in six outings for Walker, vice-skip Kate Cameron, second Taylor McDonald, lead Rachel Brown, alternate Dana Ferguson and coach Shannon Pynn.
Brown replaced Nadine Scotland at lead for the 2021 Scotties as Scotland announced shortly before teams entered the bubble that she is pregnant.
"This was our sixth game together as a team, and our sixth game together in a year," Walker reminded media members during a virtual news conference. "So expecting too much of ourselves early I think was not the right thing to do. We wanted to just get better with every game. We didn't put any emphasis on the outcome; we just knew if we did the right things and followed the process, the wins were going to come.
"Yes, it feels good to get that fourth win that's so elusive that everyone keeps talking about. But I really feel like it was coming anyways."
It wasn't routine, though. Alberta found itself down 3-2 after five ends to Galusha, vice-skip Jo-Ann Rizzo, second Margot Flemming, lead Shona Barbour and coach Jim Waite.
But Alberta put together eight perfect shots in the sixth to put three on the scoreboard. After a rare tied measurement resulted in a blank in the seventh end, Alberta stole two in the eighth to sock away the win and remove any lingering bitter taste from back-to-back losses.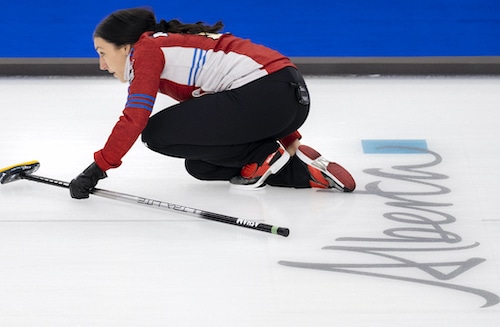 "I think we were just looking at our play right now, and there was room for improvement after yesterday," said Cameron. "That's kind of where the focus was last night (after a loss to Team Wild Card #3's Beth Peterson), and what we wanted to bring into today. I don't think we were necessarily dwelling on the past; we just wanted to play better today."
Added Walker: "We were a lot sharper, a lot more confident with the ice conditions, and that's a really big thing for us to carry into tomorrow."
In other afternoon games on Tuesday, Team Canada's Kerri Einarson (5-0; Gimli, Man.) remained unbeaten with an 8-3 win over Nova Scotia's Jill Brothers (2-4; Halifax); Ontario's Rachel Homan (5-0; Ottawa) also stayed on a perfect pace with a 10-3 triumph over Northern Ontario's Krysta Burns (2-3; Sudbury); and Peterson's Team Wild Card #3 (3-3; Winnipeg) shaded Team Wild Card #2's Mackenzie Zacharias (1-3; Altona, Man.) 5-4.
The 2021 Scotties Tournament of Hearts continues with Tuesday's late draw at 8:30 p.m. (all times Eastern).
Live scoring, standings and statistics for the 2021 Scotties Tournament of Hearts are available at www.curling.ca/scoreboard/
TSN and RDS2 (streamed on ESPN3 in the United States) will provide complete coverage of the 2021 Scotties Tournament of Hearts. CLICK HERE for the complete schedule.
This story will be available in French as soon as possible at www.curling.ca/2021scotties/nouvelles/?lang=fr