Jennifer Jones makes history!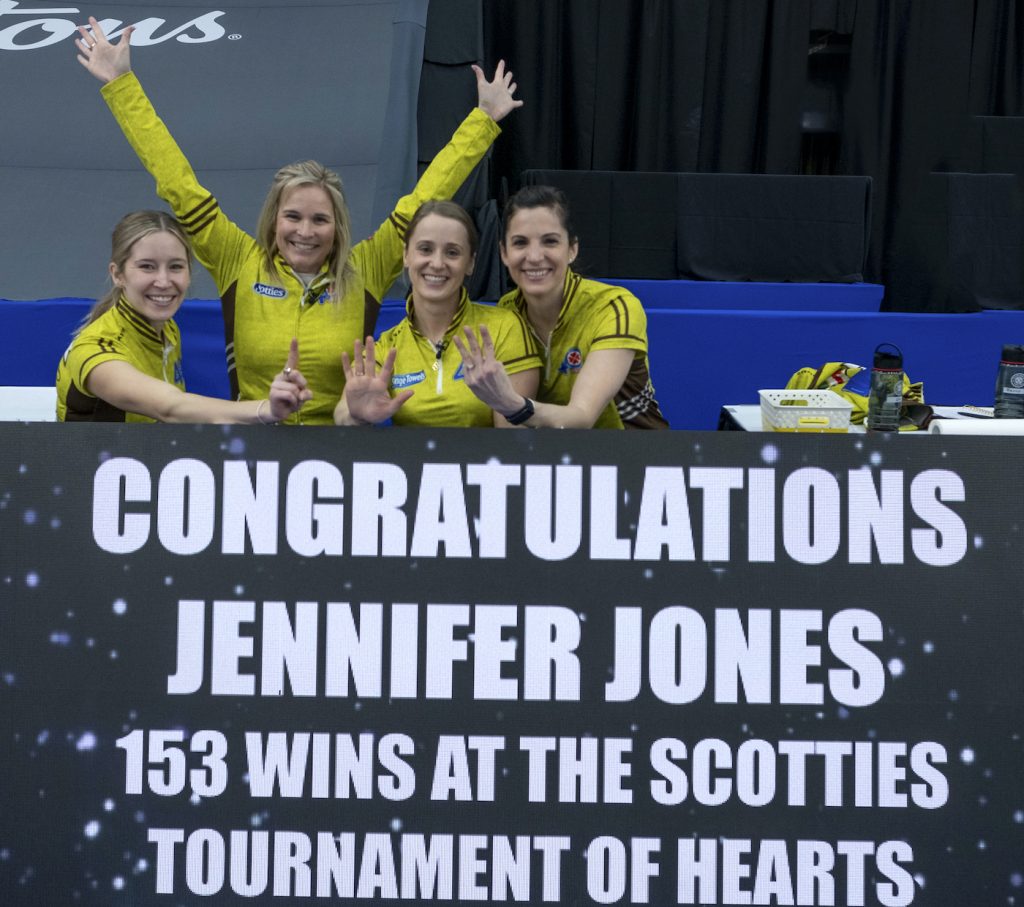 Manitoba skip now tops list for career wins at Scotties
Curling history books were already filled to the brim with the achievements of Manitoba skip Jennifer Jones.
But there's always room for more, and Tuesday at the 2021 Scotties Tournament of Hearts, Jones added another one, and a big one at that.
Jones, backed up by vice-skip Kaitlyn Lawes, second Jocelyn Peterman, lead Lisa Weagle, alternate Raunora Westcott and coach Viktor Kjell, became the all-time winningest player at the Scotties, posting a 6-5 win over Newfoundland/Labrador's Sarah Hill (2-1; St. John's) at WinSport Arena at Canada Olympic Park in Calgary.
The win was Jones's 153rd in Scotties play, eclipsing the 152 that were posted by Nova Scotia's Colleen Jones in her own brilliant Scotties career.
"It is pretty crazy," said Jones with a smile. "As a little girl, all I wanted to do was play in the provincials, and then, wow, we're at the Scotties, and now, 153 wins — it feels like yesterday was my first Scotties. That's how much joy we have; it's never been any kind of grind — just pure joy and happiness."
And, yes, a little relief, as the game on Tuesday against Newfoundland/Labrador (the team is rounded out by vice-skip Beth Hamilton, second Lauren Barron, lead Adrienne Mercer, alternate Brooke Godsland and coach Laura Phillips) had a "must-win" quality to it. Manitoba entered with a 2-2 record, and a third loss would have put it in jeopardy of not advancing to the Championship Pool.
But a single point in the 10th end gave Manitoba the important win and kept the Jones Gang in contention to advance.
"Every team I've played on, we've never given up until they tell us we can't curl any more," said Jones, who now has a career win-loss record of 153-52 dating back to her first Scotties appearance in 2002; she's in her 16th Scotties this year. "That's always been our philosophy, and we were grinding it out today; we really needed this win to stay in the competition, and we were going to do everything possible to have a win at the end of the day. We'll still plug away, try to get better as the week goes on, and hopefully we'll be there at the end of the week."
Over a stellar career, Jones has won Olympic gold, world championships, six Scotties titles, and, as of Tuesday, more Scotties games than anyone else. And she was quick to note that she had plenty of help along the way.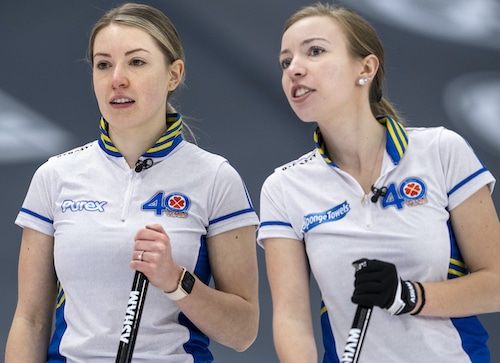 "I've been fortunate to play with some great people — great human beings, but also such talented players," said Jones. "They're all a part of this, for sure, and I feel very fortunate to share these experiences with so many great people."
By the way, a seventh Scotties title would set another record for Jones; she shares the record of six wins with longtime teammate Jill Officer and, of course, Colleen Jones.
In other morning draw action, Quebec's Laurie St-Georges (4-1; Laval-sur-le-Lac) continued her fine play with a 7-5 win over Nunavut's Lori Eddy (0-5; Iqaluit); B.C.'s Corryn Brown (2-2; Kamloops) won her second straight game, downing Team Wild Card #1's Chelsea Carey (3-2; East St. Paul, Man.) 7-5; and New Brunswick's Melissa Adams (1-3; Fredericton) hit the win column, taking a deuce in the 10th end to beat Saskatchewan's Sherry Anderson (2-2; Saskatoon) 7-6.
The 2021 Scotties Tournament of Hearts continues Tuesday with draws at 3:30 p.m. and 8:30 p.m. (all times Eastern).
Live scoring, standings and statistics for the 2021 Scotties Tournament of Hearts are available at www.curling.ca/scoreboard/
TSN and RDS2 (streamed on ESPN3 in the United States) will provide complete coverage of the 2021 Scotties Tournament of Hearts. CLICK HERE for the complete schedule.
This story will be available in French as soon as possible at www.curling.ca/2021scotties/nouvelles/?lang=fr