Rising stars back on track!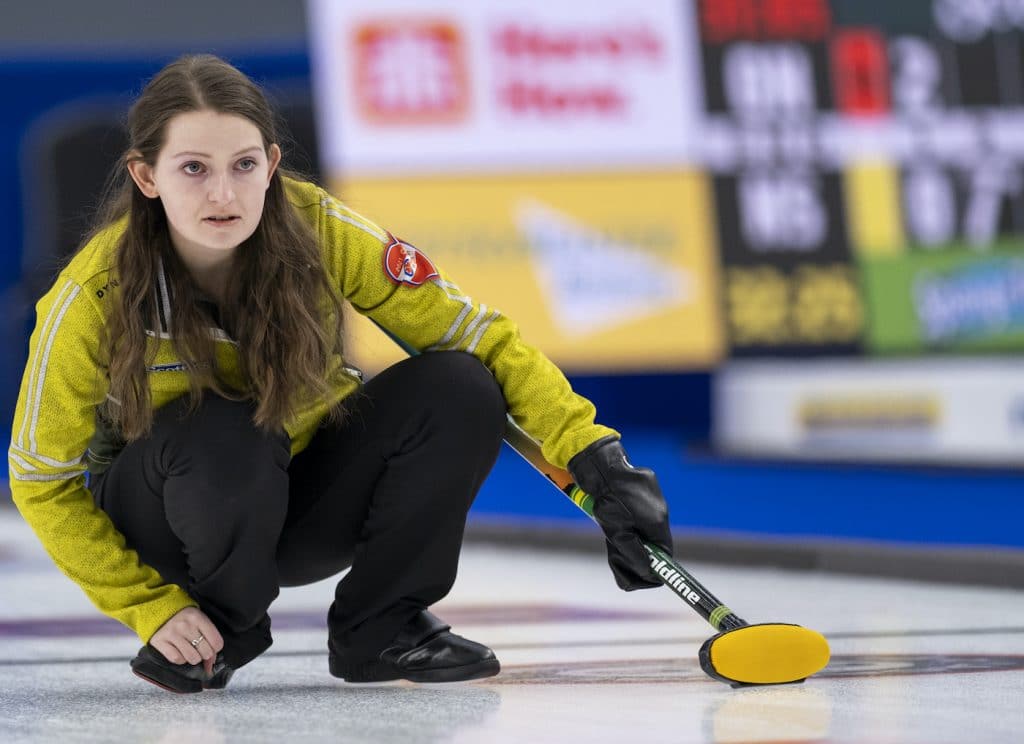 Northern Ontario evens its record at the 2021 Scotties
In this most unique of curling seasons, a unique opportunity presented itself to a group of young curling stars in Sudbury, Ont.
With Krista McCarville's reigning Northern Ontario champs electing not to attend the 2021 Scotties Tournament of Hearts due to employment concerns caused by the quarantine requirements related to travel, the 2020 runners-up skipped by Krysta Burns were awarded the Northern Ontario berth in the Scotties.
Not that Burns, vice-skip Megan Smith, second Sara Guy, lead Amanda Gates, alternate Kira Brunton and coach Rodney Guy didn't have a solid resume of their own — both on and off the ice.
In addition to numerous medals from university, junior (under-21) and under-18 national competitions, Burns, Smith, Sara Guy and Brunton all were recipients of the Curling Canada Foundation's For the Love of Curling Scholarships in 2017, recognizing both their curling and classroom talents.
And now, they're getting a chance to show the country what their rivals in Northern Ontario have known for some time now — this is a team that is going places.
More evidence was provided on Monday night at the Markin MacPhail Centre at WinSport's Canada Olympic Park in Calgary as Northern Ontario shook off a two-game losing streak to pull out an 8-7, come-from-behind victory over Laura Eby of the Yukon (0-5; Whitehorse).
Northern Ontario trailed most of the way, but turned the game around in dramatic fashion in the ninth end when Burns made a draw for five to turn a three-point deficit into a two point lead coming home.
Eby, whose team is rounded out by vice-skip Lorna Spenner, second Tamar Vandenberghe, lead Laura Williamson, alternate Darlene Gammel and coach Scott Williamson, had a draw to force an extra end but was heavy to present the win to Team Northern Ontario.
"We just had to do our best to stick with it.," said Burns, who with Smith and Guy won bronze at the 2017 Canadian Juniors, and also skipped Laurentian University (with Guy and Smith as teammates) to the 2017 U SPORTS championship. "I know our confidence was kind of shaken at the beginning, but we just try to focus on having some laughs, enjoying the experience, getting our mind off of all the negative stuff, and I think that's what brought us back in the end."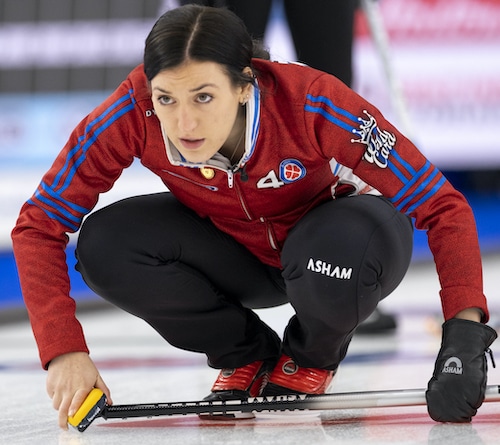 The bright lights of the Scotties, even without fans in the stands, have provided a spotlight unlike anything the team has faced before, and, yes, there have been growing pains.
But considering that the team got its shot at the Scotties practically out of nowhere, when Team McCarville elected not to attend, there's been a lot to take in over the past couple of months.
"The first thing was shock and disbelief," said Burns. "And before we could even get excited about it, we had to clear it with our bosses and teachers and everything like that, so it actually took us a few days to be able to be excited. And then it was about, what can we do to prepare? And the answer was pretty much nothing.
"We're learning so much here, every game we play, even every shot we throw. It's incredibly special, and we're going to learn so much to take forward. Being here, even in this environment, just makes us want to come back more."
In other Monday night games, Kerry Galusha of the Northwest Territories (2-2; Yellowknife) shaded Mackenzie Zacharias's Team Wild Card #2 (1-3; Altona, Man.) 6-5; Ontario's Rachel Homan (4-0; Ottawa) remained unbeaten with an 8-3 win over Jill Brothers of Nova Scotia (2-3; Halifax); and Team Wild Card #3's Beth Peterson (2-3; Winnipeg) downed Alberta's Laura Walker (3-2; Edmonton) 6-4.
The 2021 Scotties Tournament of Hearts continues Tuesday with draws at 10:30 a.m., 3:30 p.m. and 8:30 p.m. (all times Eastern).
Live scoring, standings and statistics for the 2021 Scotties Tournament of Hearts are available at www.curling.ca/scoreboard/
TSN and RDS2 (streamed on ESPN3 in the United States) will provide complete coverage of the 2021 Scotties Tournament of Hearts. CLICK HERE for the complete schedule.
This story will be available in French as soon as possible at www.curling.ca/2021scotties/nouvelles/?lang=fr