Champs not slowing down!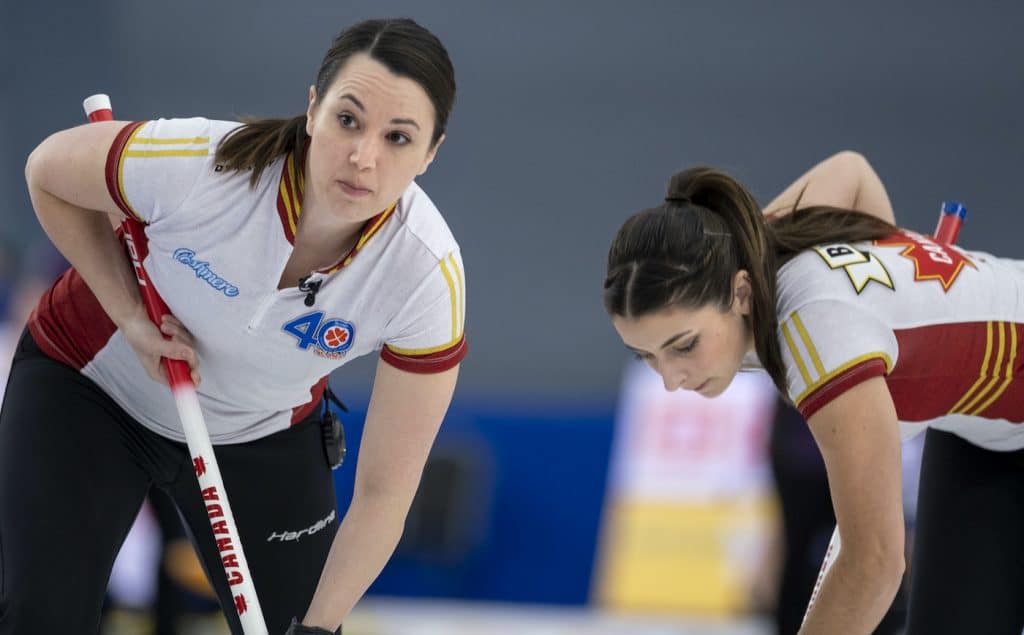 Team Canada makes it seven wins and counting at 2021 Scotties
As the 2021 Scotties Tournament of Hearts picks up steam towards the closing weekend, it's becoming more and more apparent that the defending champs are in line for a repeat victory.
Kerri Einarson and her team from Gimli, Man., remained the lone unbeaten entry in the 18-team field Wednesday night at WinSport Arena at Canada Olympic Park in Calgary.
And they made it apparent that, even with plenty of games to be played, plenty of shots to be thrown, it will take something awful special to deny Einarson, vice-skip Val Sweeting, second Shannon Birchard, lead Briane Meilleur, alternate Krysten Karwacki and coach Heather Nedohin their second straight Canadian Women's Curling Championship.
The latest evidence was an efficient 8-3 takedown of Alberta's Laura Walker (4-3; Edmonton) that kept Team Canada in top spot in Pool A, and assured of a berth in the Championship Pool, which will feature the top four finishers in Pool A and top four in Pool B going head to head Friday and Saturday, with the top three records going into Sunday's playoffs.
Even though this team had played only one partial competitive game this entire season before the pandemic shut down the World Curling Tour season, it's worth noting that they have not lost a game since Feb. 21, 2020.
It was a 3-3 tie through five ends after Alberta scored a pair in the fifth. But Team Canada showed its poise and experience in the back half of the game, taking control with one in the sixth end, and back-to-back stolen deuces to prompt a concession from Alberta.
"Well, they gave us a really good game; they made some big shots out there and I missed a couple in the middle of the game," said Einarson. "I was like, 'Kerri — focus, regroup!' But we just never give up. We have patience, and we just never get down."
They'll need those traits on Thursday as the game everyone has been anticipating is scheduled for 3:30 p.m. (all times Eastern) when Team Canada plays Ontario's Rachel Homan (6-1; Ottawa) in a rematch of the extra-end thriller that decided the 2020 Scotties in Moose Jaw. Ontario, also already through to the Championship Pool, kept pace with an 8-6 win over Team Wild Card #2's Mackenzie Zacharias (2-5; Altona, Man.).
"It was a year ago yesterday," said Einarson of that 2020 championship game. "It's so hard to believe that it's been a year. So we're expecting a really great game and I'm excited to play Rachel again."
If there's any pressure on the shoulders of the reigning champs, they're sure not showing it in the bubble.
"We're just enjoying ourselves out there — having a lot of laughs," said Einarson. "This is our first full event this year, so we can't beat ourselves up if we aren't performing at a hundred per cent. We're just embracing every single moment (as Team Canada). We haven't had the chance to wear this Maple Leaf on our backs, so we're really embracing it this week."
In the other Wednesday night games, Kerry Galusha and the Northwest Territories (4-3; Yellowknife) kept their Championship Pool hopes alive with a 10-2 win over Laura Eby of the Yukon (0-7; Whitehorse); and Nova Scotia's Jill Brothers (3-5; Halifax) turned back Northern Ontario's Krysta Burns (2-5; Sudbury) 8-3.
With Team Canada and Ontario already through to the Championship Pool, the final two Pool A berths will come out of the trio of the Northwest Territories, Northwest Territories and Team Wild Card #3's Beth Peterson, who all sit at 4-3. A tiebreaker, if required, will be played Friday morning.
The 2021 Scotties Tournament of Hearts continues Thursday with draws at 10:30 a.m., 3:30 p.m. and 8:30 p.m. (all times Eastern).
Live scoring, standings and statistics for the 2021 Scotties Tournament of Hearts are available at www.curling.ca/scoreboard/
TSN and RDS2 (streamed on ESPN3 in the United States) will provide complete coverage of the 2021 Scotties Tournament of Hearts. CLICK HERE for the complete schedule.
This story will be available in French as soon as possible at www.curling.ca/2021scotties/nouvelles/?lang=fr