New Brunswick in contention!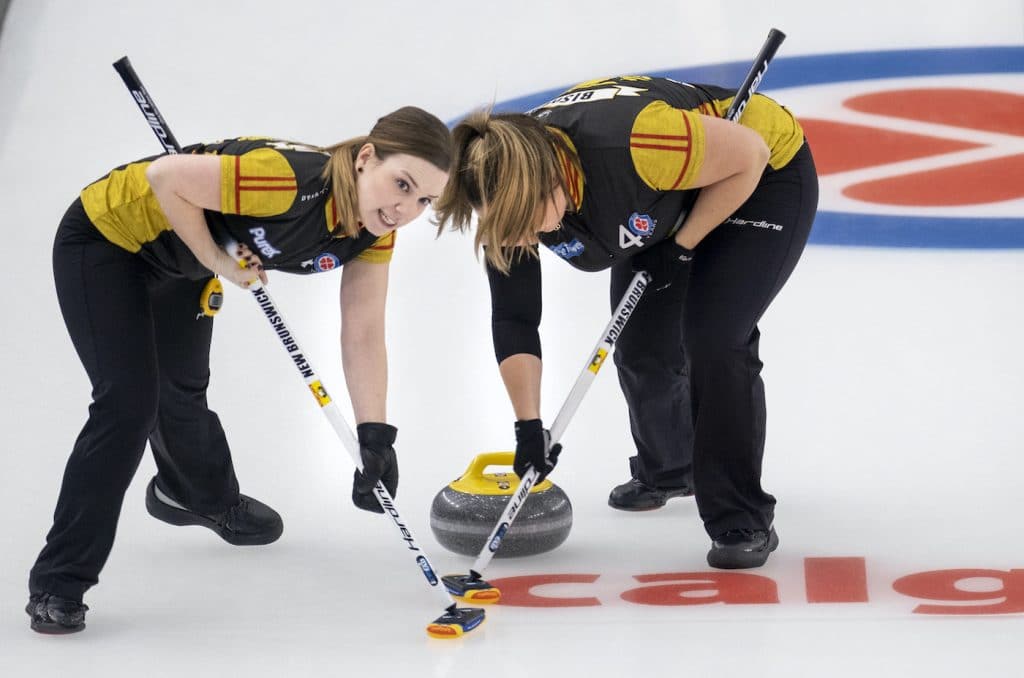 Three-game win streak has New Brunswick in the hunt at the Scotties
After opening the first three games of the 2021 Scotties Tournament of Hearts with three losses, the confidence level for Melissa Adams's New Brunswick team wasn't exactly at an all-time high.
A 9-2 loss to Team Wild Card #1's Chelsea Carey on Sunday afternoon was the low point, and it was that evening that Adams, vice skip Jaclyn Tingley, second Nicole Arsenault Bishop, lead Kendra Lister and alternate Monique Massé talked things out and came up with a plan — keep it simple.
Since then? That back-to-basics approach has produced three straight wins — the latest, a 9-5 win over B.C.'s Corryn Brown (3-3; Kamloops), a team that was riding a three-game win streak of its own coming into Wednesday afternoon's game at WinSport Arena at Canada Olympic Park in Calgary.
"I think it came and went in the first three games, and our confidence wasn't quite there," said Adams, whose 3-3 team from Fredericton is firmly in the hunt for one of the four available berths from Pool B into the Championship Pool. "After our third loss, we just kind of regrouped and talked about what we could do differently. Talked about the ice, talked about the little things that were become too complicated; we just simplified it a bit and started playing a lot better."
Against B.C., New Brunswick exploded out of the gates with a first-deuce, a stolen single in the second end and a steal of three more in the third when Brown flashed on a hit for one.
And any pressure New Brunswick may have felt entering the game, knowing its Championship Pool hopes were likely on the line, vanished.
New Brunswick closed out Pool B play with two games against teams it trails in the standings — Quebec's Laurie St-Georges (5-2; Laval-sur-le-Lac) on Thursday morning and Manitoba's Jennifer Jones (4-2; Winnipeg) on Thursday night — wins in both would put New Brunswick in no worse than a tiebreaker position to reach the Championship Pool (the top four teams from Pool A and the top four from Pool B will advance).
"It's been a lot of fun; I mean, yes, obviously winning is fun, but I think it's fine because I feel like we're reaching our potential," said Lister. "We knew we could do this. It feels good to know that we're executing like we know we can. But either way, win or lose, with these girls we get to go away with some of our best friends and we get to curl during these crazy times. Win or lose, we're having fun, but, yeah, W's are always awesome."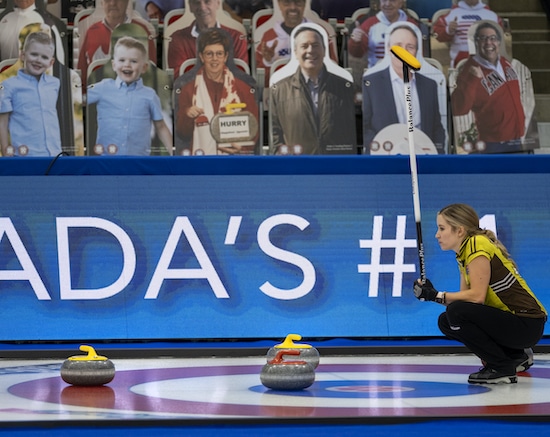 In addition to Quebec, Manitoba, New Brunswick and B.C., Saskatchewan's Sherry Anderson (4-2; Saskatoon), Team Wild Card #1's Chelsea Carey (4-3; East St. Paul, Man.) and P.E.I.'s Suzanne Birt (3-3; Montague/Cornwall) are also in the hunt for the four spots in the Championship Pool.
In other Wednesday afternoon draws, Quebec downed Newfoundland/Labrador's Sarah Hill (2-4; St. John's) 9-4; Saskatchewan took two in the 10th end for an 8-7 win over Team Wild Card #1; and Manitoba was a 9-5 victor over P.E.I.
The 2021 Scotties Tournament of Hearts continues with Wednesday's late draw at 8:30 p.m. (all times Eastern).
Live scoring, standings and statistics for the 2021 Scotties Tournament of Hearts are available at www.curling.ca/scoreboard/
TSN and RDS2 (streamed on ESPN3 in the United States) will provide complete coverage of the 2021 Scotties Tournament of Hearts. CLICK HERE for the complete schedule.
This story will be available in French as soon as possible at www.curling.ca/2021scotties/nouvelles/?lang=fr