Ontario wins rematch!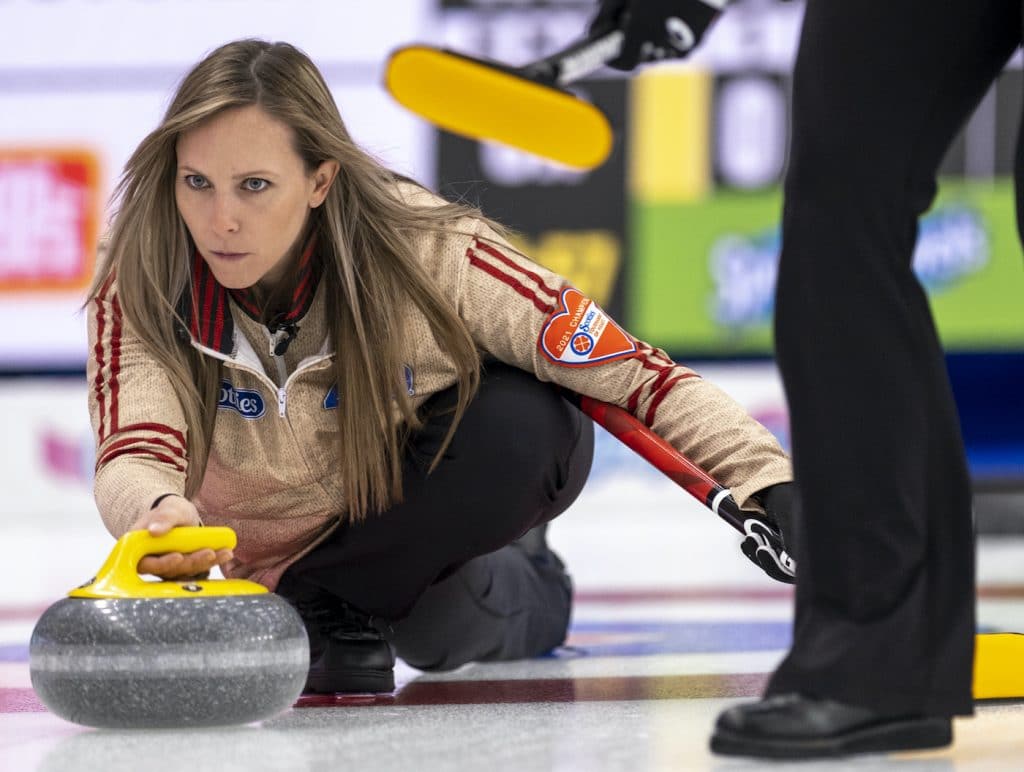 Team Ontario prevails in rematch of 2020 Scotties final
Twelve months had passed, and those were 12 eventful months, to say the very least, since the last time Team Homan and Team Einarson met on a sheet of curling ice.
A year ago in Moose Jaw, Sask., Homan's Ontario team dropped an extra-end thriller to Kerri Einarson's Manitoba champs in the gold-medal game of the 2020 Scotties Tournament of Hearts.
Thursday afternoon at the 2021 Scotties Tournament of Hearts, Homan — with teammates vice-skip Emma Miskew, second Sarah Wilkes (who wasn't with the team last year), lead Joanne Courtney, alternate Danielle Inglis and coach Randy Ferbey — didn't completely avenge that defeat (what could, really?), but certainly sent a message that this team is in a high state of readiness for the next phase of this competition with a 7-4 win over Einarson, now in Team Canada colours, in the Pool A finale for both teams.
And while nothing ever makes up for losing in the final of a national curling championship, you might think there was perhaps a small element of revenge on the minds of Rachel Homan and her Ontario teammates when they stepped onto the ice to play Team Canada.
Nope. Not really, said Homan after the game at WinSport Arena at Canada Olympic Park in Calgary.
"You can't more emphasis on one game over the other because there are tons of good teams here," said Homan. "We knew it would be battle. Obviously, very huge for us to be at the top of the pool, and make sure our records are the same going into the Championship Pool. But there's a huge battle ahead in the Championship Pool, tons of good games. Every game is going to matter from here on out, for sure."
The result left Ontario and Team Canada tied for top spot in Pool A with 7-1 records, with Ontario officially finishing first based on Thursday's result.
"I think we're firing as well as we can be," said Homan. "I'm really proud of how the girls are playing. We're learning from every mistake, every made shot — we keep moving forward and keep taking the experience. It's our first real event as a team, and it's going really well."
A reminder — Homan, if you among the very few people who hasn't heard, happens to be eight months pregnant.
And another reminder — pregnant or not Homan is an awfully good athlete; she leads all skips in cumulative shooting percentage by a stunning five per cent (she's at 86 for the week; Einarson and Team Wild Card #1's Chelsea Carey are next at 81).
"I think it's an unbelievable performance that Rachel has had so far," said Courtney. "I've been so impressed with her. Having been through a pregnancy, there's no way I could be doing what she's doing right now. We're just trying to support her as best we can."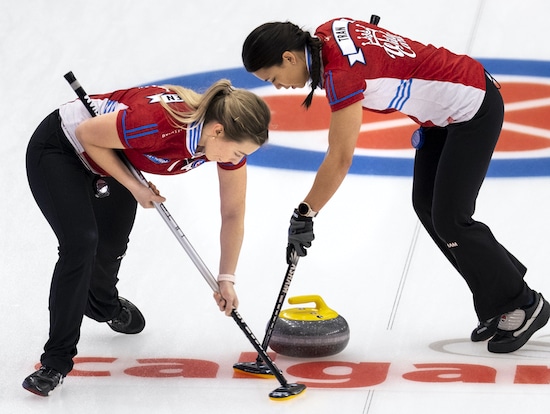 What had been a tight game was broken open in the middle ends when Ontario forced Einarson (backed up by vice-skip Val Sweeting, second Shannon Birchard, lead Briane Meilleur, alternate Krysten Karwacki and coach Heather Nedohin) into a series of tough shots that resulted, in succession, a steal of one for Ontario in the fourth end, a stolen deuce in the sixth (the fifth was blanked) and a steal of one more in the seventh.
Joining Ontario and Team Canada in the Championship Pool will be Team Wild Card #3's Beth Peterson (5-3; Winnipeg) and Alberta's Laura Walker (5-3; Edmonton), who both produced in clutch situations on Thursday afternoon.
Down 8-5 through eight ends, Team Wild Card #3 scored two in the ninth and then stole single points in the 10th and 11th ends for a 9-8 win over Kerry Galusha of the Northwest Territories (4-4; Yellowknife), while Alberta scored early and often in an 11-1 win over the Yukon's Laura Eby (0-8; Whitehorse).
In the other Thursday afternoon game, Team Wild Card #2's Mackenzie Zacharias (3-5; Altona, Man.) was a 9-4 winner over Northern Ontario's Krysta Burns (2-6; Sudbury).
The final four teams in the Championship Pool will be decided later on Thursday as Pool B completes its round robin.
The four teams from Pool A will play crossover games with the Pool B teams Friday and Saturday, with their preliminary records carrying forward.
The top three teams after the Championship Pool games will make the playoffs; the first-place team after the Championship Pool will go straight to the gold-medal game (Sunday, 8:30 p.m.; all times Eastern), while the second- and third-place teams will meet in the semifinal (Sunday, 2:30 p.m.)
The 2021 Scotties Tournament of Hearts continues with Thursday's evening draw at 8:30 p.m.
Live scoring, standings and statistics for the 2021 Scotties Tournament of Hearts are available at www.curling.ca/scoreboard/
TSN and RDS2 (streamed on ESPN3 in the United States) will provide complete coverage of the 2021 Scotties Tournament of Hearts. CLICK HERE for the complete schedule.
This story will be available in French as soon as possible at www.curling.ca/2021scotties/nouvelles/?lang=fr