Manitoba moving on!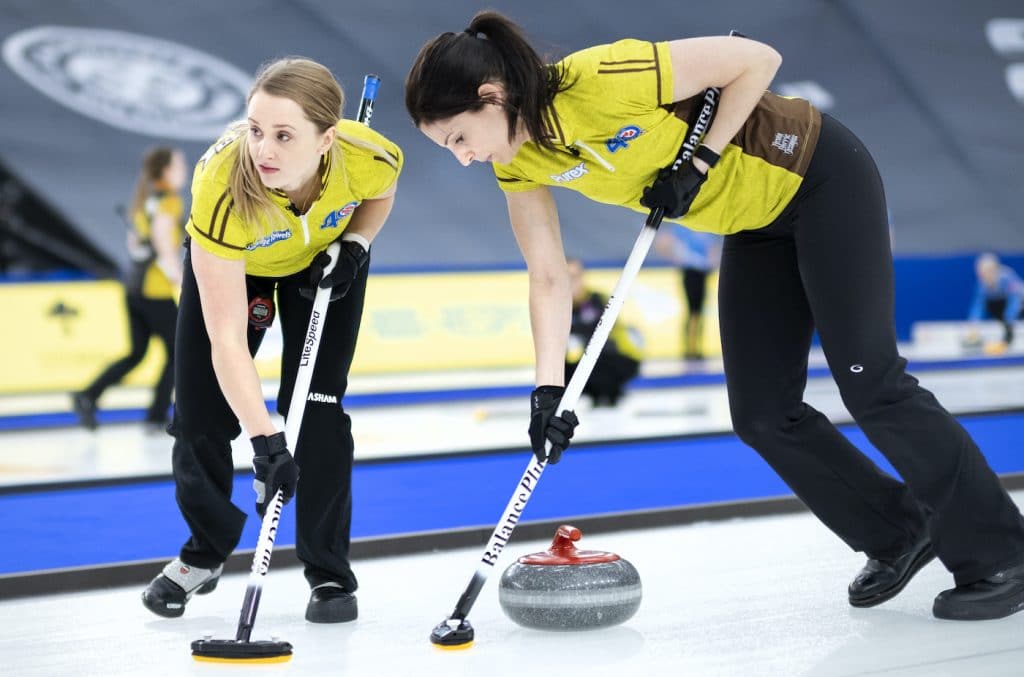 Team Manitoba claims its spot in Championship Pool at Scotties
Jennifer Jones took another step closer to yet another record on Thursday night at the 2021 Scotties Tournament of Hearts.
It's already been an historic week for the Manitoba skip, who claimed sole possession of the all-time victories record with her 153rd on Tuesday afternoon, and each win since then has, well, set another record.
But the one record that is chasing most, that everyone is focusing on most, is that of most Canadian women's curling championships — she currently shares that record, at six, with her longtime former teammate Jill Officer and Nova Scotia legend Colleen Jones.
With a 9-3 victory over Nunavut's Lori Eddy (0-8; Iqaluit) on Thursday night at WinSport Arena at Canada Olympic Park in Calgary, Jones, vice-skip Kaitlyn Lawes, second Jocelyn Peterman, lead Lisa Weagle, alternate Raunora Westcott and coach Viktor Kjell finished the Pool B round-robin play with a 6-2 record.
And in the process, the Jones Gang locked down its spot in the final eight, the Championship Pool, from which three teams will head into Sunday's playoffs
Just three days remain in the 2021 Scotties, and Jones expects each of them to be intense.
"This is what sports are all about," said Jones. "It gets a little bit exciting, you feel that adrenalin rush and the intensity steps up a little bit. It's fun — it's why we train, it's why we practise, these big games that you love. Win or lose, I know we're going to have a ton of fun. We're pretty excited to have the ability to play some more games."
Manitoba finished second in the pool to Saskatchewan's Sherry Anderson (Saskatoon), who had the same 6-2 record but claimed first based on her win over Manitoba on Monday.
Also moving on will be Quebec's Laurie St-Georges (6-2; Laval-sur-le-Lac) and Team Wild Card #1's Chelsea Carey (5-3; East St. Paul, Man.).
Jones said her team is performing at a level that gives her some confidence heading into the Championship Pool; that wasn't the case a couple days ago when Manitoba broke slowly out of the gates with a 2-2 record.
"When we lost our second game, we kind of had a goal of trying to win out, and we did that, so we're satisfied with that," said Jones. "You'd much rather lose your first game than your last game; it's always good to get better, and I feel like we are; we're making some big shots when we have to, and just being a lot more consistent. We're really pleased with how we're performing now, but always room for improvement, and we're hoping to get sharper every day."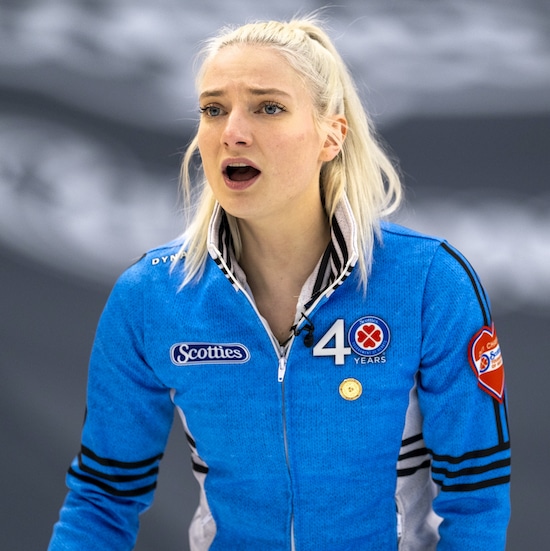 In other Thursday night results, Saskatchewan locked up first place in the pool with a 9-3 win over Newfoundland/Labrador's Sarah Hill (2-6; St. John's); Quebec was a 9-7 winner over New Brunswick's Melissa Adams (3-5; Fredericton); and B.C.'s Corryn Brown (4-4; Kamloops) knocked off Prince Edward Island's Suzanne Birt (4-4; Cornwall/Montague) 9-5.
The four teams from Pool B will play crossover games with the four advancing Pool A teams Friday and Saturday, with their preliminary records carrying forward.
Making the grade from Pool A were Ontario's Rachel Homan (7-1; Ottawa), Team Canada's Kerri Einarson (7-1; Gimli, Man.), Team Wild Card #3's Beth Peterson (5-3; Winnipeg) and Alberta's Laura Walker (5-3; Edmonton).
The top three teams after the Championship Pool games will make the playoffs; the first-place team after the Championship Pool will go straight to the gold-medal game (Sunday, 8:30 p.m.; all times Eastern), while the second- and third-place teams will meet in the semifinal (Sunday, 2:30 p.m.)
The 2021 Scotties Tournament of Hearts continues with the opening draws of the Championship Pool at 2:30 p.m. and 8:30 p.m. (all times Eastern).
Live scoring, standings and statistics for the 2021 Scotties Tournament of Hearts are available at www.curling.ca/scoreboard/
TSN and RDS2 (streamed on ESPN3 in the United States) will provide complete coverage of the 2021 Scotties Tournament of Hearts. CLICK HERE for the complete schedule.
This story will be available in French as soon as possible at www.curling.ca/2021scotties/nouvelles/?lang=fr