Manitoba off to hot start!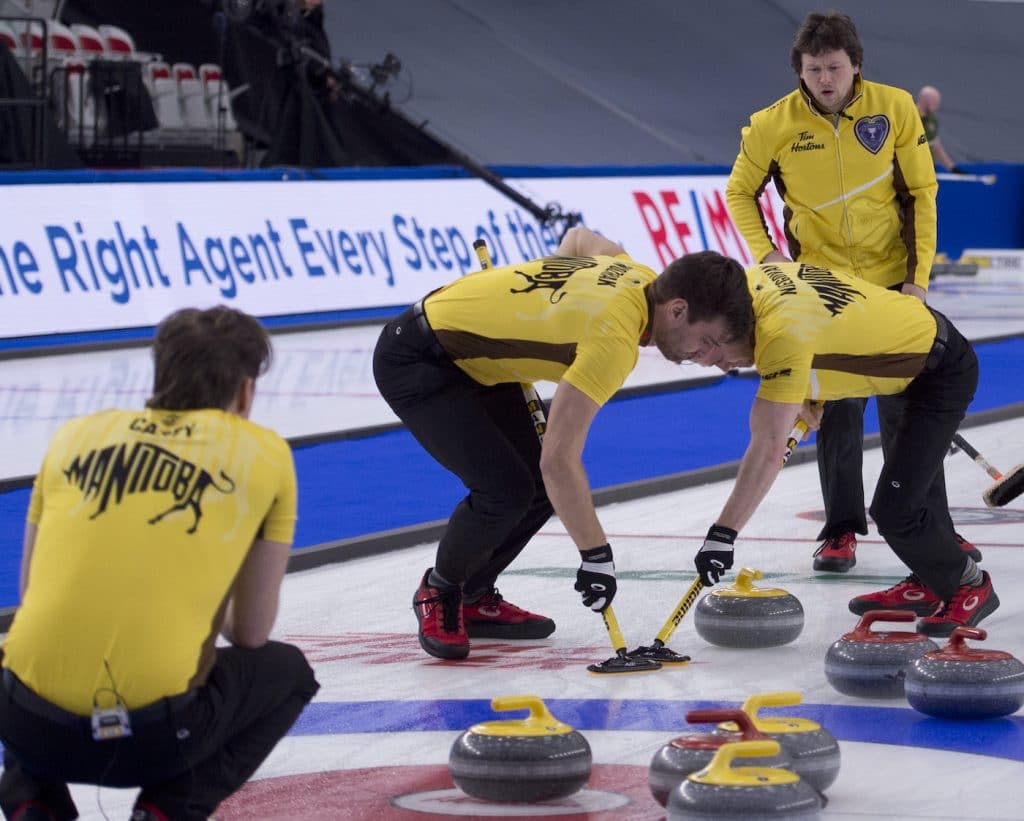 Gunnlaugson and Team Manitoba off to 2-0 start at Tim Hortons Brier
Jason Gunnlaugson has spent enough time grinding out games at quiet curling clubs on the World Curling Tour circuit to know in advance what it would be like playing in the fan-less bubble at the 2021 Tim Hortons Brier, presented by AGI.
So perhaps it shouldn't have come as a surprise that Gunnlaugson, vice-skip Adam Casey, second Matt Wozniak, lead Connor Njegovan and alternate Jacques Gauthier appeared to be thriving on the first full day of action at WinSport Arena at Canada Olympic Park in Calgary.
The Morris-based Manitoba reps opened the day with a 5-4 win over Alberta's Brendan Bottcher, and then capped a perfect Saturday with a 9-5 win over the Yukon's Dustin Mikkelsen (0-2; Whitehorse).
"It definitely doesn't hurt us," said Gunnlaugson of the lack of fan noise and atmosphere in the arena. "I love just being in the hotel room, coming to curl, having the time of my life (on the ice) and then going back to my hotel room and do nothing. I'm all for it. We've played a lot of club events these last few years, and this is more like that, so I don't think it hurts us at all."
Ironically, even though one might think Gunnlaugson and his team would benefit from their rookie experience at the 2020 Tim Hortons Brier last year in Kingston, Ont., the surroundings this year, combined with the uncertainty created by the COVID-19 pandemic, really has all teams on relatively even ground coming into the 2021 event.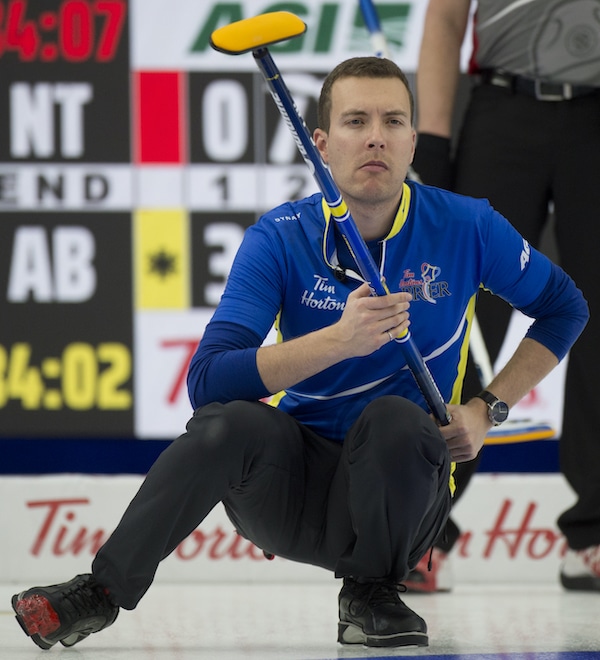 "I definitely have a little bit longer hair than last year, but other than that? I think it's pretty similar," said Gunnlaugson, who went 5-6 in Kingston. "The rankings basically didn't change, and you know where you are, and if you can grab a couple (wins) from the teams above you, that's pretty good. But we need to have a pretty relaxed focus on results for a team that's just starting out playing together, and that's a weird combination."
Against Mikkelsen's Yukon team, which is rounded out by vice-skip Alexx Peech, second Brandon Hagen, lead Robert Mckinnon and alternate Ray Mikkelsen, Manitoba scored two in the second end, and put the game out of reach with four in the fifth end and three in the seventh, opening the door for 2020 World Junior champ Gauthier to play his first Tim Hortons Brier game, swapping in for Njegovan in the ninth end.
One of the quirks of the 18-team draw is that some teams will have a day off, and Manitoba is one of those teams that will catch that break.
"It is a little unique; I can't say I've had this in the past, but certainly with two wins, tomorrow will be a lot more fun," said Wozniak, who joined Team Gunnlaugson prior to this season in place of Alex Forrest, who decided to step away from curling after the 2019-20 season. "It's good to have a bit of a break; we haven't curled a whole lot this year, so a day off is never a bad thing.
The plans?
"Lots of cribbage, Jay's (Gunnlaugson) going to kill as much food as possible, and watch curling. Not a whole lot else we can do."
The 2021 Tim Hortons Brier continues Sunday with draws at 10:30 a.m., 3:30 p.m. and 8:30 p.m. (all times Eastern).
Live scoring, standings and statistics for the 2021 Tim Hortons Brier are available at www.curling.ca/scoreboard/
TSN and RDS2 (streamed on ESPN3 in the United States) will provide complete coverage of the 2021 Tim Hortons Brier. CLICK HERE for the complete schedule.
This story will be available in French as soon as possible at www.curling.ca/2021brier/nouvelles.