Northern Ontario grinds out win!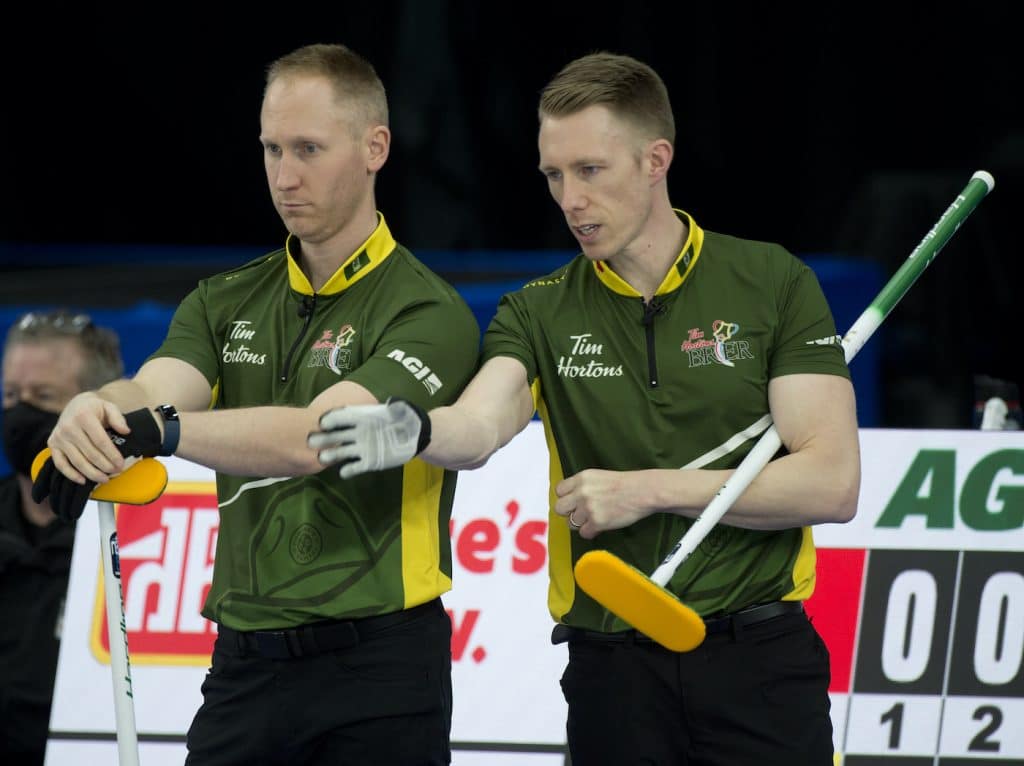 Northern Ontario grinds to victory over Northwest Territories
Don't try to engage Northern Ontario second E.J. Harnden about what's missing at the 2021 Tim Hortons Brier, presented by AGI.
Of course, the unique circumstances that curlers are facing at this year's edition of the Canadian men's curling championship at WinSport Arena at Canada Olympic Park in Calgary have been well-chronicled — a fanless arena, a strictly enforced bubble, testing, temperature checks, etc.
But to Harnden, that all falls into the "it is what it is" category, and his team — skip Brad Jacobs, vice-skip Marc Kennedy, lead Ryan Harnden, alternate Lee Toner and coach Rick Lang — don't particularly care to dwell on what's missing this year.
"Do we miss the crowd? Absolutely. Do we wish there was a crowd here? Absolutely. It's always a much better atmosphere, especially with those moose calls (from Northern Ontario fans)," acknowledged E.J. Harnden after Northern Ontario ground out a 7-5 win over Greg Skauge of the Northwest Territories (0-3; Yellowknife) on Sunday afternoon. "But I think the one thing we're really trying to focus in on is concentrating on what the atmosphere is. We know there won't be a crowd here. We've played in a lot of different events without crowds, and I think for us, it's about getting out of our heads what this isn't; instead, focus on what it is."
Of course, even without a crowd, the Tim Hortons Brier remains the most famous, the most historic, and the most coveted national curling championship on the planet.
And because of that, Jacobs knows that based on his team's championship pedigree — 2013 Tim Hortons Brier champs, 2014 Olympic gold-medallists — opponents will bring their best, and that was the case on Sunday.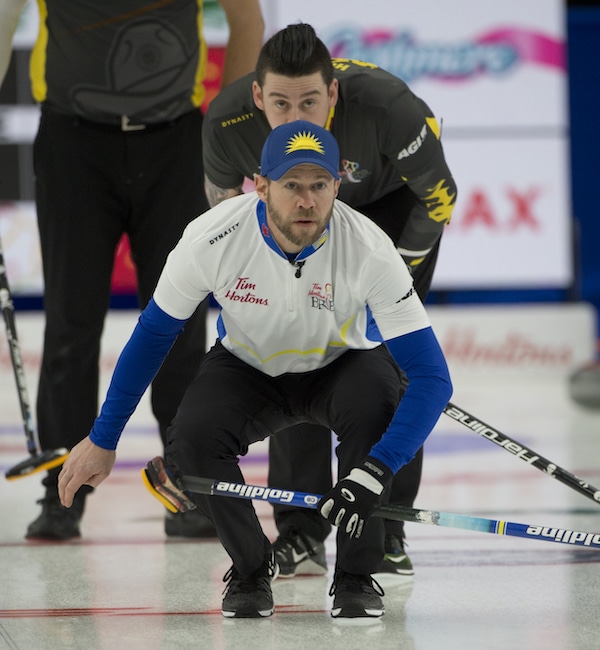 Skauge, backed up by vice-skip Tom Naugler, second Brad Patzer, lead Robert Borden and alternate David Aho, had a 4-2 lead through five ends, and were up 5-4 after seven before Northern Ontario cracked a go-ahead deuce in the eighth end and added one more in the ninth before running the Territories out of rocks in the 10th.
"We're expecting everybody to play very well against us," said Jacobs. "We have a lot of respect for every team that we step on the ice against, and they played extremely well today. It took us a long time to gain a lead; they made a lot of shots, they didn't make it easy on us. And we welcome that challenge; it was a great battle, and it was great to get out there and have to grind out a win. Looking forward to the next one.
"I think we're still trying to get our feet under us a bit here. It's more about just getting comfortable with the atmosphere, with the environment, the ice and the rocks, and I think we did a really good job just now of battling our way through that, and getting a lot of great results, especially in the second half of the game, and I think that bodes really well for us going forward."
In other Sunday afternoon games, Alberta's Brendan Bottcher (2-1; Edmonton) shaded James Grattan of New Brunswick (2-1; Oromocto) 6-5; Team Wild Card #1's Mike McEwen (2-1; West St. Paul, Man.) turned back B.C.'s Steve Laycock (0-2; Vernon) 10-7; and Team Wild Card #3's Wayne Middaugh (2-0; Penetanguishene, Ont.) downed the Yukon's Dustin Mikkelsen (0-3; Whitehorse) 12-2. Glenn Howard, who sat out the first game for Team Wild Card #3, entered the game at lead after the fifth-end break.
The 2021 Tim Hortons Brier continues Sunday with the evening draw at 8:30 p.m. (all times Eastern).
Live scoring, standings and statistics for the 2021 Tim Hortons Brier are available at www.curling.ca/scoreboard/
TSN and RDS2 (streamed on ESPN3 in the United States) will provide complete coverage of the 2021 Tim Hortons Brier. CLICK HERE for the complete schedule.
This story will be available in French as soon as possible at www.curling.ca/2021brier/nouvelles.