Wild Card #2 wins third straight!
Team Koe stays perfect ahead of showdown with reigning champs
Based on outward appearances, it clearly isn't a traditional Tim Hortons Brier this week at WinSport Arena at Canada Olympic Park in Calgary.
But on the ice, yes, that Tim Hortons Brier vibe is definitely around, even if the fans aren't, according to Team Wild Card #2 lead Ben Hebert, whose Calgary-based team improved to 3-0 at the 2021 Tim Hortons Brier, presented by AGI, with a 12-5 win over Prince Edward Island's Eddie MacKenzie (0-2; Crapaud/Montague) on Sunday morning.
"Out on the ice, it certainly feels like Brier," said Hebert, a four-time winner at the Canadian men's curling championship. "I know we get a good jolt (in non-pandemic years) from walking out on the ice with the bagpipes and the crowd there, friends, family, sponsors cheering you on. But I think the competitive juices take over when you're out on the ice playing, just focusing on making your shots, I don't find that to be too big of a difference. It feels like Brier competition out there."
Skip Kevin Koe, third B.J. Neufeld, second/vice-skip John Morris, Hebert, alternate Mike Caione and coach John Dunn took control of the game by stealing three in the second end and scoring four in the fourth. MacKenzie at that point took himself out of the lineup and handed skipping duties to vice-skip Tyler Smith. The P.E.I team is rounded out by second Sean Ledgerwood, lead Ryan Lowery and alternate Aaron Bartling.
Next on the agenda for Team Wild Card #2 is a much-anticipated showdown with Brad Gushue's Team Canada outfit from St. John's — a clash of skips who have won six of the past seven Tim Hortons Brier titles.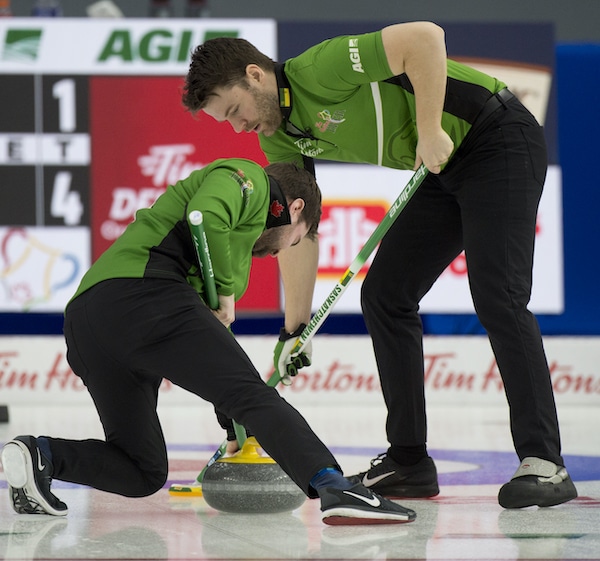 "It's a big game; they're obviously probably the favourite and we haven't played them for a long time," said Koe, who has a 37-26 all-time record against Gushue. "Good test for us to see what level we're at. Sure, it would be way better to have the arena packed but that's just not reality these days. We're excited about where we're at coming in; we've had some good practice, and now we'll see where we stand against one of the favourites."
In other Sunday morning games, Ontario's John Epping (2-1; Toronto) scored five in the 10th end for a 12-7 win over Nova Scotia's Scott McDonald (1-2; Halifax); Saskatchewan's Matt Dunstone (2-1; Wadena) doubled Newfoundland/Labrador's Greg Smith (0-3; St. John's) 6-3; and Quebec's Mike Fournier (2-1; Montreal/Valleyfield) turned back Nunavut's Peter Mackey (0-2; Iqaluit) 15-1.
The 2021 Tim Hortons Brier continues Sunday with draws at 3:30 p.m. and 8:30 p.m. (all times Eastern).
Live scoring, standings and statistics for the 2021 Tim Hortons Brier are available at www.curling.ca/scoreboard/
TSN and RDS2 (streamed on ESPN3 in the United States) will provide complete coverage of the 2021 Tim Hortons Brier. CLICK HERE for the complete schedule.
This story will be available in French as soon as possible at www.curling.ca/2021brier/nouvelles.