Wild Card #2 remains undefeated!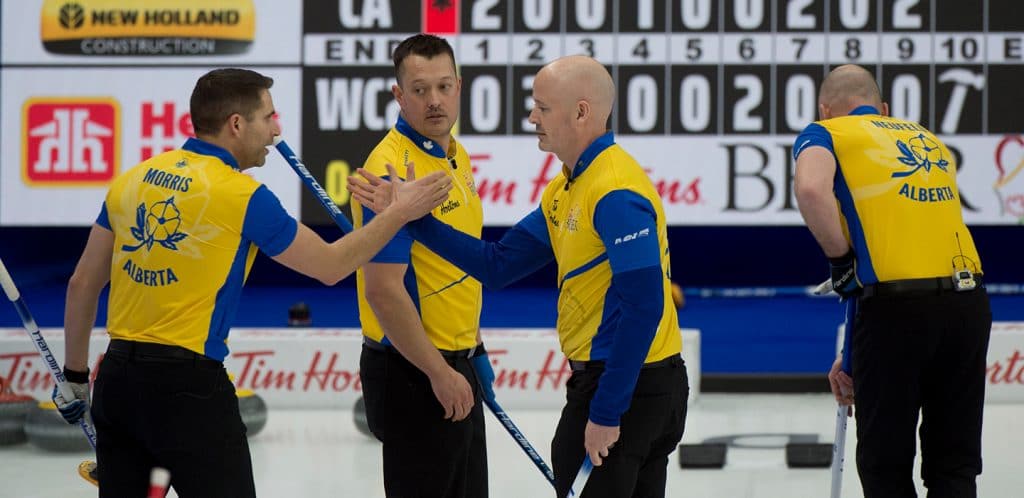 Koe edges Gushue in another classic Tim Hortons Brier battle
Wild Card #2 third B.J. Neufeld got what he was expecting when he stepped onto the ice Sunday night against Canada's Brad Gushue at the 2021 Tim Hortons Brier, presented by AGI.
Neufeld, led by skip Kevin Koe, improved to 4-0 after a 9-7 win at WinSport Arena at Canada Olympic Park in Calgary against the defending champions from St. John's, N.L.
As curling fans perused the Tim Hortons Brier schedule, making notes in the margins and circling match-ups, there was perhaps no circle more prominent than the one surrounding the game between Canada's Team Gushue and Wild Card #2's Team Koe. Take a look at the most recent winners of the Tim Hortons Brier, and it is evident why fans anticipate a Koe-Gushue battle: Brad Gushue (2020), Kevin Koe (2019), Brad Gushue (2018), Brad Gushue (2017) and Kevin Koe (2016).
"They're a great team, and we're a great team. When both teams are playing pretty good, it's an entertaining affair," Neufeld said. "This is why we play the sport – to have these types of games on this type of stage. You've got a lot of great players out there that know how to play under pressure, and the result of that is great games, exciting and they usually go down to the wire."
It didn't take long for the two heavyweight teams to exchange some early blows – a score of two in the first from Canada, countered by a three-spot from Wild Card 2 in the second. The early score of three kept Koe in control for much of the game. Wild Card #2 maintained the lead, or a tie at worst, until the ninth end, when a missed double attempt resulted in a Canada score of two and Gushue's first lead of the game.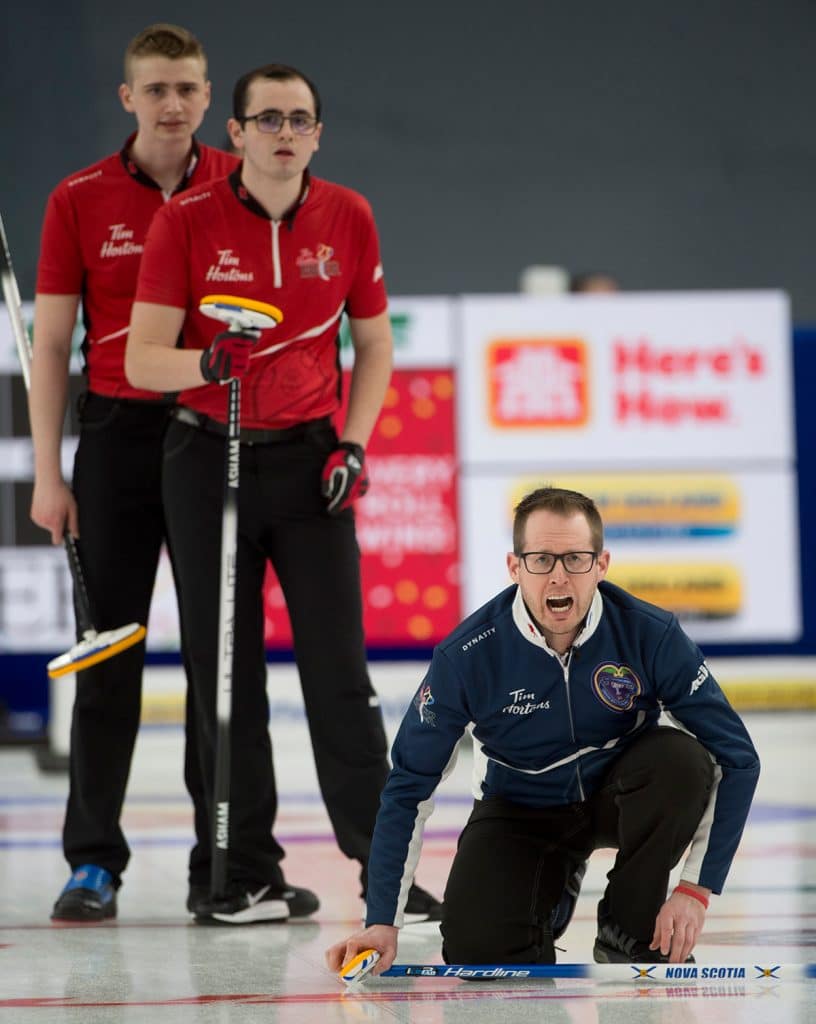 However, in the final end Koe, Neufeld, second/vice-skip John Morris, lead Ben Hebert, alternate Mike Caione and coach John Dunn needed to make just one Canada stone go away on their last shot to achieve the victory.
The win keeps Koe's Calgary-based team from The Glencoe Club in sole possession of first place in Pool B as teams begin to approach the preliminary round's halfway point. But Koe doesn't believe it will be the last he sees of Gushue as the week progresses to next week's final.
"I think that's a safe bet," Koe said when asked if he expects to play Gushue again at the event. "They're defending champs for a reason. They'll only get better. Both teams had a lot of good shots and a few sloppy shots, but it was a pretty well-played game. They'll be around for sure and if we're playing them again, that means we're in there as well."
Gushue, vice-skip Mark Nichols, second Brett Gallant, lead Geoff Walker, alternate Ryan McNeil Lamswood and coach Jules Owchar now have a 2-1 record in the pool.
Both teams achieved shooting percentages in the mid- to high-80s with Wild Card #2 at 88 per cent and Canada at 84 per cent. Simply put, it was the kind of curling each team wants to maintain during the week here in Calgary. It was the type of game where both teams could test the proverbial waters against a perceived favourite at the Tim Hortons Brier.
And if the past five years are any indication, there's a good chance a team named Koe or Gushue will be involved in the final next Sunday.
In other games on Sunday night, Ontario's John Epping (3-1; Toronto) thwarted Nunavut's Peter Mackey (0-3; Iqaluit) 16-1; Nova Scotia's Team Jamie Murphy, skipped by Scott McDonald, (2-2; Halifax) rebounded from a morning loss with a win against Newfoundland and Labrador's Greg Smith (0-4; St. John's) 11-4; and Quebec's Michael Fournier (3-1; Glenmore/Etchemin/Valleyfield) kept the good times rolling with a 10-4 triumph against Prince Edward Island's Eddie MacKenzie (0-3; Crapaud/Montague).
The 2021 Tim Hortons Brier continues Monday with draws at 3:30 p.m. and 8:30 p.m. (all times Eastern).
Live scoring, standings and statistics for the 2021 Tim Hortons Brier are available at www.curling.ca/scoreboard/
TSN and RDS2 (streamed on ESPN3 in the United States) will provide complete coverage of the 2021 Tim Hortons Brier. CLICK HERE for the complete schedule.
This story will be available in French as soon as possible at www.curling.ca/2021brier/nouvelles.