Middaugh still has the touch!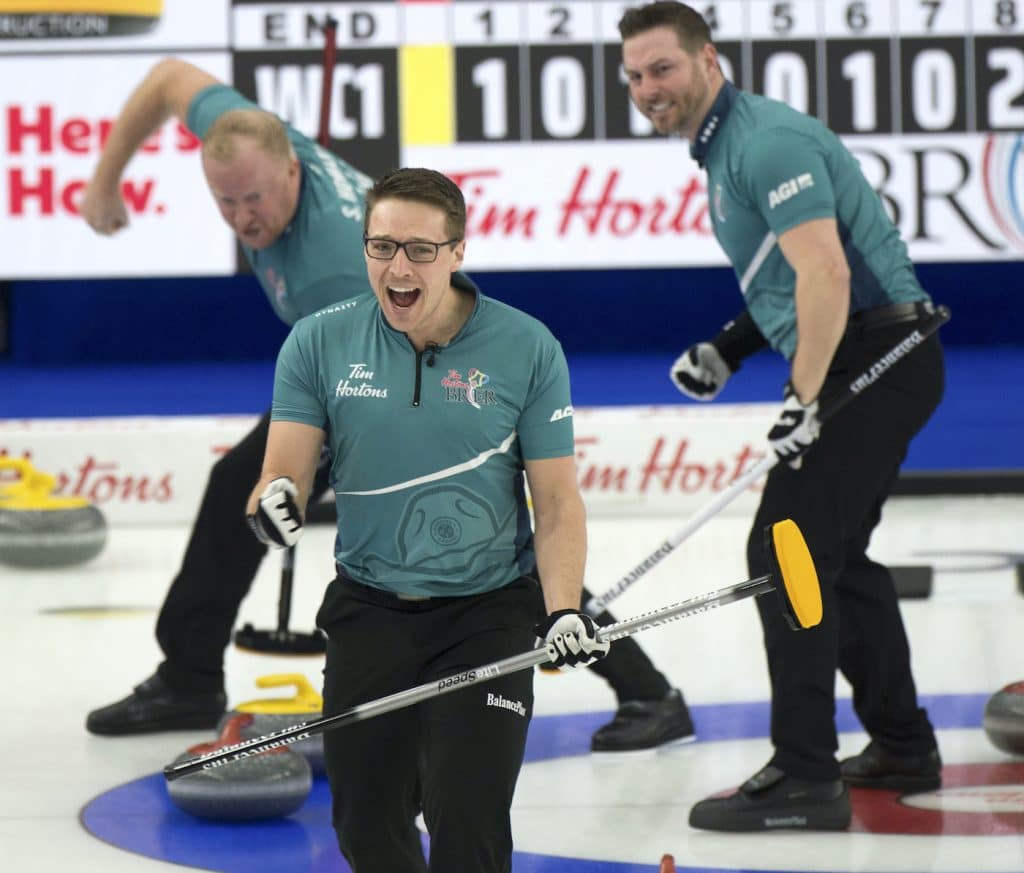 Team Middaugh prevails in battle of Wild Card teams at Tim Hortons Brier
With two Wild Card teams going to head-to-head Tuesday morning at the 2021 Tim Hortons Brier, presented by AGI, it was only fitting that there would be a wild ending.
And it was left to veteran Wayne Middaugh — eight years removed from his last appearance at the Tim Hortons Brier — to deliver a highlight-reel game-winner to score a 10th-end deuce and lead Team Wild Card #3 (Penetanguishene, Ont.) to a 6-5 win over Team Wild Card #1's Mike McEwen (2-3; West St. Paul, Man.) at WinSport Arena at Canada Olympic Park in Calgary.
With the win, Middaugh, vice-skip Scott Howard, second David Mathers, lead Tim March and alternate Glenn Howard (who handed skipping duties to Middaugh after breaking ribs in a snowmobiling accident a few weeks ago) improve to 3-1 and firmly in the hunt for one of the four available berths from Pool A into the Championship Pool.
Middaugh made a wonderful inturn double takeout (CLICK HERE to see the shot) with his final throw, removing two Team Wild Card #1 stones in the four-foot and leaving his own team counting the two stones it needed for the win.
"We got very fortunate that Mike's rock (an outturn freeze attempt behind a centre guard) just paper-ticked the top one and ended up in a really good spot for us," said Middaugh. "As it turned out, I just had to throw it hard somewhere down the edge of the centre-line — all the rocks were in the right spot."
Well, yes, but SOMEONE had to throw the last rock, and Middaugh — with some capable sweeping from March — made no mistake, which is hard to believe considering he hasn't played in a competitive curling game in five years after breaking 11 bones in his left leg in a 2016 ski accident.
But there was, shooting 89 per cent on Monday morning, and 85 per cent for the week — the third-best number among skips (Brendan Bottcher and Brad Gushue lead the way at 88, followed by Kevin Koe at 87).
"You know, it's crazy," said Howard, shaking his head in wonder. "When he throws a peel, I don't know what to do with myself, because it's perfect, it's right on the broom. Just keep it clean. You watched the game — the shots he was making, runbacks, doubles, everything. He's playing really well, and hopefully he can keep the ball rolling.
"To play in a Brier with him skipping and throwing it as good as he is right now is a dream come true. One of the best in the game right here."
Middaugh had a rare miss in the eighth that allowed Team Wild Card #1 (McEwen is backed up by vice-skip Reid Carruthers, second Derek Samagalski, lead Colin Hodgson and coach Rob Meakin) to steal a go-ahead pair.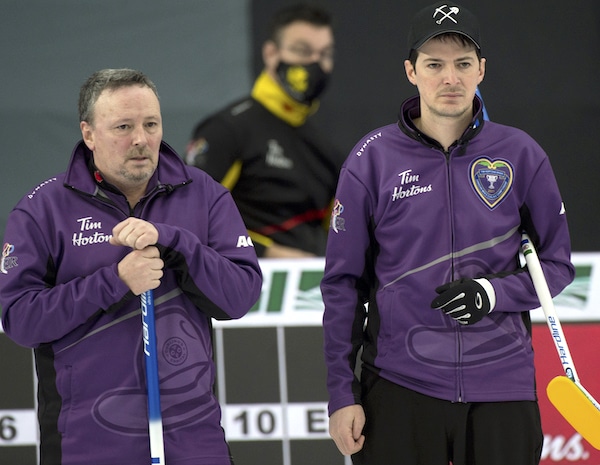 But Team Wild Card #3 would blank the ninth to set the stage for the 10th-end drama.
"I knew this team would play strongly; I had no doubt in my mind," said Middaugh of his team's performance to date in the bubble. "Did you not see Scott out there today? Double, runback, runback, double, freeze. I give a lot of credit to the guys that game; I missed a bad one in eight and they hung in there and kept pushing me along. And we got the win in the end.
"You know what? It's a lot of fun to be the old guy on the ice playing against the young guys, and playing with three young guys who jack me up a little bit more and make me feel like I'm 25 again."
The 2021 Tim Hortons Brier continues Tuesday with draws at 3:30 p.m. and 8:30 p.m. (all times Eastern).
Live scoring, standings and statistics for the 2021 Tim Hortons Brier are available at www.curling.ca/scoreboard/
TSN and RDS2 (streamed on ESPN3 in the United States) will provide complete coverage of the 2021 Tim Hortons Brier. CLICK HERE for the complete schedule.
This story will be available in French as soon as possible at www.curling.ca/2021brier/nouvelles.