Alberta stays on pace!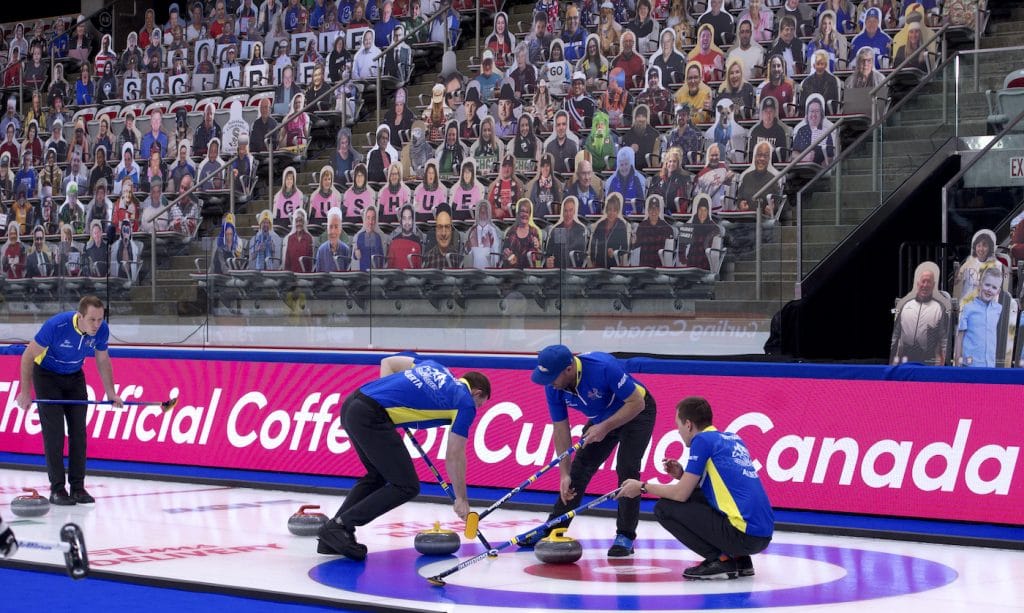 Alberta remains in Championship Pool hunt with win at Tim Hortons Brier
With so many scenarios still in play (256 for the record) in Pool A at the 2021 Tim Hortons Brier, presented by AGI, one might think that a natural numbers guy like Brendan Bottcher would have them all figured out.
After all, the skip of Team Alberta, an engineer by trade, knows a thing or two about numbers — he played an integral role, for instance, in helping design the current math that produces the Canadian Team Ranking System standings.
But Bottcher's sole focus over the final two games of preliminary pool play will remain on his own sheet and his own Edmonton-based team's performance — let the chips fall where they may on the other three sheets at WinSport Arena at Canada Olympic Park in Calgary.
"I don't spent a lot of time thinking about that," said Bottcher, who along with vice-skip Darren Moulding, second Brad Thiessen, lead Karrick Martin, alternate Patrick Janssen and coach Don Bartlett improved to 4-2 on Wednesday with a 9-3 win over Team Wild Card #1's Mike McEwen (2-4; West St. Paul, Man.). "Every win is a notch in our column, and we need to have a whole pile of them by Saturday night, and if we can do that, we'll be sticking around for Sunday. It's really easy to get lost in the draw, but I think as much as we can focus on what we're doing out there, that's our best path forward."
Alberta took control of the game early, adding to the struggles of McEwen, vice-skip Reid Carruthers, second Derek Samagalski, lead Colin Hodgson and coach Rob Meakin by scoring three in the second end and deuces in the fourth and sixth ends and never looked back.
The Alberta reps have taken home silver medals at the past three editions of the Tim Hortons Brier, but the team is doing its best to keep its focus on the present, and not looking to Sunday's playoff round.
"Oh, it's a long road — it's way too early to start thinking about that," said Moulding. "Every time you walk to the ice, you see the big (Brier Tankard) trophy sitting there, so maybe you get a bit of a brief reminder, but when you're playing, you don't think about stuff like that. You have to be in the moment, make all your shots out there. It really is a moment-to-moment thing out there.
"Every game we can win now is going to help us here in the next few days," added Bottcher. "The games aren't going to be getting any easier. We'll be playing teams that are even more comfortable than they were at the start of the week. So every win you can get now is huge."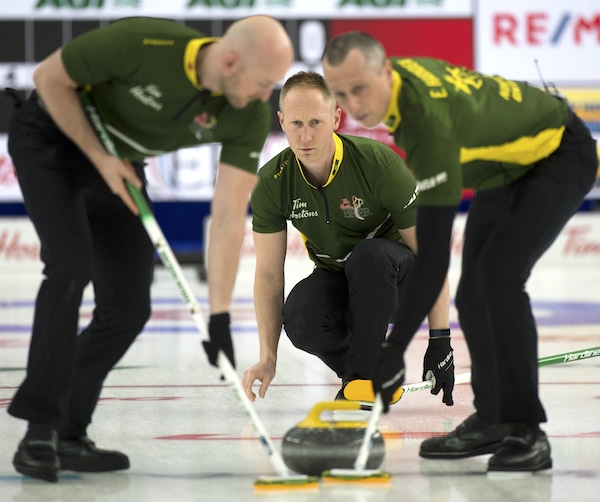 The four teams from Pool A will play crossover games with the Pool B teams Friday and Saturday, with their preliminary records carrying forward.
The top three teams after the Championship Pool games will make the playoffs; the first-place team after the Championship Pool will go straight to the gold-medal game (Sunday, 8:30 p.m.; all times Eastern), while the second- and third-place teams will meet in the semifinal (Sunday, 2:30 p.m.)
In other Wednesday afternoon games, Wayne Middaugh and Team Wild Card #3 (5-1; Penetanguishene, Ont.), shaded New Brunswick's James Grattan (4-2; Oromocto) 7-6 in an extra end; Northern Ontario's Brad Jacobs (5-2; Sault Ste. Marie) handed Manitoba's Jason Gunnlaugson (5-1; Morris) his first loss, a 3-0 decision; and B.C.'s Steve Laycock (2-4; Vernon) knocked off Greg Skauge of the Northwest Territories (1-5; Yellowknife) 10-5.
The Northern Ontario-Manitoba score tied for the lowest-scoring game in Tim Hortons Brier history, and was the first shutout since 1998, and just the seventh in the history of the event.
The 2021 Tim Hortons Brier continues with Wednesday's evening draw at 8:30 p.m. (all times Eastern).
Live scoring, standings and statistics for the 2021 Tim Hortons Brier are available at www.curling.ca/scoreboard/
TSN and RDS2 (streamed on ESPN3 in the United States) will provide complete coverage of the 2021 Tim Hortons Brier. CLICK HERE for the complete schedule.
This story will be available in French as soon as possible at www.curling.ca/2021brier/nouvelles.