Six in a row and counting!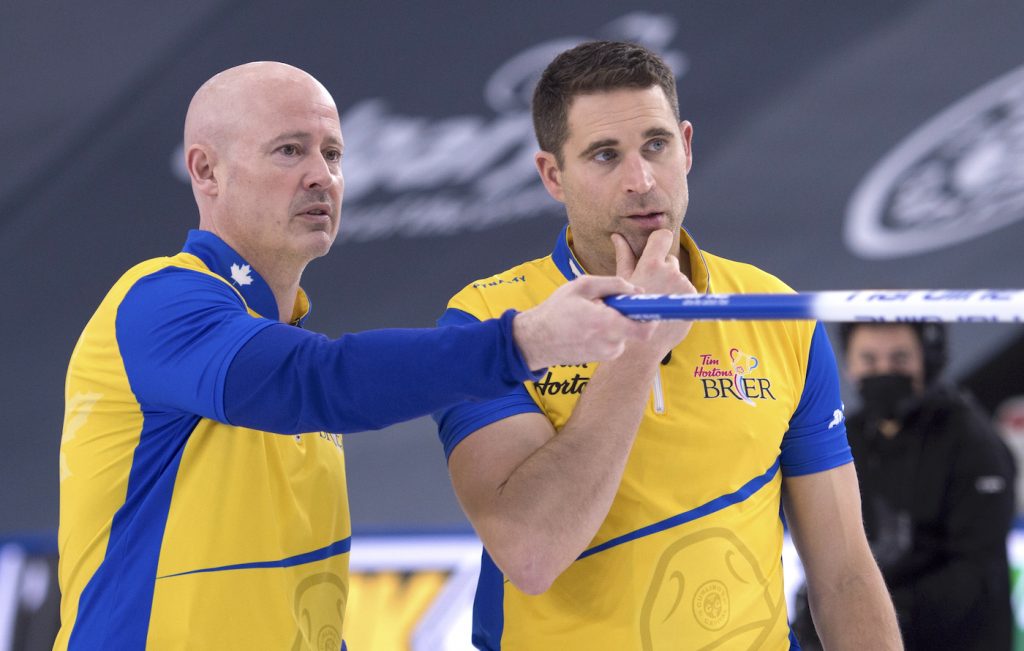 Koe's Team Wild Card #2 stretches victory streak at Tim Hortons Brier
Not that the rest of the field in the 2021 Tim Hortons Brier, presented by AGI, needed a reminder, but Team Wild Card #2 has been putting on a curling clinic in the first half of the event.
Kevin Koe's team from Calgary — third B.J. Neufeld, second/vice-skip John Morris, lead Ben Hebert, alternate Mike Caione and coach John Dunn — look good on the ice, and they're feeling fresh off the ice.
And roughly halfway through this edition of the Canadian men's curling championship, it's hard to see a scenario in which Team Wild Card #2 isn't participating in Sunday's playoffs, where Koe would have a chance to win his unprecedented fifth Tim Hortons Brier title as a skip.
"To be honest, we had high expectations because we had three weeks of awesome practice coming into this, individually and as a team," said Koe, moments after shooting 97 per cent in a 9-2 decision over Saskatchewan's Matt Dunstone (4-2; Wadena) Wednesday morning at WinSport Arena at Canada Olympic Park in Calgary. "We have great ice at the Glencoe (Club, in Calgary), and we were hardly missing shots, so we felt we could come in here and keep doing that. We've had high expectations and they're definitely not going to get any lower now."
With the win over Saskatchewan, Team Wild Card #2 (6-0) becomes the first team from Pool B to clinch one of the four available berths into the Championship Pool, and would finish first in the pool with a win later on Wednesday against Ontario's John Epping (4-2; Toronto).
"Obviously, that was a big game for us," said Koe. "But six wins — we're still miles away from where we need to be. The longer we can go without losing, the better, especially if you can knock off some of the good teams. We're still in a good spot with the win, but we have another tough game coming up tonight against Ontario."
The top four teams from Pool A will play the top four from Pool B in the Championship Pool games, beginning Friday, with their preliminary round records carried forward.
Team Wild Card #2 took control of the game against Saskatchewan (Dunstone is backed up by vice-skip Braeden Moskowy, second Kirk Muyres, lead Dustin Kidby and coach Adam Kingsbury) with a first-end deuce and then three in the third on a wonderful double-takeout from Koe on his last shot.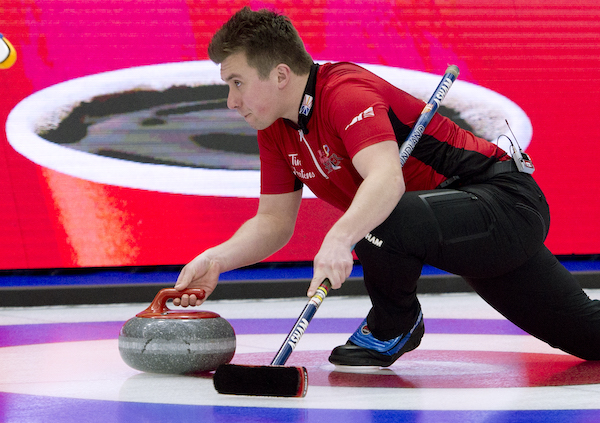 Also working in Team Wild Card #2's favour is its state of health. The team is fresh from not having played in, essentially, a full year, and Caione, who saw his first action in the Brier on Monday night, has been doing his part to keep the team feeling that way.
"I think the draw that we got was great; it was really nice to have the day off yesterday," said Morris. "Our fifth player (Caione) is wonderful; he's a chiropractor and physiotherapist, and he's been working on us to keep us fresh all week. We obviously have a grinding part of our week coming up, but we feel as good, if not better, than Day 1."
In other Wednesday morning games, Team Canada's Brad Gushue (4-2; St. John's, N.L.) was pushed hard before coming out on top 8-4 over Prince Edward Island's Eddie MacKenzie (1-5; Montague/Crapaud; MacKenzie sat out and Tyler Smith handled the skipping duties); Quebec's Mike Fournier (4-3; Montreal/Valleyfield) kept his Championship Pool hopes alive with a 10-7 win over Ontario; and Newfoundland/Labrador's Greg Smith (2-5; St. John's) got by Nunavut's Steve Mackey (0-6; Iqaluit) 9-2.
The 2021 Tim Hortons Brier continues on Wednesday with draws at 3:30 p.m. and 8:30 p.m. (all times Eastern).
Live scoring, standings and statistics for the 2021 Tim Hortons Brier are available at www.curling.ca/scoreboard/
TSN and RDS2 (streamed on ESPN3 in the United States) will provide complete coverage of the 2021 Tim Hortons Brier. CLICK HERE for the complete schedule.
This story will be available in French as soon as possible at www.curling.ca/2021brier/nouvelles.