Saskatchewan advances!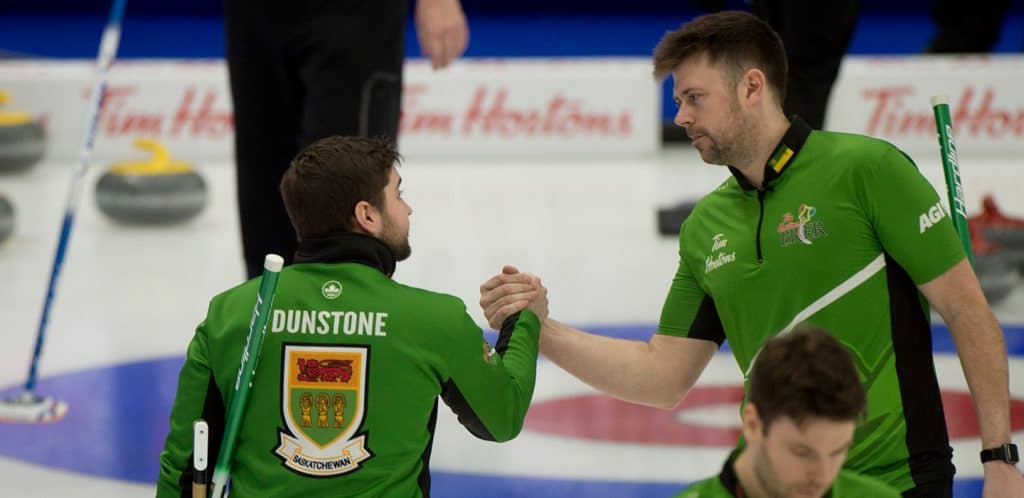 Dunstone's big-picture perspective draws new appreciation for competing at TIm Hortons Brier
The on-ice perspective hasn't changed for Saskatchewan skip Matt Dunstone. But the appreciation for the sport and seeing the big picture during a challenging year has provided the 25-year-old with some new insight at the 2021 Tim Hortons Brier, presented by AGI.
Dunstone and his team from Wadena, Sask., vice-skip Braeden Moskowy, second Kirk Muyres, lead Dustin Kidby and coach Adam Kingsbury secured their spot in the Championship Pool following a 7-5 win against Nova Scotia's Team Jamie Murphy, skipped by Scott McDonald.
"I think from the perspective of the event itself, actually being here; enjoying competing again, being in difficult situations, feeling nerves, anxiety," Dunstone said. "Having those feelings again and learning to appreciate those – because we didn't have that for the last year – that's how our perspective has changed. We're out here trying to enjoy this as much as possible because we haven't had curling for a year."
But that doesn't mean the focus isn't on the goal of winning Saskatchewan's first Canadian men's curling championship victory since 1980 (achieved by Rick Folk, who happened to also win in Calgary).
The win at WinSport Arena at Canada Olympic Park in Calgary on Thursday was well-earned. Nova Scotia skip McDonald, vice-skip Paul Flemming, second Scott Saccary, lead Phil Crowell and alternate Kevin Ouellette of Halifax, attempted a late-game comeback by scoring three in the eighth end and forcing Saskatchewan to a single in the ninth end. Nova Scotia trailed by two with the hammer in the final end, but Dunstone secured the win with a double on his last shot.
The loss dropped Nova Scotia out of the Championship Pool picture with a 4-4 record. Had McDonald and his team won, they would have played Dunstone once again in a tiebreaker game.
"It's great when you're faced with stuff like that," Dunstone said of the adversity. "It builds character on a team and I'm proud of the guys and how we handled that."
And he can expect a lot more to come as the team heads into the next portion of the event, the Championship Pool. The preliminary pool's final win was much-needed after losing their second game of the event to Wild Card #2's Kevin Koe on Wednesday morning.
"I think after that Koe game that's where the focus turned. Let's close this thing out six and two and put ourselves in the driver's seat. I think we would have taken this record at the beginning of the week," Dunstone said. "The fact of the matter is that we control our own destiny heading into the next round and I think that's the spot you want to be in."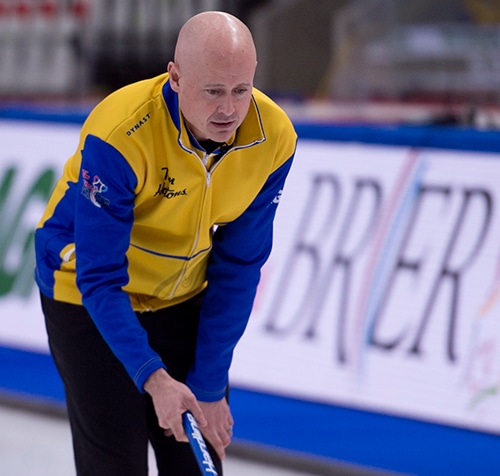 Wild Card #2's Kevin Koe (Calgary) leads Pool B with a 7-1 record. The team controls its own destiny as the lone team in the pool with only one defeat in their record. However, one slip in the Championship Pool could allow any of the three other qualifiers – Canada's Brad Gushue (St. John's, N.L.), Ontario's John Epping (Toronto) or Dunstone back into it – all with 6-2 records.
The remaining three teams to qualify for the Championship Pool all ended the preliminary round robin with wins on Thursday afternoon. Wild Card #2's Koe doubled Quebec's Michael Fournier (4-4; Glenmore/Etchemin/Valleyfield) 10-5 thanks to a run of steals in the second half of the game; Canada's Gushue defeated Nunavut's Peter Mackey (0-8; Iqaluit) and Ontario's Epping got the better of Prince Edward Island's Eddie MacKenzie (1-7; Crapaud/Montague) 8-4.
The 2021 Tim Hortons Brier continues Thursday with a draw at 8:30 p.m. (Eastern) with the completion of the Pool A round robin.
Live scoring, standings and statistics for the 2021 Tim Hortons Brier are available at www.curling.ca/scoreboard/
TSN and RDS2 (streamed on ESPN3 in the United States) will provide complete coverage of the 2021 Tim Hortons Brier. CLICK HERE for the complete schedule.
This story will be available in French as soon as possible at www.curling.ca/2021brier/nouvelles.