Koe to play on Sunday!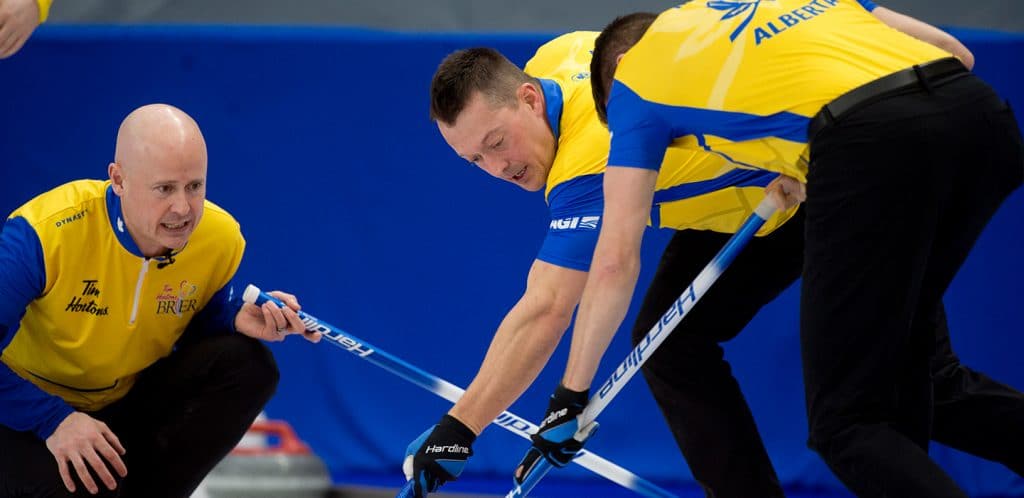 Wild Card 2 controls destiny heading into final Championship Pool game
The playoff picture looks a bit clearer heading into Saturday night at the 2021 Tim Hortons Brier, presented by AGI.
Only a bit and mainly for one team. Team Wild Card #2, skipped by Kevin Koe of Calgary, took sole possession of the Championship Pool after defeating Manitoba's Jason Gunnlaugson in a convincing 12-4 fashion and now lead the way with a 9-2 record. 
Koe, vice-skip B.J. Neufeld, second John Morris, lead Ben Hebert, alternate Mike Caione and coach John Dunn knew they had control of their fate with two more games to play at WinSport Arena at Canada Olympic Park in Calgary. The first part of the mission is accomplished. The win guarantees the team from Calgary a tiebreaker game at a minimum on Sunday.
"Every game is huge obviously. We came into today knowing that if we win both of our games then we're into the final," Neufeld. said. "That's kind of what we're focused on. This was the first step in that."
It did not take long for Wild Card #2 to take control of the game. Koe scored three in the second end, followed by a steal of three in the third. From that point on, it was difficult – near impossible – for Manitoba's Gunnlaugson, vice-skip Adam Casey, second Matt Wozniak, lead Connor Njegovan and alternate Jacques Gauthier of Morris, Man., to surmount this deficit against the four-time Canadian men's curling champion in Koe.
"We had a really, really good second end," Neufeld said. "We maybe caught Gunner on a little bit of a fresh spot on there on his last and ended up getting three and we kind of never looked back."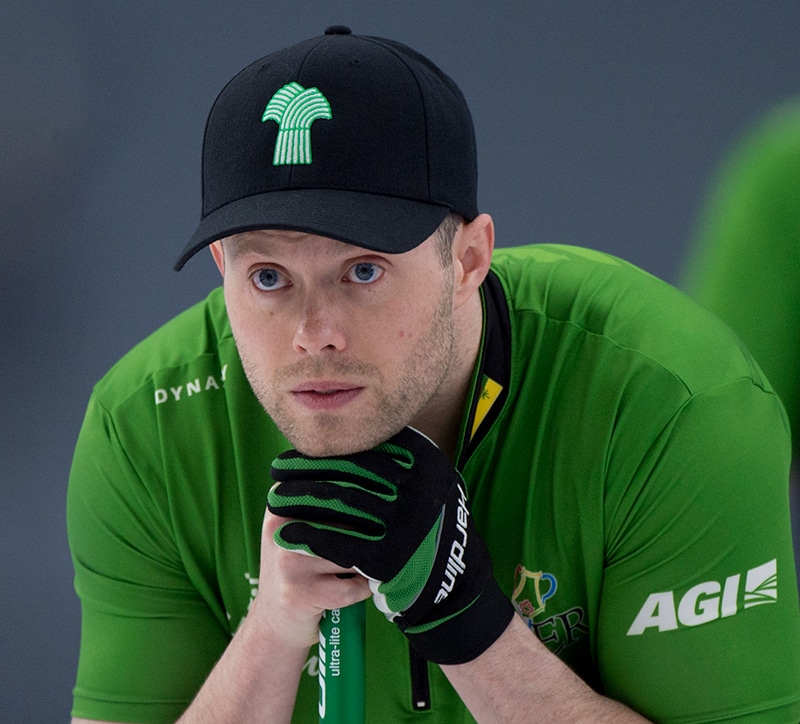 It will be a battle between the remaining wild card teams tonight, with Koe taking on Wild Card 3's Team Glenn Howard (Penetanguishene, Ont.) skipped by Wayne Middaugh. A win will secure Koe's path to the final and mean the team only needs to play one game on Sunday.
In a Championship Pool so closely contested, each sheet during the afternoon draw played a significant role.
Howard's team (8-3) could have kept pace with Team Koe with a win against Canada's Brad Gushue (8-3, St. John's, N.L.), but it wasn't in the (wild) cards. Canada defeated Wild Card 3 by a score of 6-3, which keeps Canada established in the race for a playoff spot.
But Saskatchewan's Matt Dunstone (8-3, Wadena, Sask.) stayed abreast with the playoff pack after the team's 5-4 win against Northern Ontario's Brad Jacobs (6-5; Sault Ste. Marie, Ont.).
The same can is said of Alberta's Brendan Bottcher (8-3, Edmonton). An early four-point lead from the three-time Tim Hortons Brier finalist led Alberta to a 8-3 win against Ontario's John Epping (7-4; Toronto).
Teams with five losses, Northern Ontario (Jacobs) and Manitoba (Gunnlaugson), have been eliminated from any possibility of playoffs prior to the evening draw.
The 2021 Tim Hortons Brier continues Saturday with the final Championship Pool draw at 8:30 p.m. (Eastern).
Live scoring, standings and statistics for the 2021 Tim Hortons Brier are available at www.curling.ca/scoreboard/
TSN and RDS2 (streamed on ESPN3 in the United States) will provide complete coverage of the 2021 Tim Hortons Brier. CLICK HERE for the complete schedule.
This story will be available in French as soon as possible at www.curling.ca/2021brier/nouvelles.