It was worth the wait!!!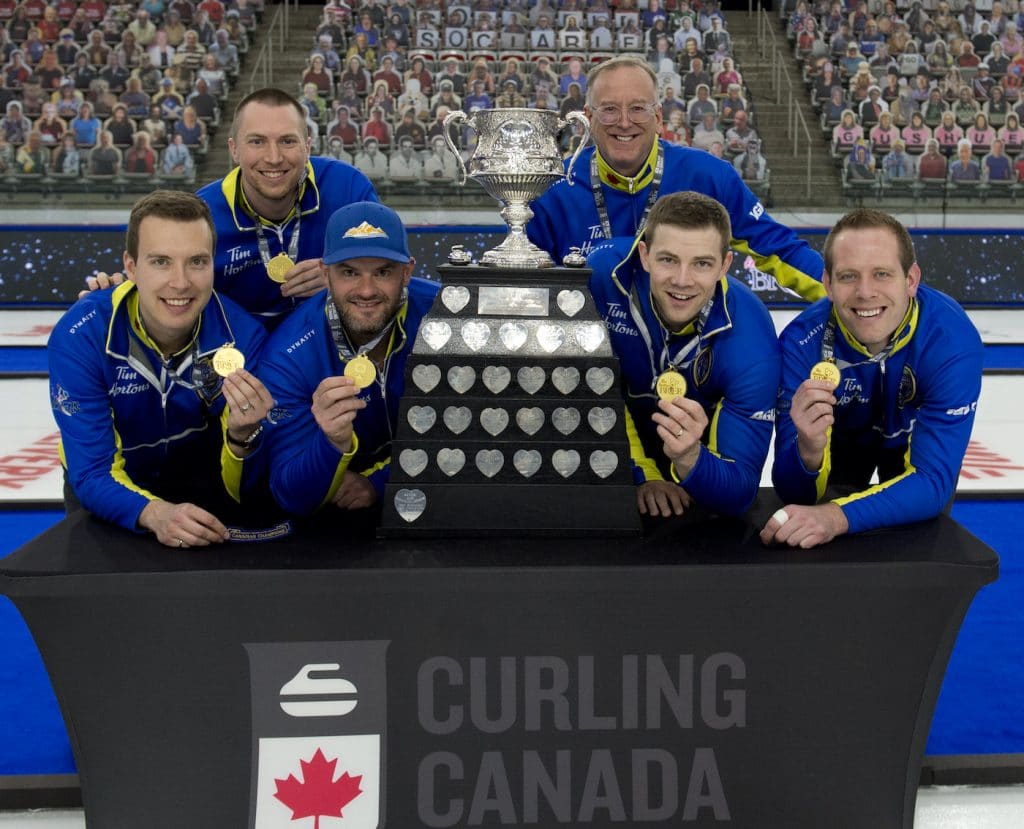 Bottcher leads Alberta to long-awaited Tim Hortons Brier gold
Coming into Sunday night's gold-medal game at the 2021 Tim Hortons Brier, presented by AGI, Brendan Bottcher's Alberta team would have had every reason to be weighed down by recent history.
It was the fourth straight trip to the final for Edmonton's Bottcher, vice-skip Darren Moulding, second Brad Thiessen and lead Karrick Martin, and one could only speculate how crushing a fourth straight loss might have been.
But that speculation was firmly put to rest Sunday at WinSport Arena at Canada Olympic Park in Calgary, after Alberta's 4-2 win over Team Wild Card #2's Kevin Koe of Calgary in the all-Alberta final to decide the Canadian men's curling championship.
"It's just absolutely amazing," said Bottcher, who was named the winner of the Hec Gervais Playoff Most Valuable Player award. "Those three years were tough, each one of them for different reasons, but it just makes tonight so much more special, to know that we persevered, we worked so hard, and we've just been so consistent the last few years — it's awesome."
Team Alberta (the team is rounded out by alternate Patrick Janssen and coach Don Bartlett) will become Team Canada at the 2021 BKT Tires & OK Tire World Men's Curling Championship, presented by New Holland, April 2-11 in the bubble in Calgary.
It was the 29th time a team in Alberta colours hoisted the Tim Hortons Brier Tankard, tops among all provinces and territories. Additionally, it was the 1,000th game played by an Alberta champion team at the Tim Hortons Brier, and the 700th victory overall (round robin, playoffs, tiebreakers).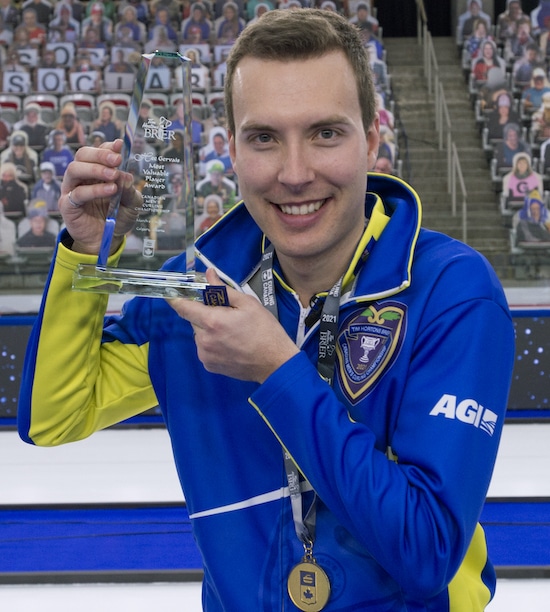 After six ends of open play — Team Wild Card #2 scored a single with hammer in the third end, and the other five were blanked — the seventh end turned the game on its heels, thanks to two misses from Koe.
His first-shot takeout caught some debris and touched neither of the Alberta stones in the rings. And, after Alberta put a third counter in the paint, Koe's second-shot double-takeout attempt was thrown narrow of the broom and only removed one Alberta stone. Bottcher needed only to touch paint with his last to score three.
Team Wild Card #2 would get a single back in the eighth on a wonderful double-takeout from Koe, who was looking at five Alberta counters when he settled in the hack, and Alberta responded with a single of its own in the ninth to restore the two-point lead.
"Obviously it was a well-played game," said Koe, who fell short in his bid to win a record fifth Tim Hortons Brier title as a skip. "I had the pick in seven, and that's obviously huge in a low-scoring game like that. I had a chance to limit it to a deuce and missed my double, which was unfortunate. That was their chance and they took advantage of it. And when they missed, we just didn't take advantage. They had two misses in 10 and we should have been able to come out of that with at least a deuce."
But it didn't happen; Koe's first shot appeared to overcurl at the last moment and failed to remove an Alberta counter at the back of the button. And when Bottcher hit to lay two, Koe didn't have a shot for the game-tying pair, and conceded defeat, allowing Bottcher and Co. to finally celebrate after a Tim Hortons Brier final.
"It means a lot," said Bottcher, who matched Brad Gushue last year and Kevin Martin in 2009 for the best shooting percentage by a skip in a Tim Hortons Brier final (97). "It means a LOT. Losing is never easy. Losing in this game…sucks. For lack of a better word, it really sucks. It sucked the first time. It sucked the second time. And it sucked just as much the third time. We all show it differently, but it means so much to us. I think that was really on display tonight when we closed it out — just the raw emotion that was out there, just how happy we all were. I think for each other as much as for ourselves, and that's pretty special."
Bottcher joins Gushue as the only players ever to to skip winning teams at both the World Junior Championships and the Tim Hortons Brier.
For Moulding, who grew up in Calgary and cut his teeth curling at the Northill Curling Club, a 15-minute drive from WinSport Arena, it was a dream come true.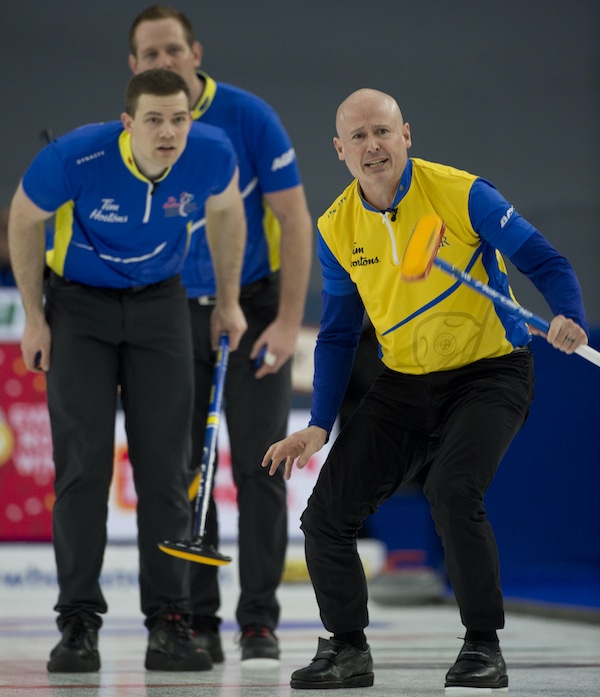 "It's a lifetime of work, coming to fruition," said Moulding. "It's a dream that I've had since I can remember; I don't remember life, ever, not dreaming (about) and wanting this. It's kind of overwhelming, actually."
As for Karrick Martin, he's one of a handful of players who have fathers who've won Tim Hortons Brier titles — dad Kevin won four of them.
"It's very special," said Martin. "I saw (the trophy) on the mantle a couple times, got to know it pretty well. I wanted to get it for myself; it took a few tries, and it's a big deal. I know how much work he put into it, and we put in a ton of work and definitely deserve this. I'm pretty happy for all of us."
Koe got no consolation from the fact that a long-time rival who's been knocking at the door finally won a Tim Hortons Brier, but he has no doubt this team will succeed at the next level.
"I mean, I'd feel happier for him if he beat someone else, that's for sure," said Koe. "It's tough to get enjoyment out of losing. But they're a great team; it was only a matter of time. I'm sure they'll represent us great; they'll do well at Worlds, for sure."
The Bottcher team claimed the top prize of $100,000, and in addition to representing Canada at the 2021 BKT Tires & OK Tire World Men's Championship, they'll return as Team Canada to the 2022 Tim Hortons Brier in Lethbridge, Alta.
Koe, third B.J. Neufeld, second/vice-skip John Morris, lead Ben Hebert, alternate Mike Caione and coach John Dunn earned $60,000 for finishing second.
Action in the bubble in Calgary resumes on Thursday as the 2021 Home Hardware Canadian Mixed Doubles Championship, presented by Nature's Bounty, gets underway.
This story will be available in French as soon as possible at www.curling.ca/2021brier/nouvelles.