Father-daughter pairing wins!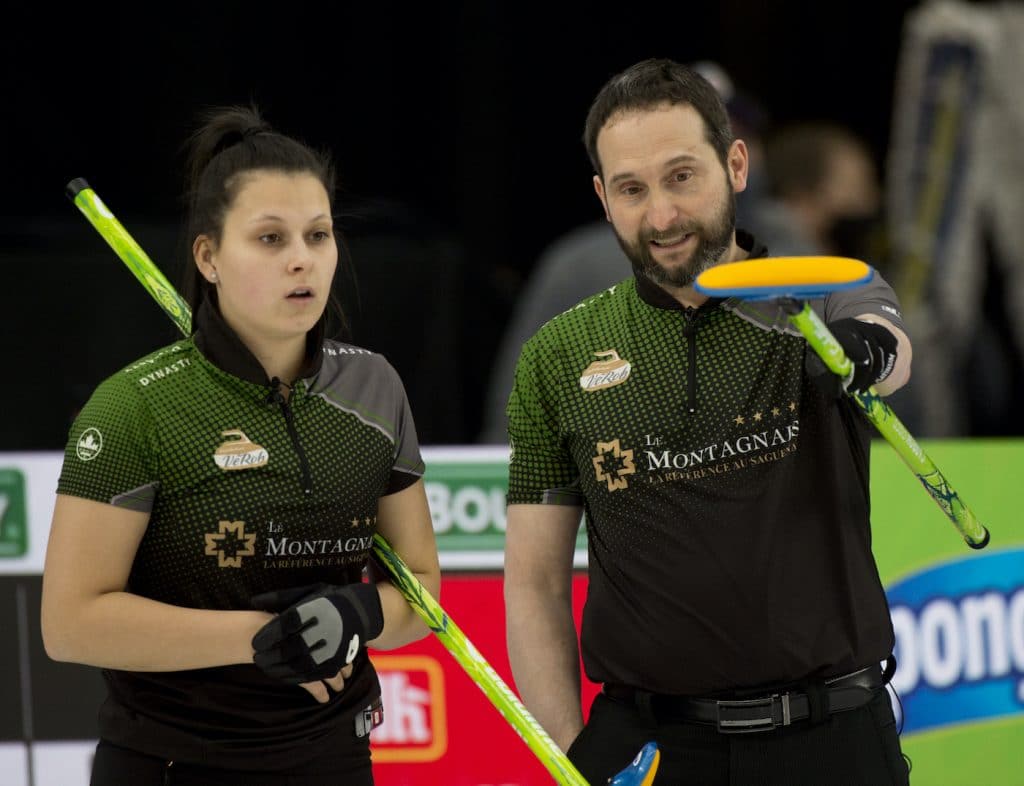 Robert, Émilie Desjardins top the Tucks at Home Hardware Canadian Mixed Doubles
With two teams with championship pedigree on the ice Thursday at WinSport Arena at Canada Olympic Park, it's hardly surprising that it came down to the last shot of the final end.
Robert Desjardins, who captured the inaugural Canadian Mixed Doubles Curling Championship eight years ago with a different partner (Isabelle Néron), was taking on Kim and Wayne Tuck, the 2014 champions at the 2021 Home Hardware Canadian Mixed Doubles Championship, presented by Nature's Bounty.
And as it so often does with these teams, it went down to the wire before Desjardins and his daughter, Émilie, from Chicoutimi, Que., pulled out a dramatic 5-4 win, stealing the winning point when Kim Tuck's last-rock double-takeout attempt overcurled and failed to remove the second counting Desjardins/Desjardins stone.
"It's always been interesting," said Robert Desjardins, whose team improved to 1-1 with the win. "They beat us really badly once, and I think we beat them badly once. But most of the other meetings have been nailbiters to the end. Luckily for us, the last few have been on our side, so I'm really scared of the next time we play them."
Tuck and Tuck (0-1; St. Thomas, Ont.) had taken a 3-2 lead in the fourth end with a stolen deuce, and seemingly had control in the eighth end with Kim Tuck needing to make the short double takeout for the win.
"We wanted Kim to throw a hit because she draws the pin all the time. But I think we got lucky," conceded Robert Desjardins. "I think she made a pretty decent throw and somehow I think it curled more than all of us expected. I was surprised. They were unlucky; they deserved the win, but we'll take it anyway. Things happen."
The Desjardins have been curling together for a few years now, and it's a partnership that continues to be positive and produce results.
"It brings a little part of home with you on the ice," said Émilie. "And also, he's my coach. He's the one who taught me how to play curling. So when he says something to me technically, just before I throw, I know I can trust him because he's the one who built my slide. You look at us and we practically have the same slides. Maybe I'm a bit lower than him now, though.
"I'm always confident when we're close at the end," she added. "He always has a strategy, and I know I can trust him, and then I can relax and just worry about what I';m going to throw — the weight, the broom, and I know he'll take care of the rest. For me, it's a release, I can focus on what I need to do, and I know we'll always be close."
As the first champion, Robert would love to hoist the trophy once again, but also knows he and his daughter have a steep hill to climb.
"Well, it's a tough task," he agreed. "I'm really happy to have won it once, but the field right now in mixed doubles is tougher than it was then. Don't get me wrong, there were a lot of great teams in 2013, but it doesn't compare to the depth you have here. I'm just trying to stay healthy and able to compete as long as I can with my daughter."
In other action, the pairing of Joanne Courtney and Darren Moulding (Lacombe, Alta.) capped a two-win day with an 11-2 victory over Angela Dale and Peter Van Strien of Nunavut (0-1; Iqaluit); Brittany Tran and Aaron Sluchinski (1-0; Calgary/Airdrie) were 7-3 winners over Melissa Adams and Alex Robichaud (0-1; Fredericton); and Laurie St-Georges and Félix Asselin (1-0; Montreal) topped Lauren Wasylkiw and Shane Konings (0-1; Unionville, Ont.) 8-6.
The 2021 Home Hardware Canadian Mixed Doubles Championship continues with Thursday's late draw at 10:30 p.m. (all times Eastern). Friday, draws are scheduled for 10:30 a.m., 1:30 p.m., 4:30 p.m., 7:30 p.m. and 10:30 p.m. (all times Eastern).
Live scoring, standings and statistics for the 2021 Home Hardware Canadian Mixed Doubles Championship are available at www.curling.ca/scoreboard/
TSN and RDS2 (streamed on ESPN3 in the United States) will provide complete coverage of the 2021 Home Hardware Canadian Mixed Doubles Championship. CLICK HERE for the complete schedule.
This story will be available in French as soon as possible at www.curling.ca/2021mixeddoubles/nouvelles