Lefthanders prevail!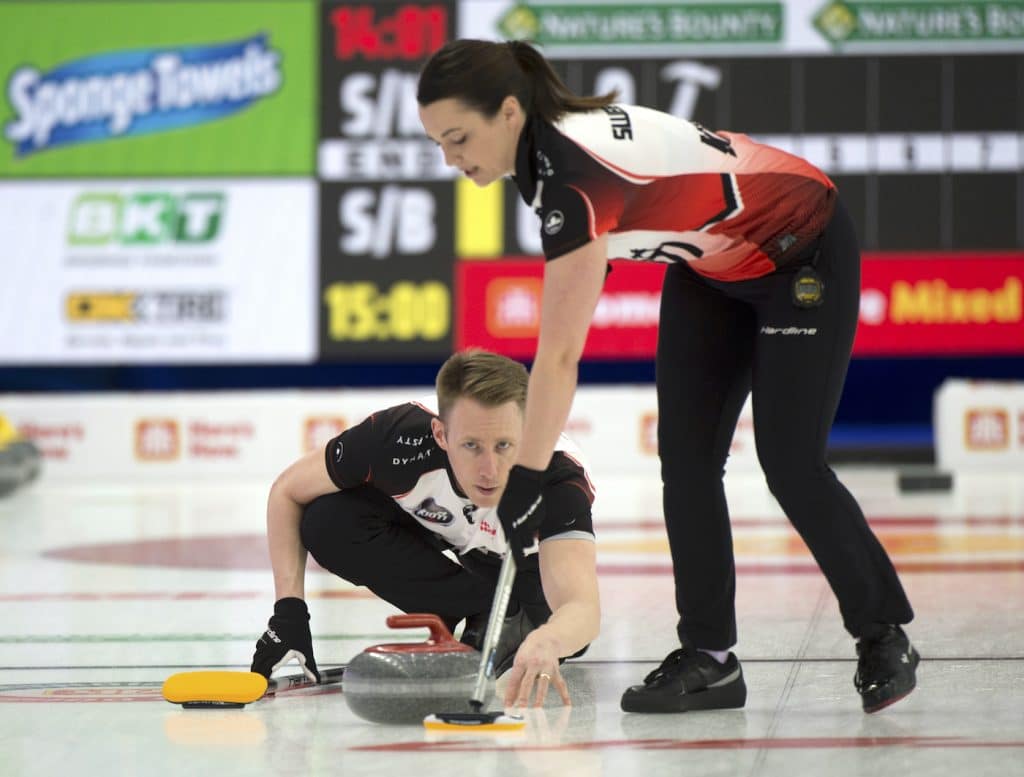 Sweeting/Kennedy win opener at Home Hardware Mixed Doubles
It seemed like a match made in heaven, and nothing that took place early Thursday afternoon at WinSport Arena at Canada Olympic Park contradicted that notion.
Two of the most accomplished left-handed curlers in the country, Val Sweeting and Marc Kennedy, opened their partnership in winning fashion, beating fellow Edmontonians Bobbie Sauder and newly crowned Tim Hortons Brier champ Brendan Bottcher 10-3 in the first game for both teams at the 2021 Home Hardware Canadian Mixed Doubles Championship, presented by Nature's Bounty.
Sweeting, who won the 2021 Scotties Tournament of Hearts last month playing vice-skip for Kerri Einarson, and Kennedy (who played in the Tim Hortons Brier as vice-skip for Team Northern Ontario) broke from the gates in a hurry, scoring four in the first end and four more in the third, and were able to cruise home with the win.
As it turns out, playing with a fellow left-hander does make things a little easier.
"I think it makes a difference," said Sweeting. "We're just so used to adapting and talking about the right-handers' turns, but now we can just be ourselves."
"Her inturn is my inturn!" added Kennedy with a laugh. "I haven't curled with too many left-handers, but it's nice. We speak the same language, we have an understanding of what our inturns and outturns are going to do; they run fairly similar, which is nice out here when it's important to stay on the same path. And we've had chances to practise together at the Saville Centre (in Edmonton) over the years, and I think we know each other's deliveries pretty well, and I definitely think this helps in this format."
While Kennedy remained in the bubble after Northern Ontario played its final game at the Tim Hortons Brier last Saturday, Sweeting left the day after the Scotties final, and was able to enjoy her first few days as a Scotties champion.
"As soon as the pictures were being taken (with the trophy and the messages were coming in, it really sunk in," said Sweeting. "And then with the announcement of women's worlds (being moved to the Calgary bubble), we were really excited about that. I was able to enjoy a couple weeks at home with my family, so that was really good. There wasn't any practice ice available in my area, but I just enjoyed some downtime and started the process to prepare to come back."
"I can tell you she hasn't missed a beat," chimed in a smiling Kennedy. "She was throwing it great; I think she has a lot of confidence. She made a great hit in one for four, and another great hit in three for four. She's obviously feeling good and playing good, and I'm hoping to make a few shots for her. So far, so good."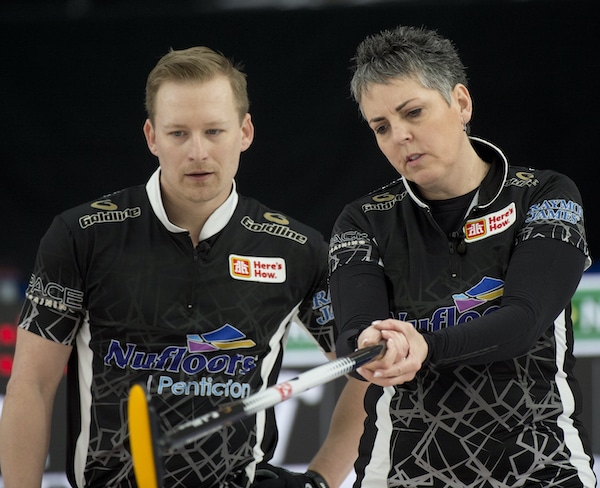 In other Draw 2 games, Shannon Birchard and Catlin Schneider (Winnipeg/Regina) were 7-2 winners over Emma Miskew and Ryan Fry (Ottawa/Toronto); Nancy Martin and Tyrel Griffith (Saskatoon/Kelowna, B.C.) turned back Lauren MacFadyen and Alex MacFadyen (Summerside, P.E.I.) 10-6; and Selena Njegovan and Reid Carruthers (East St. Paul/West St. Paul, Man.) toppled Briane Meilleur and Mark Nichols (Petersfield, Man./St. John's, N.L.) 11-4.
In Thursday morning's opening draw, Kerri Einarson and Brad Gushue (Gimli, Man./St. John's, N.L.) were 9-1 winners over Bayly Scoffin and Wade Scoffin (Whitehorse); Jennifer Jones and Brent Laing (Alliston, Ont.) turned back Émilie Desjardins and Robert Desjardins (Chicoutimi, Que.) 8-3; Joanne Courtney and Darren Moulding (Lacombe, Alta.) took three in the eighth end for a 7-6 win over defending champs Jocelyn Peterman and Brett Gallant (Winnipeg/St. John's, N.L.); and Kadriana Sahaidak and Colton Lott (Winnipeg Beach, Man.) knocked off Clancy Grandy and Patrick Janssen (Oshawa, Ont.) 8-2.
The 2021 Home Hardware Canadian Mixed Doubles Championship continues with draws Thursday at 4:30 p.m., 7:30 p.m. and 10:30 p.m. (all times Eastern).
Live scoring, standings and statistics for the 2021 Home Hardware Canadian Mixed Doubles Championship are available at www.curling.ca/scoreboard/
TSN and RDS2 (streamed on ESPN3 in the United States) will provide extensive coverage of the 2021 Home Hardware Canadian Mixed Doubles Championship. CLICK HERE for the complete schedule.
This story will be available in French as soon as possible at www.curling.ca/2021mixeddoubles/nouvelles