Kitz/Kleibrink win again!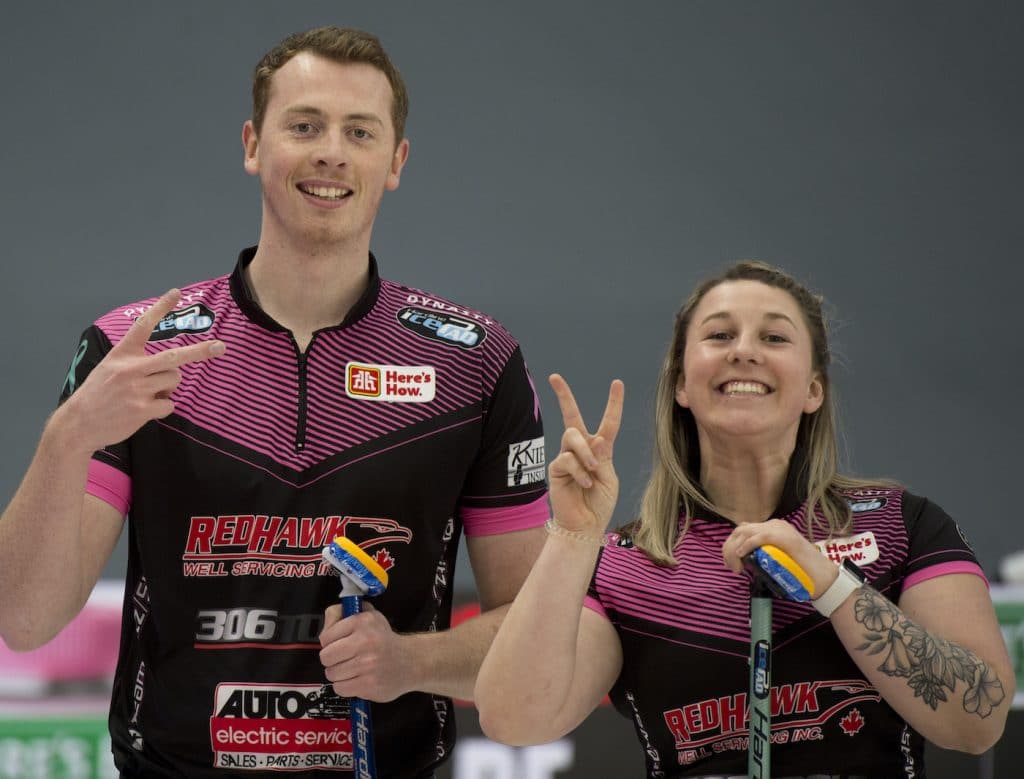 New combination improves to 2-0 at Home Hardware Mixed Doubles
Chaelynn Kitz was prepared to enter the bubble at WinSport Arena at Canada Olympic Park thanks to her experience with Team Saskatchewan last month at the Scotties Tournament of Hearts.
But while her partner for the 2021 Home Hardware Canadian Mixed Doubles Championship, presented by Nature's Bounty, Kyler Kleibrink, hadn't spent any time on the ice in the bubble prior to the event, he definitely had some inside information.
His mom, Shannon Kleibrink — yes, 2006 Olympic bronze-medallist Shannon Kleibrink — now works for Curling Alberta as the Director of Community Curling Centre Development, and also coordinated the amazing volunteer effort to staff the arena for the bubble events, and has been keeping an eye on things at the arena to keep everything running smoothly. She also was named winner of the Joan Mead Builder's Award for her contributions to curling during the 2021 Scotties.
And Kyler himself had spent a few shifts as volunteer statistician during the Scotties, so he had a bit of a feel for what he was in for prior to his first practice on Wednesday night.
"I was able to scout it out myself, and (his mom) has been here every night, so it's been really good that way," said Kleibrink. "And Chae gave me some really good intel on the ice. I'm just so excited to be back on the ice.
But, it should be noted, that Wednesday night practice was the first time Kitz and Kleibrink had curled together. Kitz, you see, needed to find a new partner because Brayden Stewart, with whom she's curled the past few seasons, couldn't travel due to his job as a teacher in Saskatchewan.
Enter Kleibrink, a good friend and a rising star in Southern Alberta, and it's apparent in the early stages of the new partnership that Kitz/Kleibrink will be competitive in the bubble.
They improved to 2-0 on Friday night with an 8-2 win over Lauren MacFadyen and Alex MacFadyen (0-3; Summerside).
"Tyler's a good thrower and he's been practising as much as he can (at the Glencoe Club in Calgary)," said Kitz. "We're both pretty easy-going, so we just have to live and learn and be in the moment.
"We're both pretty competitive, so obviously we want to win. It's good to get those two wins under our belt because we know we can do it, and keep rolling with the shots."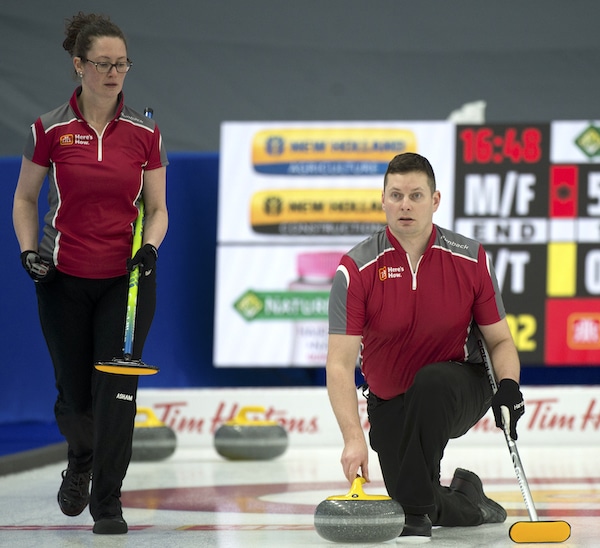 The tough sledding for Kitz and Kleibrink begins Saturday night with a matchup against 2018 Canadian Mixed Doubles champs Laura Walker and Kirk Muyres. Following will be tilts against Nancy Martin and Tyrel Griffith, Selena Njegovan and Reid Carruthers, and Brianne Meilleur and Mark Nichols.
"Definitely a huge confidence boost (to be 2-0), and we're going to need it against the next four teams we're facing; they're very good," said Kleibrink. "We kind of need to not think about the names we're playing because they're definitely very big names."
In the other Draw 8 games, Emma Miskew and Ryan Fry (2-1; Ottawa/Toronto) downed Elizabeth King and Landon King (0-2; Yellowknife) 11-1; Val Sweeting and Marc Kennedy (2-0; Edmonton) shaded Karlee Jones and Bryce Everist (1-1; Halifax) 7-6; and Briane Meilleur and Mark Nichols (Petersfield, Man.; St. John's, N.L.) stole single points in the sixth, seventh and eighth ends for a 6-5 win over Stephanie Jackson-Baier and Corey Chester (0-2; Victoria).
The 2021 Home Hardware Canadian Mixed Doubles Championship continues with Friday night's late draw at 10:30 p.m. (all times Eastern). Saturday, draws are scheduled for 10:30 a.m., 1:30 p.m., 4:30 p.m., 7:30 p.m. and 10:30 p.m.
Live scoring, standings and statistics for the 2021 Home Hardware Canadian Mixed Doubles Championship are available at www.curling.ca/scoreboard/
TSN and RDS2 (streamed on ESPN3 in the United States) will provide complete coverage of the 2021 Home Hardware Canadian Mixed Doubles Championship. CLICK HERE for the complete schedule.
This story will be available in French as soon as possible at www.curling.ca/2021mixeddoubles/nouvelles