Quick-Armstrong hit win column!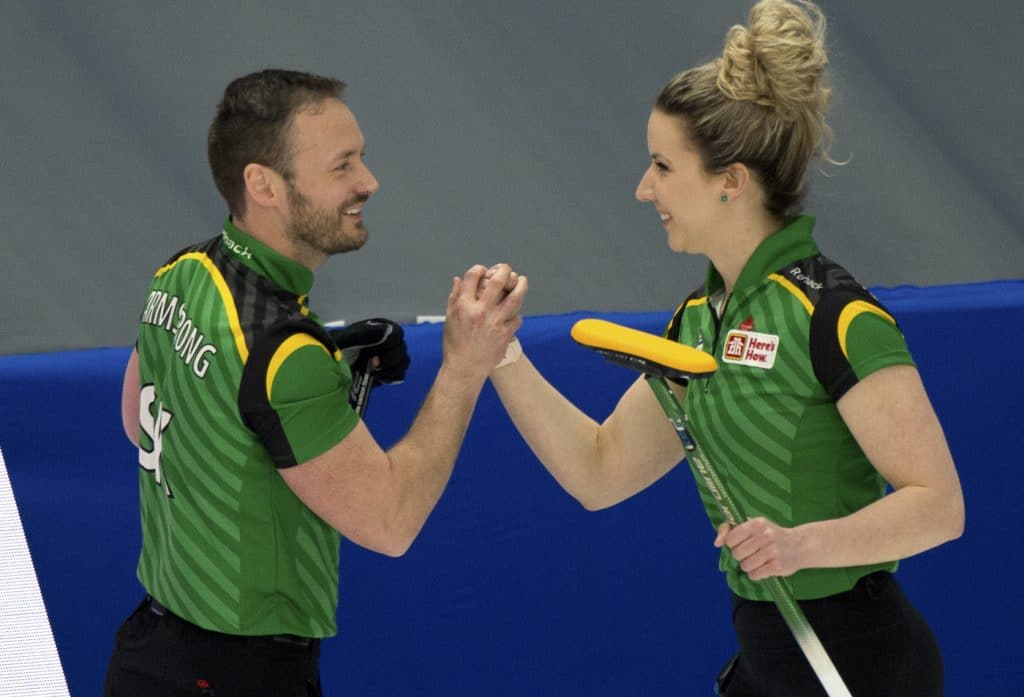 Saskatchewan pair wins battle of mixed doubles veterans
Only two teams competing at the 2021 Home Hardware Canadian Mixed Doubles Championship, presented by Nature's Bounty, have a lineage that traces back to the inaugural edition of this event.
Back in 2013 at Leduc, Alta., 32 teams gathered for the first Canadian Mixed Doubles Championship, and among them was the Saskatchewan duo of Ashley Quick and Mike Armstrong, and a young pairing from British Columbia — 14-year-old Tyler Tardi and 16-year-old Dezaray Hawes.
Saturday night at WinSport Arena at Canada Olympic Park the two teams went head to head, and it was Quick and Armstrong coming away with an 11-7 victory. It was the first win for the Saskatoon duo after a pair of losses to open the championship, while Hawes and Tardi (Kelowna, B.C./Langley, B.C.) evened out at 2-2.
Quick and Armstrong scored a pair of four-enders — in the fifth and seventh ends — to go along with a three in the third end en route to a badly needed victory.
"Our last two games, the scoreboard really didn't show it, but we did play well," said Quick. "We were just on the wrong side of the inch, which happens sometimes, so it was nice to come out tonight, play well and get the 'W'."
The historic aspect of Saturday's game wasn't lost on Quick and Armstrong, who along with Hawes and Tardi have seen the sport build from the ground level to become an Olympic sport, and one of the most popular offerings at the 2018 Winter Games in South Korea.
"I was actually looking back at Leduc and I noticed their names, and I was, like, wow, I didn't remember they were there," said Armstrong. "They probably looked a bit different — well, maybe we all did. But it's pretty cool that the two O.G.'s played off in this game.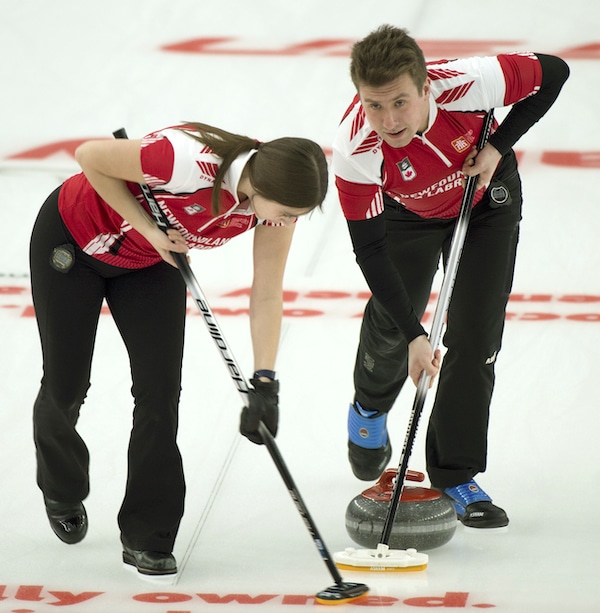 "It's pretty cool to be part (of the original event) since it has taken off in Canada. We've both said for years that we love the sport; it's so fun, and never a dull end, and you could see that with the ends that happen sometimes."
This is the sixth trip to the mixed doubles nationals for Quick and Armstrong, with their best result a bronze medal in 2014 at Ottawa.
"When we first played, we both loved it; it's so fast-paced, so much new strategy and thinking involved, and we enjoyed it so much," said Quick. "We hoped it would catch on and grow and become more mainstream. And looking back on how far it's come, it's been wonderful that we can continue to play and it becomes bigger and more competitive each year."
In other games, Mackenzie Mitchell and Greg Smith (3-1; St. John's, N.L.) stole two in the eighth end for an 8-7 win over Oye-Sem Won and Trevor Bonot (1-2; Thunder Bay, Ont.); and Danielle Schmiemann and John Morris (3-1; Edmonton/Canmore, Alta.) were 7-5 winners over Lisa Weagle and John Epping (2-1; Ottawa/Toronto),
The 2021 Home Hardware Canadian Mixed Doubles Championship continues with Saturday night's late draw at 10:30 p.m. (all times Eastern). Sunday, draws are scheduled for 10:30 a.m., 1:30 p.m., 4:30 p.m., 7:30 p.m. and 10:30 p.m.
Live scoring, standings and statistics for the 2021 Home Hardware Canadian Mixed Doubles Championship are available at www.curling.ca/scoreboard/
TSN and RDS2 (streamed on ESPN3 in the United States) will provide complete coverage of the 2021 Home Hardware Canadian Mixed Doubles Championship. CLICK HERE for the complete schedule.
This story will be available in French as soon as possible at www.curling.ca/2021mixeddoubles/nouvelles